Need some help with teaching the elements of art in your homeschool? This is a guest post to help you out, from Jodi at Kitchen Table Classroom! ❤️
~ Tauna
---
Teaching art at home just got a little easier. By focusing on teaching the elements of art through easy, hands on explorations you can introduce your kiddo to art vocabulary and concepts that will give them a solid foundation on which to grow. You don't have to teach everything. Start here.
[Read: Homeschool Art Tips for Busy Moms]
Disclosure: *This post may include affiliate links. As an affiliate, I earn from qualifying purchases. Read the disclosures and terms for more information.
Why teach the elements….
You don't have to be an amazing artist or an art historian to get your child started with some basic art vocabulary and hands on experiences. The elements of art are the building blocks of art- the basics. Teaching these basics will give your kiddo a place to start when making art and talking about it. I believe in this "elements first" concept so much that I have tons of free printable elements of art resources and lessons designed to break it down for moms teaching at home!
Teaching the elements of art means talking about each concept and then using it to make something with their own hands. Some of these explorations may take only ten minutes. All of them use materials you have around the house.
[Read: Teaching Art Using the Bible]
Color in art…..
Color is the hue caused by reflected light. The most interesting aspect of color for young artists is the ability to mix colors together to create new colors. Mixing any two primary colors (red, yellow, and blue) will create a new secondary color (purple, green, or orange.)
-Drop clear hair gel in a sandwich sized Ziploc bag. Add a drop of a primary color food coloring to one side and a drop of another color to the other corner. Allow your child to hold the bag up to the light and see the colors mix.
-Dip sidewalk chalk paint in water and color one color on top of another and watch them mix like paint.
-Color on coffee filters with washable markers and spray with water. Watch colors next to each other spread and mix.
Check out this Color in Art post at the Kitchen Table Classroom for more hands on activities and free printable resources to help you teach color!
Line in art….
Line is a path that a moving point makes on a surface. The fact that literally everyone can draw a line makes this such a fun element to introduce to kids!
-Use water and a paintbrush to paint different qualities of lines onto a chalkboard. Or think bigger and do this on a cement driveway or patio!
-Use newsprint to cut different kinds of line and make a collage.
-Play samples of different kinds of music and draw lines as you listen. Does different music inspire different types of lines?
[Read: Adding Art Appreciation to Your Homeschool the Easy Way]
Space in art….
Space is the element of art that is used to create the illusion of depth in a two dimensional artwork. Depth is what makes some things seem far away and others seem closer.
-Make a collage of simple shapes and use overlapping as a technique to show which objects are the closest.
-Set up your own real life composition that is a play on space. Make the things that are usually big small, and vice versa. Take a picture.
-Look at magazine pictures and compare the size of objects. Can you find a dog bigger than a tree? A person bigger than a mountain? talk about how our brain automatically makes sense of these differences.
Form in art…..
Form refers to a three dimensional figure. This is as opposed to a shape which is flat. Forms have height, width, and depth, and can be viewed from multiple angles.
-Create basic form using modeling clay.
-Use tightly rolled newspaper and masking tape to quickly build forms up and out.
-Create paper forms using origami.
Texture in art….
Texture is the feel or consistency of a surface. Actual texture is what an object feels like when you touch it. Implied texture creates the illusion of a certain texture.
-Go on a walk outside. Take a few unwrapped crayons and do texture rubbings along the way.
-Make a collage out of magazine clippings that have interesting implied textures.
-Paint a picture using homemade brushes that create interesting textures. (Think pine needles, or a small bunch of long grass.)
Shape in art….
A shape is made when a line encloses an area. Shapes are always flat and two dimensional.
-Make jumbo shapes on the floor using painter's tape.
-Use craft sticks and clothespins (or other fasteners) to make geometric shapes.
-Pick a magazine picture and use a marker to outline all the basic shapes that make up the composition.
[Read: Bible Art Drawing for Kids]
Value in art….
Value refers to the lightness or darkness of a color.
-Use one color of tempera paint plus black and white to paint an entire picture.
-Make a value scale of any color by using magazine clippings.
-Experiment layering and blending crayon or colored pencil. Try to go from white to color to black with a smooth transition.
Teaching the elements of art is an easy place to start…
Every artwork in the world consists of the elements of art. Learning to consider them as they create and view artwork is a great place for an art education to start! Pick an activity or two and see what kinds of things your child responds best to.
If you'd like a more in depth of study of the elements of art that combines hands on projects with art history check out my year long curriculum the Artists and the Elements.
~ Jodi, Kitchen Table Classroom
---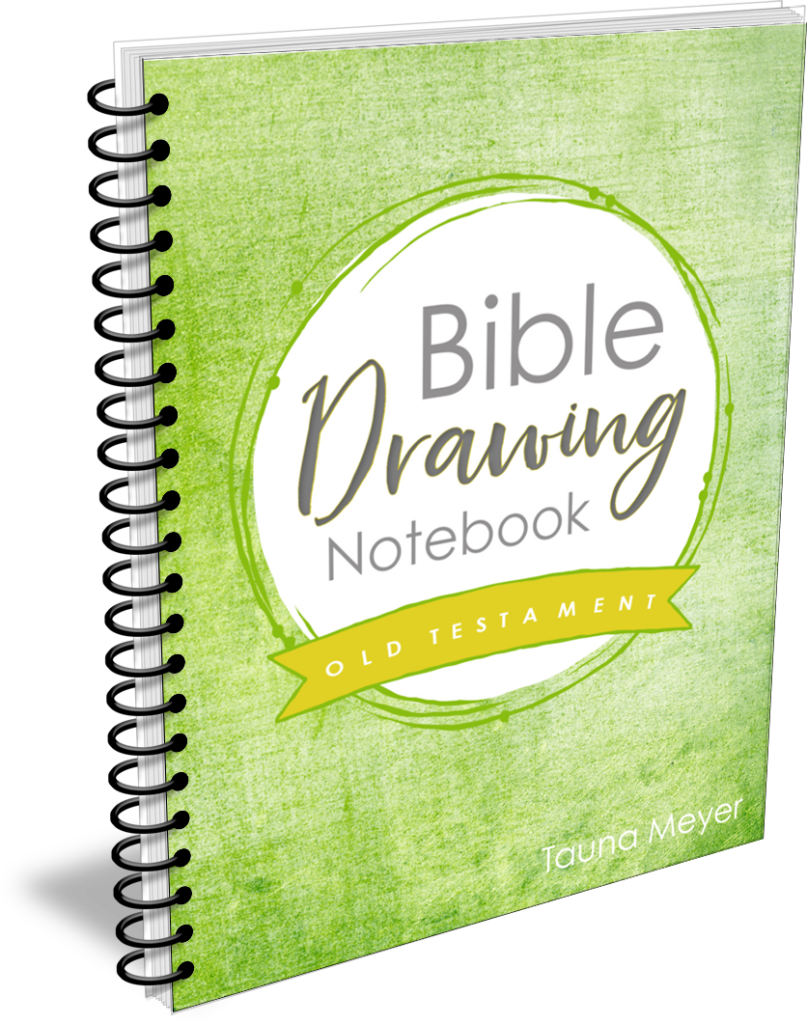 There are several resources we've enjoyed over the years that use art to teach kids. Sometimes the most simple solutions are the best. Right now, we're using the Bible Drawing Notebook for my children. They simply read the indicated chapter in the Bible (or you can read it to them), then they draw about it, and jot down their prayers, and and either write or orally narrate back to you what they drew. It's simple, effective, and your kiddos who like drawing will love it!
---