I know I'm not alone here. The more kids I have and the longer I homeschool, the less extra space I have in my brain – let alone my schedule – for anything other than what is absolutely necessary for the day. When it comes to homeschooling, this can make it challenging to make the "extras" happen, including art.
Right? Raise your hand if you've struggled to get art into your homeschool on a regular basis. 😂🙄 #thestruggleisreal
But I do believe that art is important. I want our homeschool experience to be rich with drawing, painting, artist study, and all the fun projects.
So, last year I went on a search for the perfect art solution for this large family busy homeschooling mama and then implemented it with a few tricks I had up my sleeve. I've been pretty pleased with the results and things are only going to get betting in the coming year!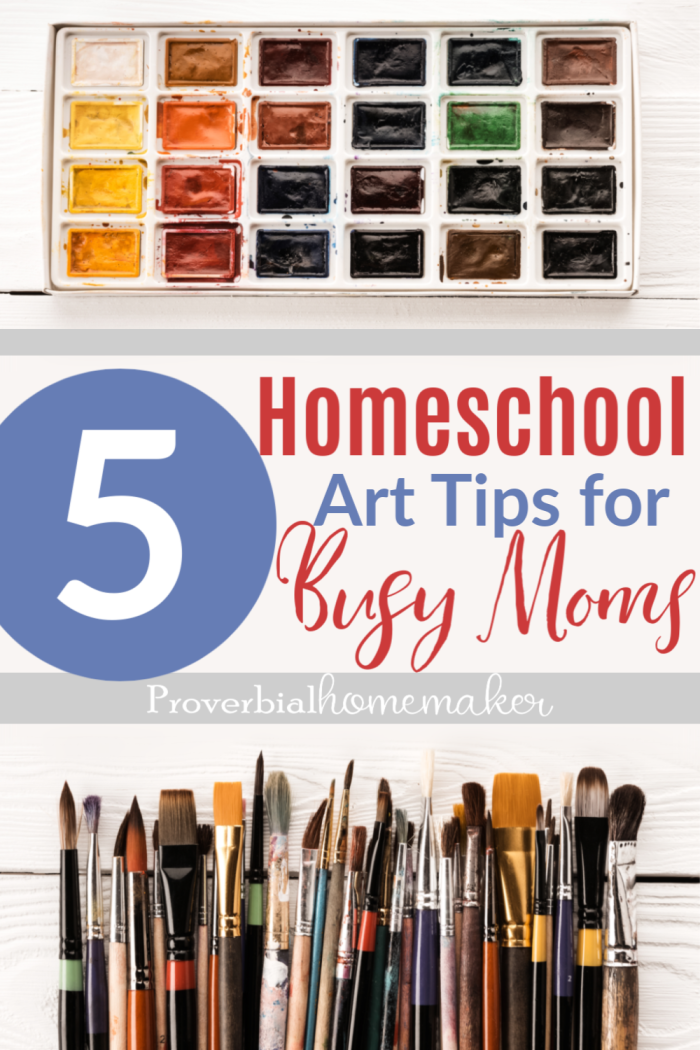 Disclosure: *This post may include affiliate links. As an affiliate, I earn from qualifying purchases. Read the disclosures and terms for more information.
5 Homeschool Art Tips for the Busy Mom
Tip #1: Invest in Pre-Planned Homeschool Art Classes or Lessons
Find great resources with pre-planned art lessons that are EASY for you to implement. There are tons of great art curricula and even free art resources out there. Find the ones that work best for you and make your life easier!
That's what I did. Remember how I said I was busy? I didn't want to spend a ton of time surfing pinterest or scouring curriculum and web sites to find what I needed. Instead, I wanted an all-in-one art solution that gave me everything I wanted in one place with high-quality lessons ready to go.
What I landed on is called Masterpiece Society. Artist and homeschool mom Alisha Gratehouse has created a fantastic online studio with homeschool art classes for a variety of ages. You can buy courses and curriculum individually or sign up for the membership (which is what we did).
Here's why I love it:
High quality video lessons we can do at our own pace
Homeschool art classes for a variety of ages
Seasonal and holiday art projects
Art School courses for middle and high school (drawing, watercolor, acrylics, and pastels)
Artist study project bundles ("Mixing with the Masters")
Exclusive membership perks:

Art appreciation
Courses just for moms
Step-by-step K-2 drawing lessons
And more, including access to EVERY future art course added!
So far, we've been able to do artist studies for homeschool, create Christmas decorations and gifts, enjoy fun seasonal projects, and the older kids and I have started the Art School drawing course together.
It's a busy homeschool mom win that is worth every penny! Want to give it a try for FREE? Click here and scroll down to sign up for the FREE bird art lesson. It's beautifully done!
Want to take a peek inside the Masterpiece Society membership? Check out the YouTube video tour below!
Tip #2: Build Up Your Homeschool Art Supply Stash
One sure-fire way to ruin your art day plans is to not have the things you need to make it happen. Here's how I fixed that:
At the beginning of the year, I bought some of the basics (you may have some of these on hand already) including watercolor and mixed media paper, modge podge, acrylic paints, watercolors, brushes and sponges, white gel pens, etc. I also got some washable paints for the younger kids.
Each quarter, I pick a handful of projects and make sure I have the supplies on hand. With the supplies from those projects and the basics we already stocked up on, we're able to do a lot of the other projects spontaneously.
Buy / ask for art supplies for birthdays and holidays. Grandparents and aunts and uncles are often happy to chip in with some art supplies for birthdays and holidays. We often buy sets and larger supplies as Christmas gifts, too.
Organize supplies in simple clear labeled containers with lids. We keep things generally organized by type. Then have one large tote for the things we use most often. I grab that tote and throw in whatever else we need and then take it to the dining room or outside for the project.
Tip #3: Work Art Into Your Homeschool Routine
One of the biggest challenges is to make a habit of art in your homeschool. I hear ya!
Here's what has worked for us:
Plan an art day each week. Pick one day a week where you will do some kind of art, whether it is art appreciation, a drawing lesson, a painting project, etc. Making it the first day of your homeschool week means it's more likely to happen.
Invite others to join you. When you have something on the calendar that others depend on, you're going to make it happen! Invite another family to join you once a week or month for art day or volunteer to host an art lesson for your co-op or support group once a month. For a long time, we had an arrangement with another family where they would come over once a week and do piano lessons with our kids followed by an art project I arranged.
Add it to a homeschool loop schedule. Create a loop schedule with the "extras" for your homeschool and do just one of those things each day. For example, your list might include art lesson, music appreciation, godly character study, children's literature activity, and science experiment. Do one each day and then when you get to the end of the list, loop back to the top!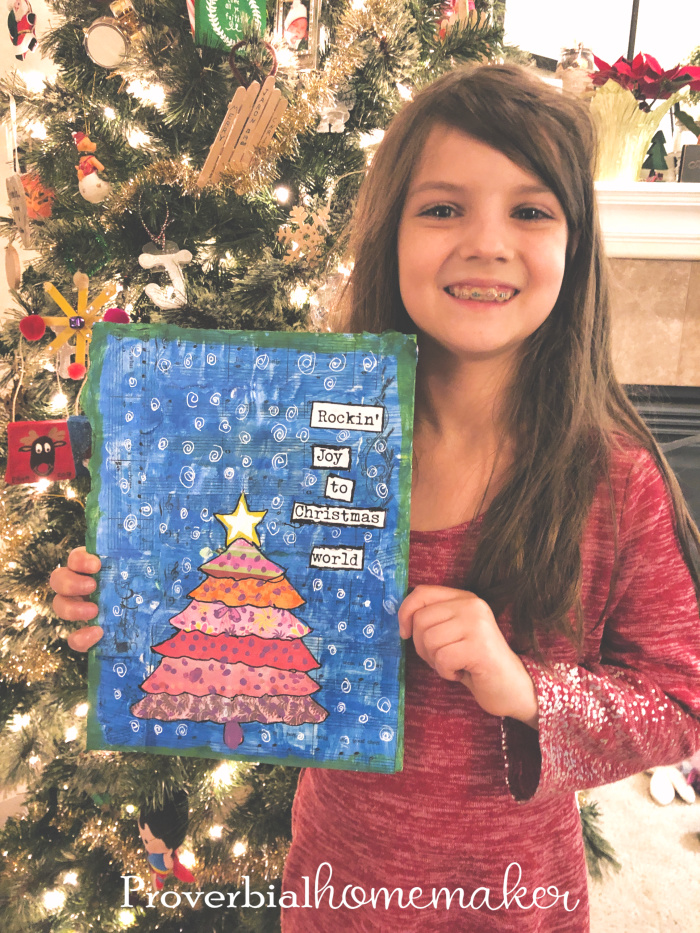 Tip #4: Look for Extra Homeschool Art Opportunities
Look for extra opportunities to incorporate an art lesson into your regular family or homeschool activities.
History – Do an art project based on the event or person you're studying, an artist during that time period, etc.
Nature Study – Expand your nature study or journaling projects with an art lesson on how to draw or paint nature.
Holidays – Have a holiday coming up? Do an art project to create beautiful and memorable decor.
Gifts – Create thoughtful gifts for family members during birthdays or holidays. Or choose someone to serve as a family (elderly, sick, etc.) and bring a meal and special art project surprises. They will be blessed!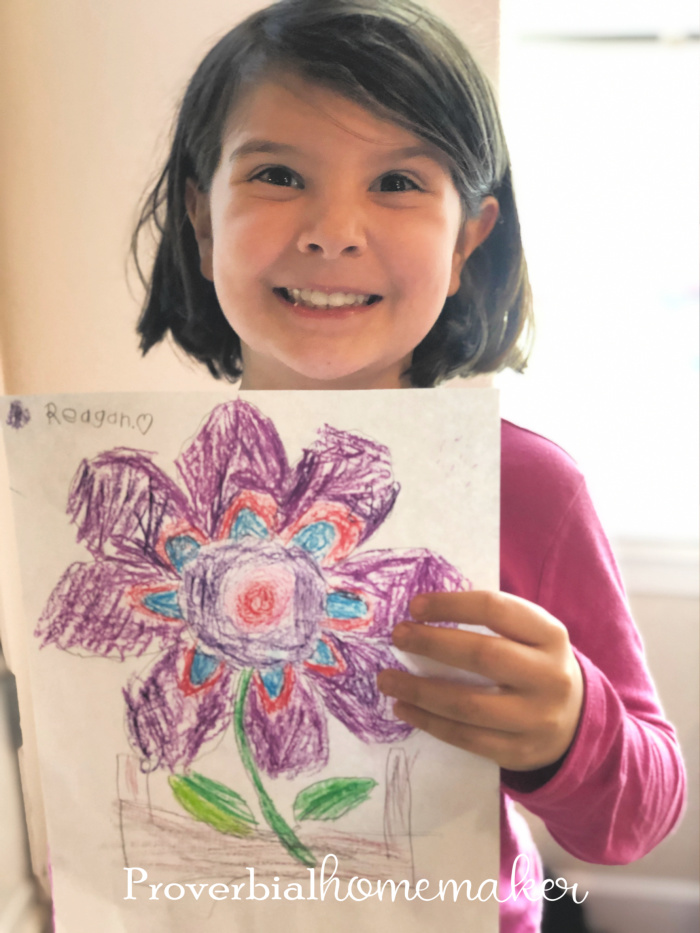 Tip #5: Have FUN and Be Flexible
There will still be times when you realize you've been slacking on the art lessons you'd planned with the best of intentions. Or times when you don't have the supplies you thought you did for that project the kids were excited about.
Don't worry! Choose to be joyfully flexible and just plan the next thing. If you accept the fact that a little bit of chaos will ALWAYS accompany your efforts (so true for this mama, let me tell you) it will be easier to go with the flow and enjoy your family in the process!
—–
I hope these tips help you, dear busy mom! Art is one of those things your children will remember most in their homeschool years. As challenged as I have been to make it consistent, the effort has been worth it!
~ Tauna