One of the best tricks I've found for how to make Bible stories really stick in the minds of my children is to make them hands-on experiences. Whether it's building scenes with Legos, sculpting characters with play-doh, or writing down key ideas. But for the best multi-age approach, drawing and coloring win the day! It's creative, all my kids love it, and it helps solidify the story in their minds. Teaching art using the Bible is a fantastic idea for homeschooling as well.

Disclosure: *This post may include affiliate links. As an affiliate, I earn from qualifying purchases. Read the disclosures and terms for more information.
I was compensated by How Great Thou Art for this review. All opinions expressed are my own. I was not required to give a positive review.
Lately we've been enjoying something fresh and new in our studies! Art & the Bible for Children by Joshua Olds and Barry Stebbing is an art curriculum for ages 4 and up that includes over 50 favorite Bible stories that are written for elementary age level but stay true to the scripture. It is just one of many art curricula offered by Barry Stebbing of How Great Thou Art.
Simple Bible Art Drawing for Children
For each of the Bible stories included in the Art & the Bible for Children, you get the following:
Bible story text
Discussion questions (some of which include object lessons)
Full color art examples from real homeschoolers
Lesson text to guide your children in their art creations
The lesson text gives you a basic script you can use or adapt for each of the simple lessons that go with the Bible story you read. That's really handy for this tired mama. For your child, you copy or print the "lesson cards" (full paper size) that correspond to the Bible story you're doing and they work on that paper as you use the lesson text to guide you.
The actual art lessons are SUPER easy so that even kids as young as 4 (or 2.5 in our case) can follow along. Of course, the older kids also join in and have fun drawing as well.
---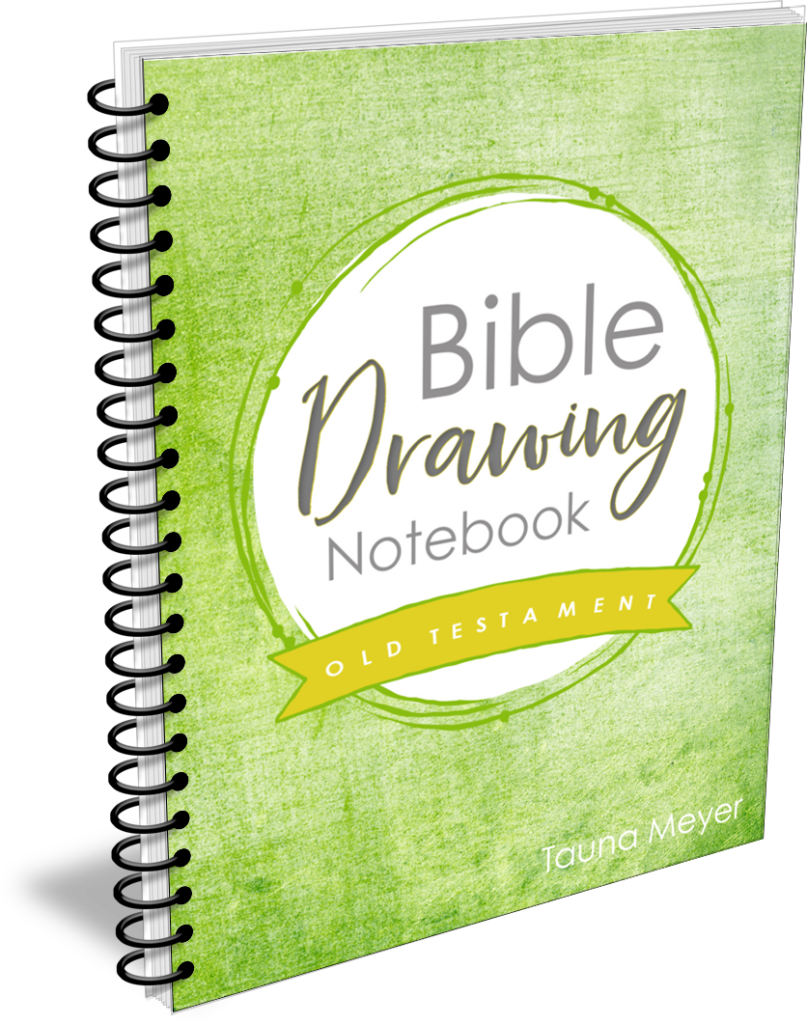 There are several resources we've enjoyed over the years that use art to teach kids. Sometimes the most simple solutions are the best.
Right now, we're using the Bible Drawing Notebook for my children. They simply read the indicated chapter in the Bible (or you can read it to them), then they draw about it, and jot down their prayers, and and either write or orally narrate back to you what they drew. It's simple, effective, and your kiddos who like drawing will love it!
---
Ways to Use Art & the Bible for Children
What is interesting to me about this curriculum is that is seems so very simple, but it proved to be incredibly flexible and useful for my family. It was a pleasant surprise how much my kids really enjoyed it and all the ways we were able to adapt it to our needs.
Here are some ways we used it:
Used a copy of the lesson page (sometimes even in color) instead of the blank lesson card for those not yet confident in creating their artwork without an example to mimic.
Read the story, gave guidance on what to draw, and then read the corresponding verses right from scripture as they completed their drawing and coloring.
Had the older kids read the story to the younger kids and guide their lesson (particularly helpful if they thought it was too easy or weren't interested – and bonus that it built relationships and gave them a chance to learn things like giving instructions, patience, and communication!).
Had the older kids draw a few different pieces and then give one to a younger sibling to color in (like the 2.5 year old who wanted to participate but couldn't create drawings complex enough for his own liking).
Used the full color artwork examples as springboards for doing more involved art projects. For example, some of the shown artwork included mixed media, different techniques like dot painting, etc.. They were simple enough to build a whole separate art lesson off of without further instruction for me as the teacher.
Had the kids present their drawings to their dad at the end of the week and take turns summarizing the stories.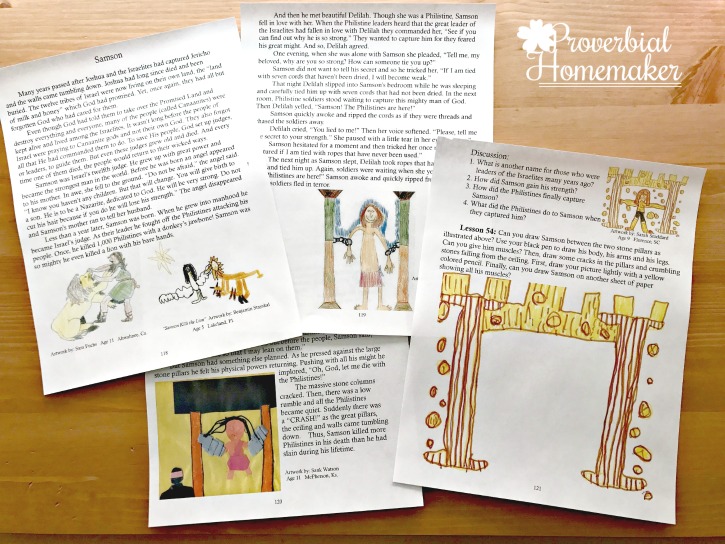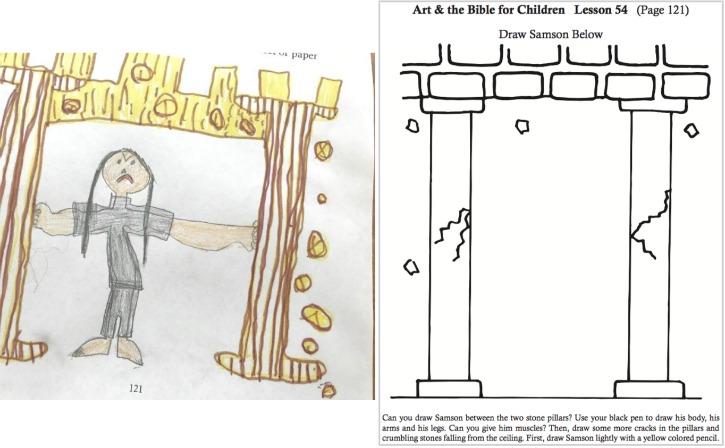 Here you can see what a lesson looks like – This one is about Samson, with the Bible story text, discussion questions, lesson text, and artist examples. You can use the example in the lesson page as a springboard as my son did here, or print off the lesson card and use it. Notice that the lesson card includes some extra artistic guidance at the bottom, for example: "Can you give him muscles? Then, draw some more cracks in the pillars and crumbling stones falling from the ceiling."

You can use the Art & the Bible for Children as a hardback book or as shown here, using a device to read the text and display the artwork and print out just the lesson cards or print the entire ebook.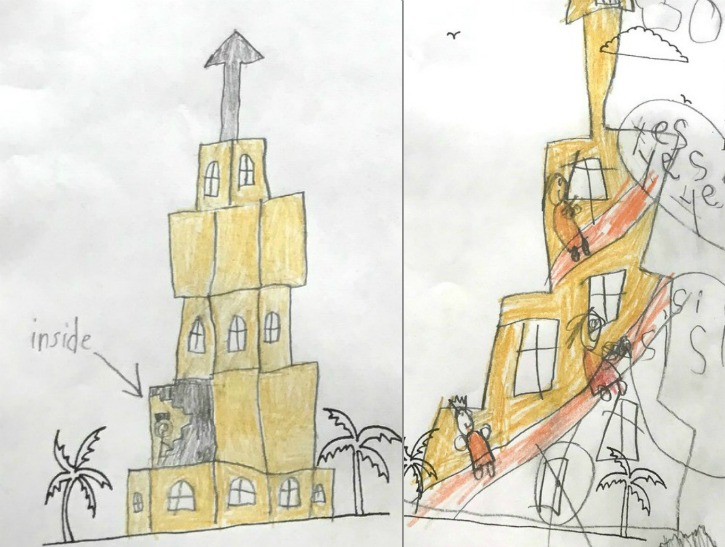 The Bottom Line on Art & the Bible for Children
You can use a lot of these tips and ideas simply by having kids draw as you read from your own Bibles or story Bibles. What I appreciate about this resource from How Great Thou Art, however, is that the discussion questions, art lesson text, and incredible full color artist examples really add to our experience and how our kids interact with the story.
The curriculum helps me to present it in a fun way that is efficient (read: doesn't take much of our day). And the best part? My younger kids really retain the story with this approach while my olders benefit from the review! Plus they all LOVE doing the lessons, always asking to do more than one. The only thing I think would improve the curriculum is if they put a scripture reference with each story just so I could easily find it in my Bible. Of course, I know where most of them are already but, as I mentioned… tired mama here.
This was my first time using How Great Thou Art materials and our positive experience has made me decide to try out some of their curricula for older kids for my 9 year old as a part of his homeschool program this coming year. If it's anything like what they put together for us with Art & the Bible for Kids, they've really got their pulse on guiding families through art instruction that is easy for the homeschooling mom but effective for the student. That's gold in my book!
Find Out More
You can find Art & the Bible for Children in paperback and digital format. The paperback comes with a separate package of the lesson cards which you can copy for your children as needed. The ebook comes with those lesson cards at the end. You would only need to print off the lesson cards and could read the Bible story and lesson from your computer, iPad, or phone. (Of course sometimes we printed off lesson pages for my younger or less confident kids, as I mentioned above).
You Might Also Like…
Sound Words for Kids: Lessons in Theology