Are you looking for a fun hands-on way to study history? Our favorite way to study history (and literature at the same time) was through the use of reading books about or taking place in a historical period and then recreating that time period ourselves.
Having two active elementary aged boys and studying history had to involve soldiers, sword play, and adventure. No coloring pages, cutting, and pasting, or paper crafts for my guys. We had to recreate the adventures we read about in books. So, our read aloud time (our literature) from living books became a jumping off point for our next leap into history.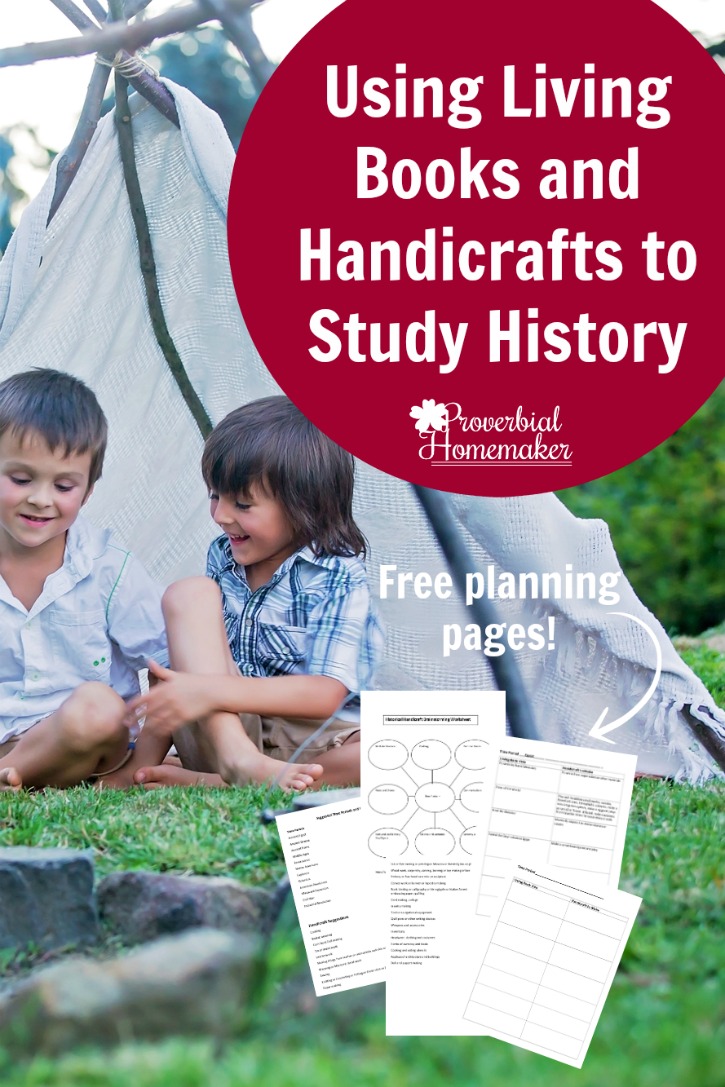 Disclosure: *This post may include affiliate links. As an affiliate, I earn from qualifying purchases. Read the disclosures and terms for more information.
These living books, a Charlotte Mason term, were not textbooks about history, but narrative style accounts of a historical time period. They were an interesting and well-written story about or taking place during a specific time period or a book about a topic written in detail with pictures related to our periodic study.
Some examples might be the Story of the World series, the Bronze Bow (a story of a boy during Ancient Roman times), or books by David Macauley or Aliki describing the intricacies of castles, pyramids, or medieval feasts. We used living books to study the Middle Ages and bring that time period to life!
Handicrafts to Study History
What we read during these times provided the foundation for our exploration into how these people lived and survived, and what they made in order to do this. That is how we spent our time learning new skills and handicrafts. These were our projects that brought history to life for us.
Handicrafts are different than crafts that are made by hand in that they cannot only be decorative but also are a useful or necessary tool or object used in daily life. Handicrafts can include papermaking, weaving, cooking, sewing, canvas work, carving, or pottery to name a few. (There is a free download available with this post that includes a list of handicraft suggestions to explore.)
For example, when we studied Ancient Egypt, we made papyrus, carved our own Rosetta Stones with hieroglyphs, and of course, mummified chicken bones and apples. During our Ancient Greece study, we made paper mache tragedy and comedy masks, togas, traditional Greek food, pottery, and mosaics. At the end of our study, we had a Greek feast complete with Togas and headbands of olive leaves (made from paper).
When studying American History and the Native Americans, we dragged long straight tree limbs out of the woods behind our house, set them up, covered them with a king size sheet, and made a teepee. We crushed berries, flowers, and leaves and mixed these with water to make paint or dye to draw Native American symbols on the teepee to tell a story. We made beads out of salt dough and painted and strung those when learning about "trading". To complete this study, we went to a real "pow wow" to watch local Native American tribes compete in different traditional dancing competitions and to see their authentic handicrafts with their costumes, jewelry, tools, and instruments.
Of all the things we studied during our elementary years of homeschooling, it was when we "lived history" and replicated what people did in their daily lives that my guys remember the most and with the fondest memories. Once you get those creative juices flowing when reading about the lives of people from history, the sky is the limit in what your family can do!
Free Historical Handcraft Brainstorming Worksheets!!
Download this free set of set of worksheets to help you bring history to life in your own home. To start you off brainstorming, along with the list of suggested handicrafts, there are brainstorming and planning forms for different time periods in history. There are some examples of ideas included in some of these forms to get you started in filling out the forms. Bring history to life and make memories with your loved ones that will last a lifetime!
Historical Brainstorming Worksheets
Your download link will be emailed to you and you will be subscribed to Proverbial Homemaker if you aren't already. Be sure to check your spam/promotions folder. If you have any issues, check out this troubleshooting guide or feel free to email me!
Note: Signing up to download this form will subscribe you to ProverbialHomemaker.com and KatiesHomeschoolCottage.com.
---
Katie Glennon with Katie's Homeschool Cottage. Katie is a former teacher who loves literature and bringing history
to life. With years of education experience, she loved making memories to last a lifetime with her boys before sending them off to college. She now enjoys sharing any valuable or fun ideas with hope to help other homeschoolers enjoy their homeschooling journey and make lifetime memories as well.