We have six kids, 10 and under, which means that we have a busy and blessed (and loud) household! One of my biggest challenges has been homeschooling with little ones in tow — handling the toddlers and infants well when trying to "do school" with the olders.
After some years under my belt managing the chaos, here are several ideas to help you do the same!
Make Them First
One of the best pieces of advice I've heard, and the hardest to follow for some reason, is to make them first. But it's true! I know from experience.
My youngest kids always do better when I spend some decent, focused time playing with them first. Here are some ideas to make it a habit:
Set a timer for 15 minutes after breakfast to focus on the youngest while the older kids clean up or play
Play with toys, build a tower, or read books with them. Have a special book basket just with learning toys and books for this time together.
Include them as a special helper during your morning routines! Include them on the chores, have them help you get out the supplies for the day, etc.
Be Flexible
It may seem obvious, but being flexible is probably the biggest key to sanity here.
Prioritize lessons by planning the most important subjects and lessons first, so they are sure to get done even if the rest of the day doesn't stay on track or your little one melts down and needs mama.
Establish a routine. No need for strict schedules, but sketch out a good, flexible routine that you can practice to help guide your day.
Have catch-up times and days for those weeks that get away from you. Move a lesson forward, do a quick lesson before bed, or make one day or afternoon a week a catch-up day if you're concerned about getting everything done that week.
Let it Go. Yes, there are times when your little ones will need more full attention and all the planned lessons for that week won't get done. No worries, mama! You're homeschooling for the long haul here, so everything will pan out.
Contain Them
Meal times are favorite times for lessons, especially for read alouds, memory recitation, and discussions. The littlest ones are strapped into high chairs and sometimes that's aaallll that's keeping them from inflicting destruction.
Blanket time is also an awesome tool! At about 18m old, start teaching them to sit on a blanket for 5 minutes at a time and play with toys set aside for that purpose. After a while, they can work up to 30 minutes at a time and will enjoy it as well. It's great for doctor's appointments too!
Pack and Plays are great for infants or crawlers with the same basic blanket time training steps. We have one in our living room for the toddler with some toys, books, and a blanket. Even if he protests at first, he eventually settles down to snuggle or play quietly.
Car rides are perfect for practicing memory work or listening to audiobooks. Make a recording where you are reading memory verses, Bible passages, or other things you'd like them to memorize.
Employ Busy Bags and Simple Activities
Whether you call them busy bags, busy boxes, or tot trays, these can be a great way to keep your littles occupied while schooling. They are basically activities or toys set aside just for these special times to keep them entertained.
Be patient. Busy bags aren't always a hit initially. Nor do littles always play along and keep themselves occupied while you're homeschooling. Over time, however, they'll learn when it's time to play with the busy bags or other toys while you're at the table with the olders.
Use them during blanket time. They are easily portable and contained, so they are ideal for that purpose.
Start simple. Some of ours include simple felt character scenes, counting bears with a small muffin pan for sorting, and geoboards with rubber bands for the preschooler. Put together interesting objects that suit the developmental stage of your child.
Use Naptime… Or Not
Teach during nap time for those subjects where your child needs focused attention or you just don't want someone eating the pencils they're trying to write with.
Or take that time to rest yourself, because you need that some days more than your kid needs a math lesson! And your kids will be happier if mommy is happier. Just saying.
Let Them "Do School"
Simple art projects in the high chair with chunky crayons, washable paint, or playdoh.
Try faux school, giving them something that looks similar to what their older kids are doing makes them happy.
It's certainly true that homeschooling with toddlers and babies around can be challenging. Hopefully some of the tips here have provided ideas and inspiration for your own household! At the end of the day, we can embrace the chaos knowing that not only is this just a season of life, but it is a blessed one. While little ones may derail the best laid plans, we can model for all our children an attitude of flexibility and forbearance. In fact, having those youngest siblings around teaches our children much in the way of compassion, kindness, and patience. Homeschooling is truly a family affair!
What ideas for homeschooling with little ones would you add to the list? Let's help our fellow homeschool moms out. 🙂
You Might Also Like…
Multi-Level Homeschooling Tips & Tricks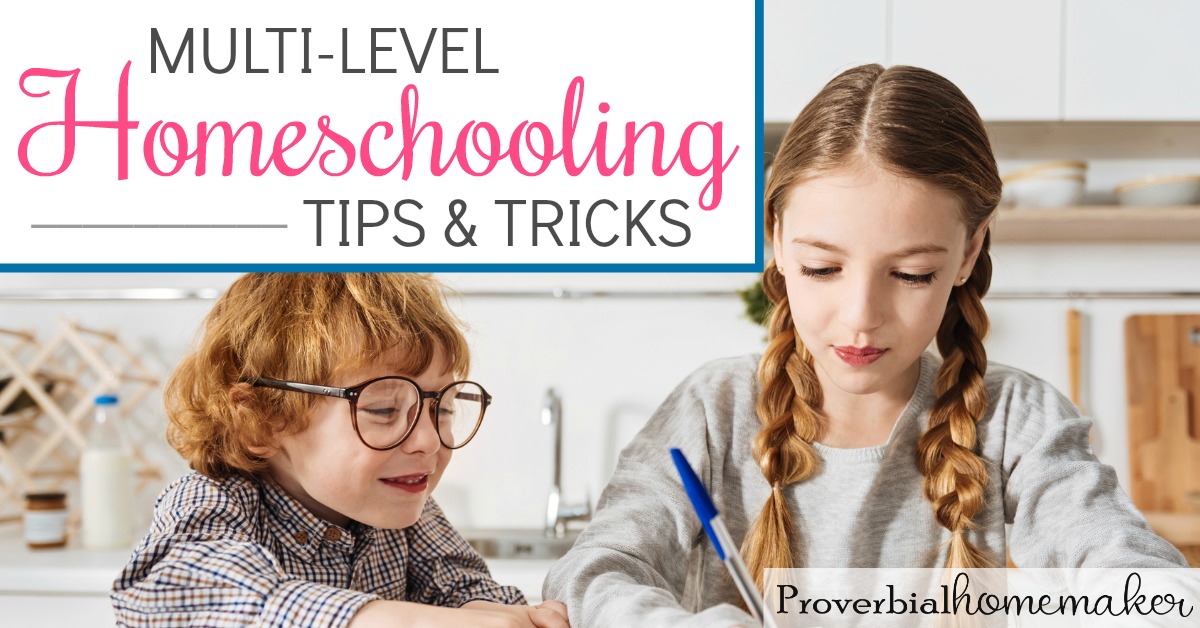 SaveSaveSaveSaveSaveSave
SaveSave
SaveSave