Disclosure: *This post may include affiliate links. As an affiliate, I earn from qualifying purchases. Read the
disclosures
and
terms
for more information.
*** Hey! There's a big $350+ value HOMESCHOOL BUNDLE GIVEAWAY at the bottom of this post you don't want to miss! ***
We have six kids, 12 and under, which means that we have a busy and blessed (and loud) household! One of my biggest challenges has been homeschooling with little ones in tow — handling the toddlers and infants well when trying to "do school" with the olders.
After some years under my belt managing the chaos, here are several ideas to help you do the same!
Make Them First
One of the best pieces of advice I've heard, and the hardest to follow for some reason, is to make them first. But it's true! I know from experience.
My youngest kids always do better when I spend some decent, focused time playing with them first. Here are some ideas to make it a habit:
Set a timer for 15 minutes after breakfast to focus on the youngest while the older kids clean up or play.
Play with toys, build a tower, or read books with them. Have a special book basket just with learning toys and books for this time together.
Include them as a special helper during your morning routines! Include them on the chores, have them help you get out the supplies for the day, etc.
Be Flexible
It may seem obvious, but being flexible is probably the biggest key to sanity here.
Prioritize lessons by planning the most important subjects and lessons first, so they are sure to get done even if the rest of the day doesn't stay on track or your little one melts down and needs mama.
Establish a routine. No need for strict schedules, but sketch out a good, flexible routine that you can practice to help guide your day.
Have catch-up times and days for those weeks that get away from you. Move a lesson forward, do a quick lesson before bed, or make one day or afternoon a week a catch-up day if you're concerned about getting everything done that week.
Let it Go. Yes, there are times (even seasons of time) when your little ones will need more full attention and all the planned lessons for that week won't get done. No worries, mama! You're homeschooling for the long haul here, so everything will pan out.
Contain Them
Meal times are favorite times for lessons, especially for read alouds, memory recitation, and discussions. The littlest ones are strapped into high chairs and sometimes that's aaallll that's keeping them from inflicting destruction.
Blanket time is also an awesome tool! At about 18m old, start teaching them to sit on a blanket for 5 minutes at a time and play with toys set aside for that purpose. After a while, they can work up to 30 minutes at a time and will enjoy it as well. It's great for doctor's appointments too!
Pack and Plays are great for infants or crawlers with the same basic blanket time training steps. We have one in our living room for the toddler with some toys, books, and a blanket. Even if he protests at first, he eventually settles down to snuggle or play quietly.
Car rides are perfect for practicing memory work or listening to audiobooks. Make a recording where you are reading memory verses, Bible passages, or other things you'd like them to memorize.
Employ Busy Bags and Simple Activities
Whether you call them busy bags, busy boxes, or tot trays, these can be a great way to keep your littles occupied while schooling. They are basically activities or toys set aside just for these special times to keep them entertained.
Be patient. Busy bags aren't always a hit initially. Nor do littles always play along and keep themselves occupied while you're homeschooling. Over time, however, they'll learn when it's time to play with the busy bags or other toys while you're at the table with the olders.
Use them during blanket time. They are easily portable and contained, so they are ideal for that purpose.
Start simple. Some of ours include simple felt character scenes, counting bears with a small muffin pan for sorting, and geoboards with rubber bands for the preschooler. Put together interesting objects that suit the developmental stage of your child.
Use Naptime… Or Not
Teach during nap time for those subjects where your child needs focused attention or you just don't want someone eating the pencils they're trying to write with.
Or take that time to rest yourself, because you need that some days more than your kid needs a math lesson! And your kids will be happier if mommy is happier. Just saying.
Let Them "Do School"
Simple art projects in the high chair with chunky crayons, washable paint, or playdoh.
Try faux school, giving them something that looks similar to what their older kids are doing makes them happy.
Use a fun preschool curriculum that's designed with play in mind! This could be something you pull together with weekly activities, or a great curriculum like A Year of Playing Skillfully.
It's certainly true that homeschooling with toddlers and babies around can be challenging. Hopefully some of the tips here have provided ideas and inspiration for your own household! At the end of the day, we can embrace the chaos knowing that not only is this just a season of life, but it is a blessed one.
While little ones may derail the best laid plans, we can model for all our children an attitude of flexibility and forbearance. In fact, having those youngest siblings around teaches our children much in the way of compassion, kindness, and patience. Homeschooling is truly a family affair!
What ideas for homeschooling with little ones would you add to the list? Let's help our fellow homeschool moms out. 🙂
GIVEAWAY – $351.98 Value Homeschool Bundle!
This is the final bundle giveaway of the How to Start Homeschooling series! (Really this time… I had to throw in one last one. 😉 ) Enter to win this fantastic bundle below, PLUS enter all the other giveaways linked here for the series!
Mathematical Reasoning Curriculum Books from Critical Thinking Company ($39.99-42.99 value, each)
Win two books or ebooks of your choice from the Mathematical Reasoning series (Full Curriculum for Toddler-Grade 9). Includes free shipping within USA.
Forget boring math lessons and dreaded drill sheets. These fun, colorful books use engaging lessons with easy-to-follow explanations, examples, and charts to make mathematical concepts easy to understand. They can be used as textbooks or comprehensive workbooks with your textbooks to teach the math skills and concepts that students are expected to know in each grade—and several concepts normally taught in the next grade!
The Critical Thinking Co.™ publishes award-winning educational textbooks, activity books, e-books, and apps that help children become better problem-solvers. The approach is unique: help kids develop foundational reasoning & critical thinking skills while learning the core subjects (reading, writing, math, science, and social studies).
The curriculum is fun, easy to use, and guaranteed to produce better grades and higher test scores. Each lesson is infused with critical and creative thinking elements so students carefully analyze what they are learning. Deeper analysis produces deeper understanding, which results in better grades and higher test scores. Over time, students who practice critical thinking learn to apply it throughout their education and lives.
"If we teach children everything we know, their knowledge is limited to ours. If we teach children to think, their knowledge is limitless." – Michael Baker, President
Online Art for Kids Subscription from Beyond the Stick Figure ($60 value)
Enter to win a four month subscription to Online Art for Kids!
Online art courses and projects for the entire family. Get unlimited access to the ever growing library of courses and projects. Suitable for students age 5 and up. Create beautiful masterpieces and learn foundational art skills that will have you creating for years to come. Art techniques build confidence and creativity.
– Great for the whole family
– Short lessons, easy to fit into your busy day
– Open and go format, no prep for mom
– Incrementally taught the way phonics or piano would be
– If you can draw a stick figure, you can learn to pain and draw
– Develop professional art techniques and skills so you can create your own masterpieces
– New courses and projects added every month
– Includes courses and projects range in price from $17-$370, but membership is just $15 per month
Hebrew for Homeschoolers ($77 value)
If you been learning about the Biblical Feasts and the Jewish Culture, you will LOVE Hebrew for Homeschoolers! Beyond learning to read, write, and speak the language in only 4 to 10 weeks, the whole family will learn amazing facts about the culture of our Savior to help you dig deeper into God's Word!
Lessons are fun and dynamic, including music, and hands-on project ideas.
✔Self-paced
✔Lifetime Access
Courses were designed for the whole family from kindergartners to grandparents.
Planner Super Bundle from Proverbial Homemaker ($101 value)
Win the Planner Super Bundle and get your homeschool year off to a good start! In addition to the Proverbial Homemaker Planning System and the Rhythms & Routines Homeschool Planning System, you'll get our popular Loop Scheduling Workshop! Altogether this is a value of over $101 for a sweet bundle price!
These are the systems that can bring a Christ-focused and flexible efficiency to your home. They're designed with the busy mom in mind and will help you get more done while reducing the overwhelm!
Student Work & Habit Tracker ($14 value)
The Student Work & Habit Tracker is a simple tool that helps students from about 3rd-12th grade to manage their time and stay focused. They will craft meaningful goals, manage their weekly and daily work efficiently, and build in important habits.
Most importantly, the Tracker will help them keep God's Word at the center of their daily life, doing all in the name of the Lord. Click here for a list of pages that are included in the Student Work & Habit Tracker.
The Prayerful Homeschooler ($14 value)
The Prayerful Homeschooler is a 70-page eBook that takes you through 8 areas of your family and homeschool life and helps you pray for them.
You'll also find worksheets to help you pinpoint areas that need prayer the most, a 12-day homeschool mom's prayer journal, 8 beautiful scripture coloring pages, and a 30-day prayer calendar!
ENTER THE GIVEAWAY HERE
By entering this giveaway you agree to sign up for Proverbial Homemaker emails (if you aren't already signed up). Must be 18 years of age or older to enter. Contiguous U.S. states only. Giveaway ends August 22nd at 11:59pm PST. Each vendor is responsible for delivery of the prize. Winner has 48 hours to claim prize before another winner is chosen.
You Might Also Like…
Multi-Level Homeschooling Tips & Tricks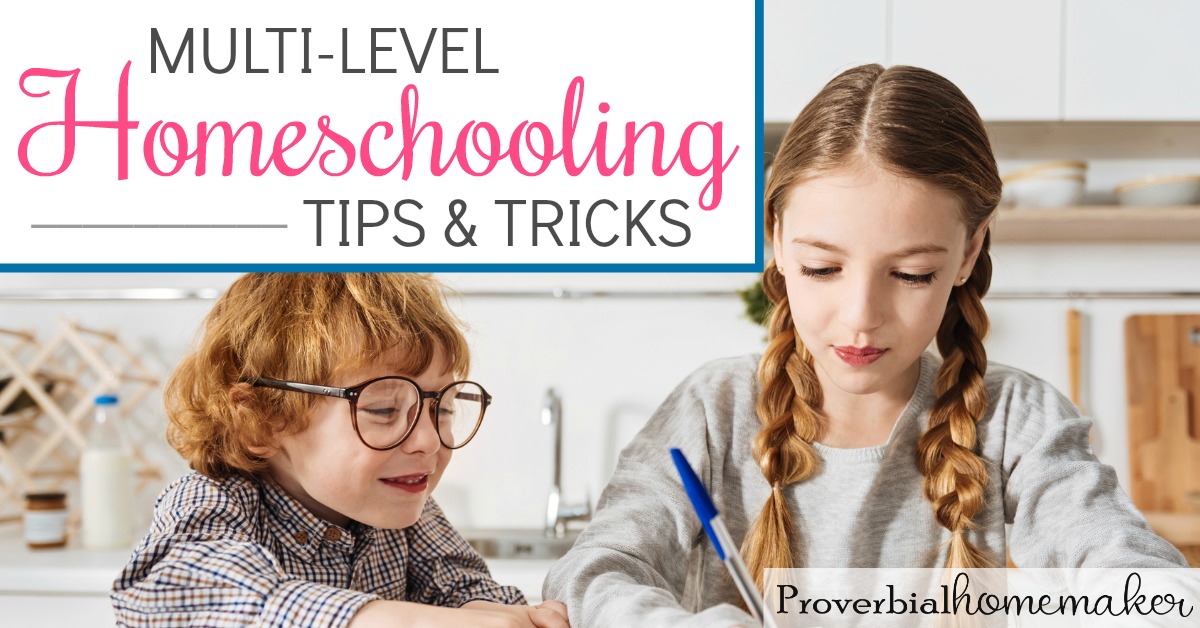 SaveSaveSaveSaveSaveSave
SaveSave
SaveSave