We've already been talking a lot about Legos here at Proverbial Homemaker, and there's more Lego goodness to come in the coming weeks! However, they aren't our only source of building entertainment and learning.
Today I'm rounding up our favorite building toys, including Legos, and all the storage and accessories we either already own or are waiting to buy. Investing in good quality building toys is a fantastic way to encourage so many skills. They are our preferred gifts to give (and receive) for that very reason!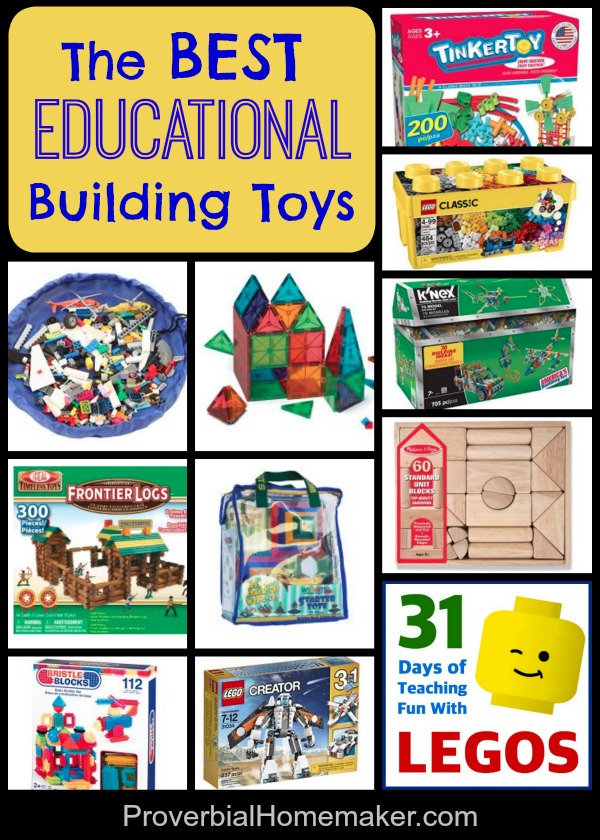 Disclosure: *This post may include affiliate links. As an affiliate, I earn from qualifying purchases. Read the disclosures and terms for more information.
When my oldest son became old enough to use the smaller Legos, my husband excitedly brought out his big stash of of them. We are blessed that he kept those toys for so long so that his own kids could use them! They are so sturdy and other than getting sucked up by the vacuum every once in a while, are pretty indestructible.
For that reason, really great places to look for Legos in particular include Craigslist and eBay. You can find lots of them being sold by families who have outgrown them. Having a lot of random pieces is more helpful for build challenges than having kits for specific build projects, but both are valuable learning tools.
Here are a few more places you can find Legos:
The online Goodwill store
The sale area at the online Lego store
Sales at places like Target and Walmart
Generic building blocks (just make sure they work with regular Legos!)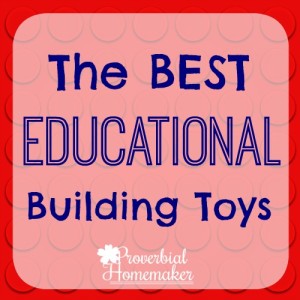 The Best Educational Building Toys and Accessories
As a sort of gift-guide and also a wish list, I've put together a list of our favorite building toys and accessories, including storage solutions. Many of these building materials can be used to create your own build challenges as well!
LEGO Classic Medium Creative Brick Box
LEGO 3-in-1 Builder Sets (These have multiple build projects in one set for greater value)
Lego Master Builder Academy Sets (9 and up)
EZY Tidy Buddy Toy Storage Bag- 17 Inch
(I want)
Sterilite 28348002 7-Drawer Cart White with See-Through Drawers and Black Casters 2-Pack
(we have this and love it!)
K'nex 70 Model Building Set, 13419, 705 piece
(This is on our wish list)
WEDGiTS 20-Piece Starter Tote
(We have these and all the kids love them while the littlest can use them. Score!)
Magna-Tiles® Clear Colors 100 Piece Set
(Best toy investment ever. Hands down.)
Ideal Frontier Logs Classic All Wood 300-Piece Construction Set with Action Figures
(A classic!)
Standard Unit Blocks
(Our kids prefer these blocks to any others)
Tinkertoy 30 Model, 200 Piece, Super Building Set
(Another classic! We have an old set but they get a lot of love.)
Battat Bristle Blocks Basic 112 Piece Set Building Kit
(Such a great one for younger kids!)
What are some of your kids' favorite building toys?
---
This post is a part of the 31 day series on Proverbial Homemaker all about teaching with Legos. There are more great tips and resources for you to discover! CLICK HERE TO SEE ALL THE POSTS IN THE SERIES. You can also find more Bible Lego Challenges at Proverbial Homemaker.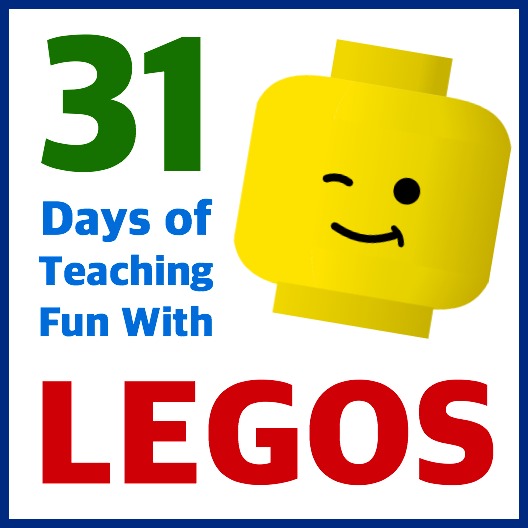 31 Days of Teaching With Legos is a part of the 31 Days of Homeschooling Tips for Moms series. There are a total of 26 homeschool bloggers working to bring you the best tips and encouragement. Check it out!
Looking for more ideas on teaching with Legos? Check out my Pinterest board! Follow Tauna Meyer (ProverbialHomemaker.com)'s board Teaching with Legos on Pinterest.