Every year, we get rid of more and more toys that are just taking up space and swap them out for toys that invite open ended play. Who has time for a bunch of toys that can't be played with because some pieces are missing, or toys that get some action for a week and then are tossed aside? Not me, that's for sure. I bet you feel the same way.
Here are my all-time favorite gifts for open ended play. These are toys we own and LOVE or are on our short list for future birthdays and Christmases. These are toys that spark imagination, inspire creativity, and can be used by your kids in a variety of ways. These toys will get played with – probably every single day!
Disclosure: *This post may include affiliate links. As an affiliate, I earn from qualifying purchases. Read the disclosures and terms for more information.
Gifts for Open Ended Play
What exactly are open ended toys? There are probably different definitions, but the one I go by is this: open ended toys are those that can be used in 100+ different ways. For the most part, they don't light up or play songs, they aren't designed for a singular type of use, and your kids will never grow tired of playing with them. Sounds good, right? So, here is a list of my favorite toys for open ended play. Some of them may be a bit more narrow in use than others but I can tell you from experience that they ALL get a lot of creative use by children!
Magna-Tiles
Magna-Tiles are, hands-down, the best toy we've ever purchased for our kids. One year we asked the grandparents to buy this instead of smaller gifts and it was such a win that we bought an additional set the next year! They get played with EVERY day by multiple ages, and for so many imaginative uses! It's the top gift I recommend for any family. There are a few different sizes and types to choose from but we have two sets of 100 and it's perfect for the 4 kids who play with them.
Light Table
After getting the second set of Magna-Tiles we decided to get a light table. My husband made one by cutting a window into an IKEA table and adding heavy plastic paneling and LED lights. Someday we'll post a tutorial but there are several you can look up online as well. Of course, you can purchase a light table or a smaller and more portable light tablet for your kids as well! They work for tracing projects, clear toys, and many educational purposes as well!
Playsilks and Streamers
We love playsilks in our home! They are used to build forts, make head scarves and bands, capes, costumes, baby blankets and slings, and much, much more! We have really enjoyed the real silk scarves and they have a flow and texture to them that cannot be matched. However, you can also try out a more frugal option with imitation silk or tulle play scarves. We have some of everything in our play set and they get a lot of action!
FortMagic Play Forts
This is another one of those toys that's a bit of an investment but I am SO glad we got it! With the FortMagic Play Fort you can build large structures with multiple sizes using simple plastic pipes and joints of various sizes and shapes. There are plastic clips that attach fabrics, perfect for large pieces of thin material or even old top sheets. The kit comes with several design instructions such as a space ship or race car, but my kids have most enjoyed creating their own structures. It's a nice change up from couch cushion forts and takes up a whole rainy afternoon with fun activity!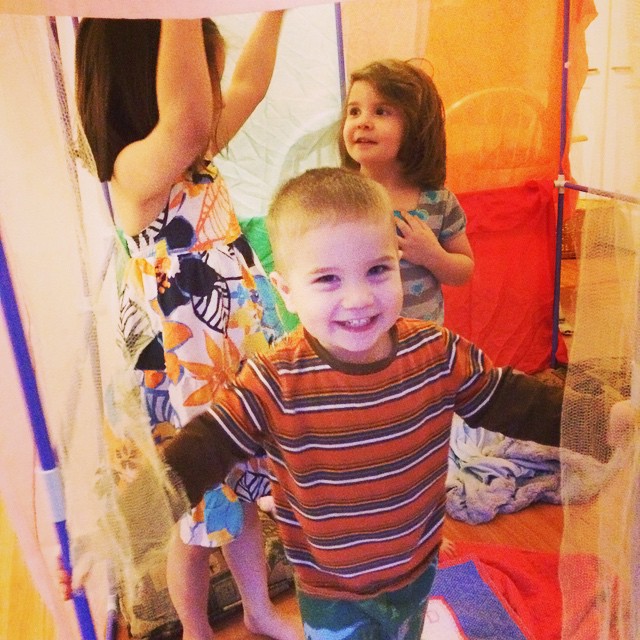 Plain Wood Blocks
These Melissa and Doug blocks have been a huge hit in our home. More than any of the other blocks we've had (don't get the foam ones – trust me), these get played with every single day.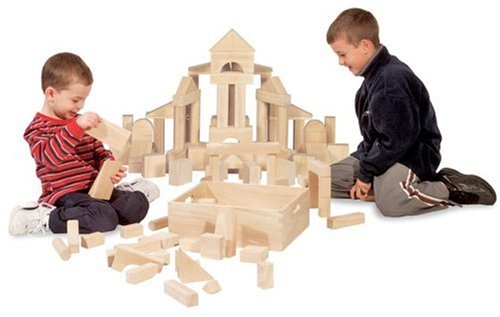 Legos, Duplos, and Mega Blocks
Of course! Probably the most well known open ended toy you can get is Legos. Duplos and Mega Blocks are great for the younger crowd as well. We have all three but the ones that get the most play are the small ones that are basic in shapes and sizes. Kits are fun, but a big bucket of standard building blocks makes for hours of creation time!
K'nex, Zoobs, and More Building Blocks
There are so many great options for building toys that provide open ended play. Here are just a few: K'Nex, Zoobs, Grimm's, beautiful window blocks! These are the toys that are on OUR shopping list this year! 🙂 MORE FAVORITE BUILDING TOYS
Hand and Finger Puppets
Puppets make great open ended play for kids, even with those that are animals or people, they will easily assign a new identity and purpose to the puppet and come up with delightful and involved stories. We have several hand puppets and finger puppets that we use with a homemade stage: a cheap spring curtain rod with a sheet or towel draped over it and set up in a doorway!
Peg Dolls and More
Peg dolls seem so basic and remind us of simpler days. However, kids still love them and can get so much great, imaginative play out of them! Try some fun Waldorf-inspired peg dolls and related toys, or buy unfinished dolls and have the kids paint their own!
Baby Dolls and Supplies
Have a simple set of baby dolls and supplies on hand for endless hours of play. There are a wide variety of dolls available but the plainest ones (with the least extra features) seem to get more play than others. Buy or make some clothes, diapers, and a simple carrier. We have a sweet little wooden rocking cradle as well. We had a lot of extra doll stuff and ended up giving away everything but these basics!
Wooden Dollhouse
Buy a doll house that is useful for open ended play by trying a wood one your child can customize! We bought the Maxim Designed By You dollhouse a few years ago and love it. The rooms can be moved around by your child or you can zip tie a few of them together (which we did for the younger kids). My only beef with it is that the pieces tend to come unglued occasionally so we have to fix them.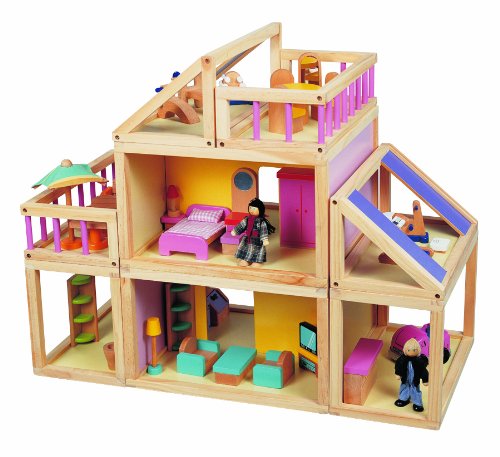 Hot Wheels Cars
My boys AND girls use classic size "Hot Wheels" cars for all sorts of pretend play. They create families from them, elaborate stories, use them with the Magna-Tiles to make garages and cities, and more! You really can't go wrong with these, and they make great stocking stuffers too. Try the Mega Hauler too. Your toddler will be busy for minutes on end. 😉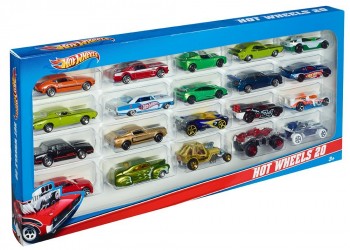 Playdoh
You know playdoh is on the list. 🙂 It has so many options for play and kids come back to it time and again! There are some great add-on tools you can buy for playdoh activities but often just the dough and a few simple tools work perfectly. Making your own playdoh or buying the name brand is best – don't mess with the knock off brands!
Kinetic Sand
Kinetic Sand is a really fun thing to try with your kids. It makes a great supervised table activity and makes less mess than regular sand because it moves like a dense liquid. It's fantastic for fine motor skills, sensory awareness, and making interesting creations.
Tea Sets and Stacking Bowls
Get a good tea set and/or some stacking bowls for great pretend time! We have the Green Toys Tea Set and passed down some plastic bowls for play time, although I love these wooden ones too! They can do tea time, kitchen play, restaurant, and more.
Animal and People Figures
Get some great play out of these TOOB figurine toy sets with animal and people figures! One long tube comes with several figurines and there are SO many different sets available, including landmarks, transportation, and more. Kids combine them with all sorts of other toys for great imaginative play.
Drawing and Painting Supplies
Inspire your budding artist with fun drawing and painting supplies and kits! The Sketching and Drawing Artist Set for Beginners is wonderful (there are oil and acrylic sets for this as well, and a pink one too!). For the younger crowd, try a Magna Doodle or assemble a gift basket or stocking full of frugal art finds and you will have a happy artist!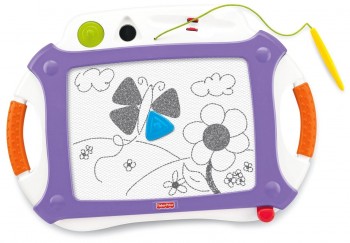 Felt Board and Felt Sheets
Inspire some crafting creativity with this wonderful easel that includes a felt board on one side and a dry erase board on the other! We have that at our home for play and homeschooling. Pair it with some colorful felt sheets and a book to get started, and you have a great open-ended gift idea!
Duct Tape Crafts
Duct tape projects were all the rage a while ago but they are still SO much fun and can be great for crafting or open ended play! Try some solid and patterned rolls and a few fun books or tutorials for beginning projects.
Water Table and Toys
Kids love to play in the water! Get some great toys for sink or bath time play, or get a water table you can keep on the porch or back yard.
Bucket of Craft Items
Get or assemble a big bucket of craft items and just let the creativity roll! Even a lot of the same pieces, such as with perler beads, can be inspiring.
Pretend Play Kits
Another gift you can buy or assemble yourself is a pretend play kit! Put together a suitcase of great dress up clothes like your or your husband's old shoes, clothes, ties, scarves, etc. Create little baskets for doctor or veterinarian play, going fishing, or playing school.
Start a Collection
Help your child start or expand a collection! Try rock collecting, nature tables, coins, or some other fun idea! My son has been getting into rock collecting. I've been thinking about getting him a rock polishing kit, and he already has a little display/sorter case to fill in. Here are a few things worth considering.
Math Toys
Sure, they're educational, but math toys actually provide a lot of open ended play! My kids make musical instruments and more with geoboards. They pretend play with the counting bears and abacus.
Books That Inspire Play
Find great books for you and your kids that help you encourage creative and open ended play in your home! Here are some great options to start with.
You Might Also Like…
Best Educational Building Toys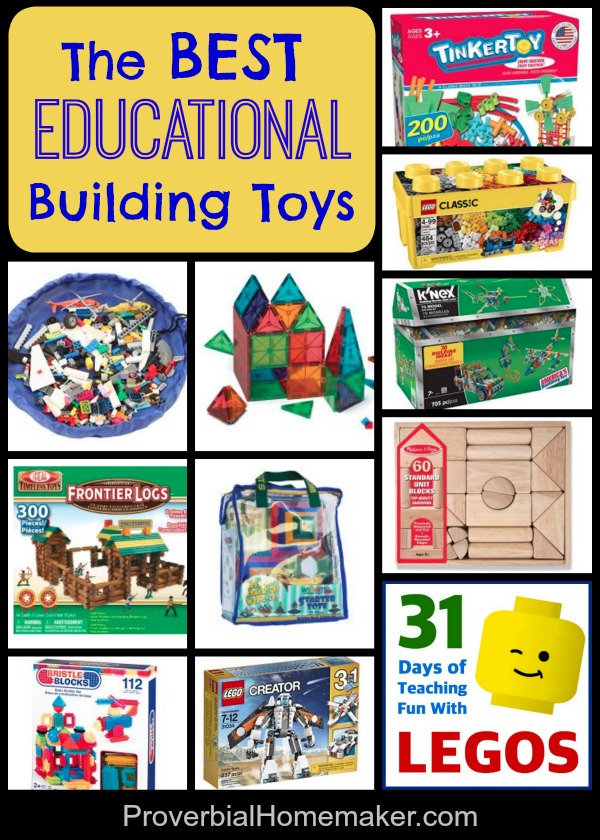 SaveSave