Dear tired homeschool mom,
Are you feeling burned out with homeschooling lately? Has the excitement you once had become lost in the mundane tasks of your days? Maybe you're starting to doubt whether you're cut out for this gig. Or perhaps motherhood itself has worn you down and you've lost your joy.
Well, you're not alone.
Homeschool moms have so much that we are juggling on a daily basis: homeschooling, parenting, homemaking, our marriage, friendship, extended family, church family, ministry, and maybe even additional work on the side! We are sometimes anxious and stressed about everything from behavior or learning challenges in our kids to nurturing our marriage or getting the house decluttered.
It's enough to leave anyone overwhelmed. And things aren't always easy, either! We might struggle with disappointment and frustration when we realize we're doing the same things over and over with seemingly little progress. We get burned out trying to be superwoman and neglecting self-care. After all, how can we really find rest!? The to-do list is never-ending and there are always expectations to meet. Right?
Yes, it is challenging, but it's joyful, too!
And it's completely worth the effort.
We all know this.
… or do we?
The truth is, sometimes homeschool moms get so burned out that they stop believing the truth of those statements. They are tempted to give up and give in, even in spite their convictions or desires for their family. There are many reasons this can happen, such as special circumstances, a particularly challenging season of life, chronic illness, or something else out of our control.
But there's ONE big pitfall that I am seeing over and over again. It's pushing moms to bail out on homeschooling for all the wrong reasons, and in some extreme cases, even bailing on their families entirely. So, why are homeschool moms giving up?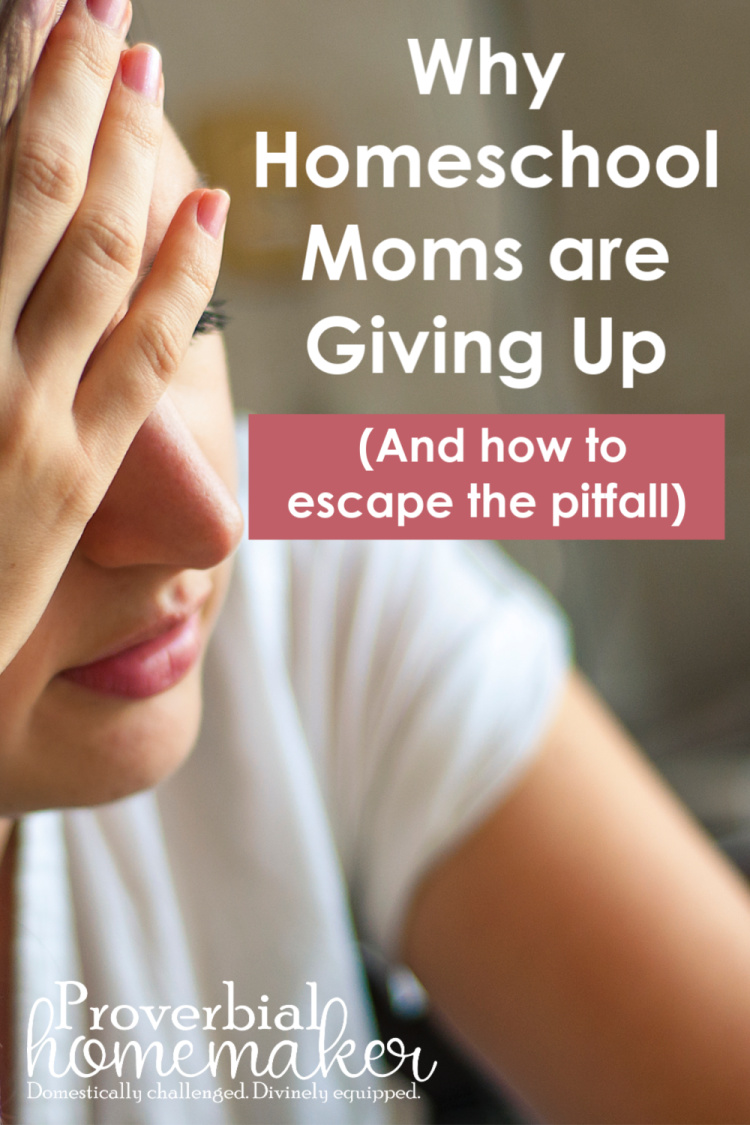 Disclosure: *This post may include affiliate links. As an affiliate, I earn from qualifying purchases. Read the disclosures and terms for more information.
Why Homeschool Moms are Giving Up
I am a homeschooling mom of 6. Homeschooling is one of the most rewarding things I have ever done and I'm the first person to extol the virtues of homeschooling to anyone who will listen. But… let's admit it. Just like parenting, homeschooling is really hard, too. All worthwhile things are.
As Christian homeschool moms, we are discipling and instructing our children to know and love God and prepare them for the work He calls them to. There is no other task more important or more rewarding. But it's no cake walk! It would be foolish to pretend it was.
Much like following Jesus, parenting our children and homeschooling them are worthwhile goals with immeasurable value. But imperfect parents raising imperfect children makes for a messy life! And since we are doing important Kingdom work in our homes, we should fully expect opposition and spiritual battle as well.
Homeschool moms will face many challenges, including:
Fatigue

Discouragement
Doubt
Anxiety

Loneliness

Criticism
Feelings of Failure
Feelings of being unappreciated
And more
When we're faced with these challenges, will we keep our hope in Christ, leaning on the Lord for strength and direction and growing in faith? Or will we slip into discontent or even defeat when trials come?
How we handle the trials of life really matters. The question isn't whether the trials will come, it's when. And, more importantly, how we will handle them when they arrive!
Discontent is a real and dangerous pitfall for the homeschool mom. It is especially dangerous because nobody is really talking about it. I'm not talking about the kind of holy discontent that looks heavenward and longs for perfection in Christ. Or the normal frustration over a bad day or week. Instead, it's the discontent that leads us to suspect we got the short end of the stick.
You see, the world shouts that everything is all about our happiness, our recognition, and our satisfaction, ease, and success. It tells us we are entitled. That we deserve better.
As Christians we know the truth. We know that, yes, God wants us to be happy and satisfied. He wants us to take sufficient care of ourselves so that we can serve Him well and He gives us all we need for godly living. He is a Good Father like that!
But in His goodness, for our own sake and for His glory, He is far, far more interested in our holiness than in our happiness. It's not about us and God never promised that the work He called us to would be easy.
We know these things as followers of Christ, and yet even dedicated Christian homeschool moms are not immune to the messages the world is shouting! Those messages can come in a seemingly innocent form, but if we let them, they will sneak in and take root in our hearts.
The real danger isn't in occasionally being discouraged by the trials of life. The danger comes when we begin entertaining the ideas that the world is shouting at us instead of putting them in their place. We become what James calls the "double minded man, unstable in all his ways." And it will take its toll.
Sadly, I've seen homeschool moms get to a point of burnout and feeling like this life isn't what it was cracked up to be. Weighed down by their burdens and unmet expectations, they give in. They are lured to the world's call and a root of bitterness is allowed to grow.
Friends, when we nurture that bitterness and discontent instead of confessing and repenting of it, it can wreak great havoc in our lives. It can even destroy our families.
So where do we go from here? Well, I say it's time for a little reality check.
What You Need to Know in Order to Run the Race Well
Contrary to what Pinterest or Instagram posts would have you believe, this life of raising children for the Lord isn't all perfect relationships, pristine homes, and stock photos of smiling families. (News flash, right?) This is real life full of real people who are all deeply flawed. But there is beauty, joy, and Jesus there, too.
Here's what you need to know if you're going to run the race well.
#1: It will be hard.
"Count it all joy, my brothers, when you meet trials of various kinds, for you know that the testing of your faith produces steadfastness. And let steadfastness have its full effect, that you may be perfect and complete, lacking in nothing." James 1:2-4
Perhaps you are just starting out as a homeschooling mom and have great ideals about what homeschool and family life should look like. And I want to be clear: that's a good thing! The Lord gives us vision and encouragement for a reason. However, we also need to know that trails will come.
Faithfully following God is hard

Marriage is hard
Parenting is hard
Managing a household is hard. (Can I get an amen?)
Homeschooling is hard
There will be difficulties in your life as a homeschool mom such as conflicts, disappointments, hurts, and frustrations. You might hit a dry spot in your spiritual life, struggle with intimacy in your marriage, have a child who is chronically lying and you don't know what to do, have trouble staying consistent in your homeschool or a learning challenge that's stumped you. Perhaps you have a hard time connecting with a community, feel like you're drowning in housework, have a chronic illness, or are dealing with a job loss.
These are trials. They are hard. But they are also incredible opportunities!
Make no mistake: the trials will come! So it's important that we are alert and expect them. When we know trials are coming we are less likely to be caught off guard by them. It's like riding waves in the ocean. When you know the waves are coming you can respond and adjust in a way that gets you through them and even brings joy! But if you're not facing the waves and don't expect them, they pretty much just knock you flat.
How we think about the trials of life has more of an impact on our ability to thrive than the trials themselves. Little trials and big trials – they are coming our way. As difficult as they can be, they are actually incredible opportunities. The challenges homeschool moms face each day provide precious opportunities to draw closer to God and experience the sanctifying work of the Holy Spirit in our lives. It's hard, but it's worth it.
So that's point number 1: It will be hard. Expect it and look for the opportunities to draw closer to God.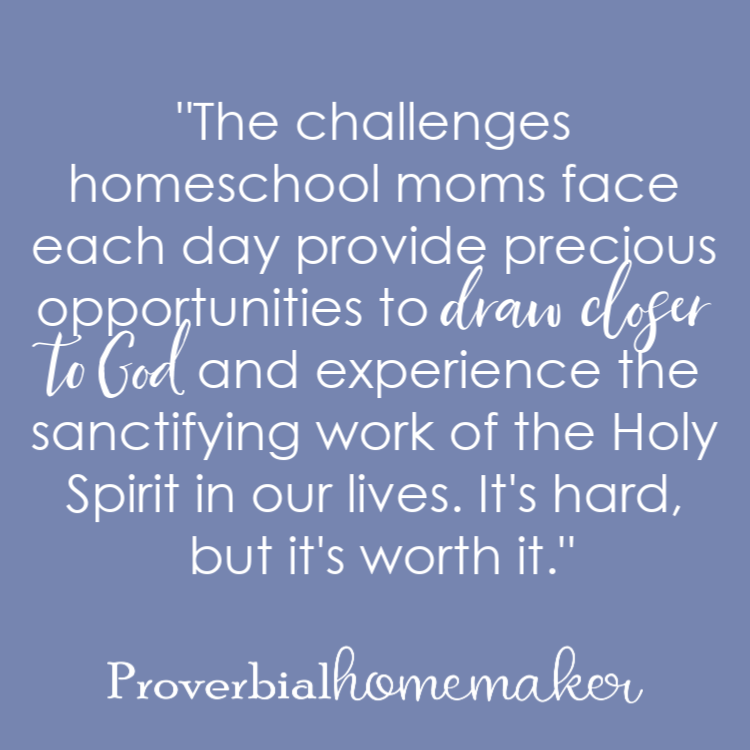 #2: You are not enough.
"In him we live and move and have our being" Acts 17:28
That's a bit jarring to read, isn't it? But it's true.
See, these days, we are either bombarded with comparison and messages telling us about all the ways that we just don't measure up to some invisible standard, or we are inflated with meaningless platitudes that we are powerful, good enough on our own, and don't need anyone else to be complete or to succeed in life.
But they're wrong. Both of these perspectives are unbiblical and they can lead us astray. The truth is in the Scripture: Our true identity, value, and worth are found in Christ alone. Our life itself is sustained by the Lord and we rely on Him every day to accomplish what he asks us to do.
The truth is we cannot find true fulfillment and satisfaction in anything but Christ. Not in homeschooling, or work, or marriage, or parenting, or being a SAHM or a WAHM… If we try, we are setting ourselves up for failure and disappointment. If you look for fulfillment in your relationships, accomplishments, circumstances, or possessions, you are looking in all the wrong places and are in danger of not only falling into the pitfall of discontentment, but falling away from God.
The bottom line for #2 is that we are not enough and we don't have to be, because He is! We can't accomplish what God has asked us to do on our own strength. We must rely on the Lord! And we won't find lasting satisfaction or fulfillment in anything but Christ.
When we realize this and lean fully into it, we will have a truly full and satisfied life.
#3: You will need to surrender.
"But seek first the kingdom of God and his righteousness, and all these things will be added to you." Matthew 6:33

"Delight yourself in the LORD, and he will give you the desires of your heart." Psalm 37:4
We all like to make plans. Heaven knows that homeschool mamas definitely like to make plans! But we have to hold those plans loosely and surrender them to God.
That goes for homeschooling as well as our family life and even our personal dreams and desires. We can lay our desires at God's feet, trusting that in His great love and in the power of His sovereignty, He will determine what is truly best for us. And we can pray that He will embed in our hearts desires that are in line with His will and bring Him glory.
Do we trust Him with our desires and expectations? Really? When trials and discouragement come our way, do we trust the Lord with our lives and hearts right where He has planted us? The truth is that things never really turn out the way we plan, but we can surrender that to God, setting aside any fear of the future or concern for our care because we know that He will care for us.
So #3: Do not hold tight to your plans and dreams. Surrender them to God. What He has planned is always far better in the end.
#4 You will have to die.
"For whoever would save his life will lose it, but whoever loses his life for my sake will find it." Matthew 16:25
If we really want a full, meaningful, satisfying life, we'll need to die. Instead of clinging to our agenda, we die to self and fully trust God. When we do that, no matter where He has called us to serve, we are better able to connect with people in a genuine way, have meaningful lives, and bear much fruit.
We need to put our discontent and self-focus to death, taking up our cross and following Jesus. Then we are able to freely give of ourselves to our family without bitterness and resentment. When we truly die to self, contentment and fulfillment become welcome friends and we can rest in a place of confidence in who we are in Christ. It's a beautiful place to be!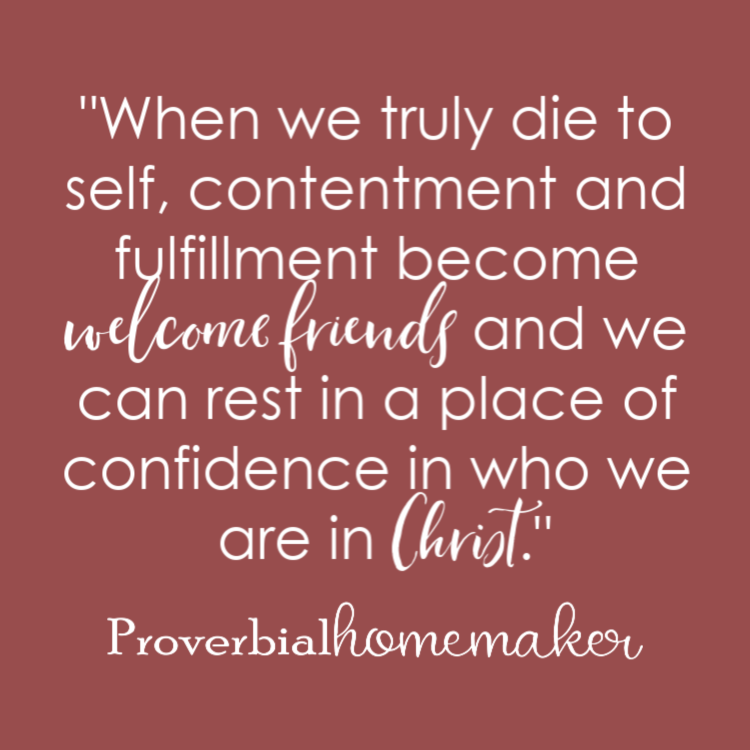 The Keys to True Happiness and Satisfaction
If you want to stay the course well and find true happiness and satisfaction as a homeschool mom, then capture those discontent thoughts for Christ and hold them up to the light of scripture! Do not nurture worldly ideas and discontent. Do not allow a root of bitterness to take hold!
Instead, expect the trials and look for joyful opportunities to glorify God. Lean on the Lord and find your satisfaction in Christ alone. Surrender your will and expectations to God, trusting Him to care for your needs and continue working on your heart. Die to self and live freely in Christ. He is trustworthy!
Also Guard Your Heart
And if I might add one more thing here, because this is so important: Guard your heart and mind against what is not of God.
Pray for wisdom and guidance when you consider what books or blogs to read, movies to watch, or even browsing social media: Watch for things that breed discontent in your heart or blast worldly messages into your ear. Sometimes it can be subtle.
The messages we consume every day DO have an effect, whether we see it right away or not. Instead, saturate your life with the truth of God's Word. Read it, display it, listen to it, sing it. Preach it back to yourself and preach it to your kids! Fill your days with prayers and praises. There is no better guard against the pitfall of discontent than the Word of God and the habit of prayer. They are the sword and shield in your battle.
I hope this encouraged you, dear homeschool mom! May you grow strong and confident in your identity in Christ, resisting the stronghold of discouragement and instead trusting in the Lord for all things.
~ Tauna
You Might Also Like…
Multi-Level Homeschooling Tips & Tricks