At the end of the Old Testament, there are many books written by prophets. These can be classified into Major and Minor Prophets. In this minor prophets Bible lesson printable pack, children will enjoy learning about the 12 Minor Prophets. Just because they are called Minor Prophets, doesn't mean they are less important. In fact, there are many lessons that can be learned through reading and studying the books of the Minor Prophets.

Disclosure: *This post may include affiliate links. As an affiliate, I earn from qualifying purchases. Read the disclosures and terms for more information.
This Minor Prophet Bible lesson printable pack contains over 50 pages of fun activities and study worksheets on each of the twelve minor prophets: Hosea, Joel, Amos, Obadiah, Jonah, Micah, Nahum, Habakkuk, Zephaniah, Haggai, Zechariah, and Malachi. Those these 12 men taught at different times to different people, they had one thing in common. They were all faithful men, that were chosen by God to speak His message to those who desperately needed to hear it.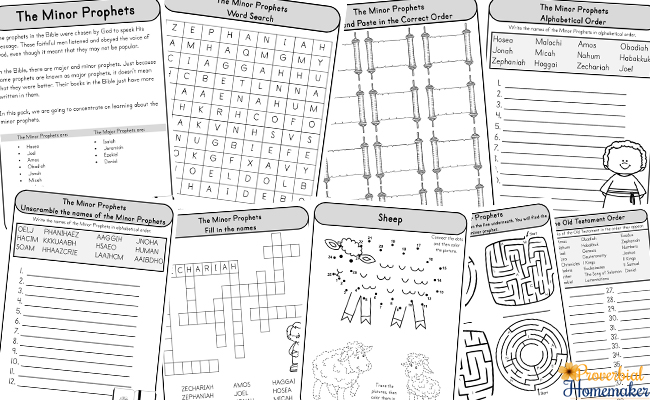 The general activities in this Minor Prophets Bible lesson printable pack all revolve around the Minor Prophets and include:
Word Search – Find the Names of the Minor Prophets
Cut and Paste the names of the Minor Prophets in the correct order
Alphabetical Order – Write the names of the Minor Prophets in alphabetical order
Unscramble the names of the Minor Prophets
Fill in the Names
Mazes – Find the letters as you go through the maze and create a word
Old Testament Book Order
Whale and Sheep Dot-to-Dot and Tracing Pages
How Many Words can you make
My Favorite Bible Verse
Who Said it?
These activities can be done before, after or even in between completing the Minor Prophets Bible lesson activities. These activities are aimed at children of all ages, as they can work at their own level and pace.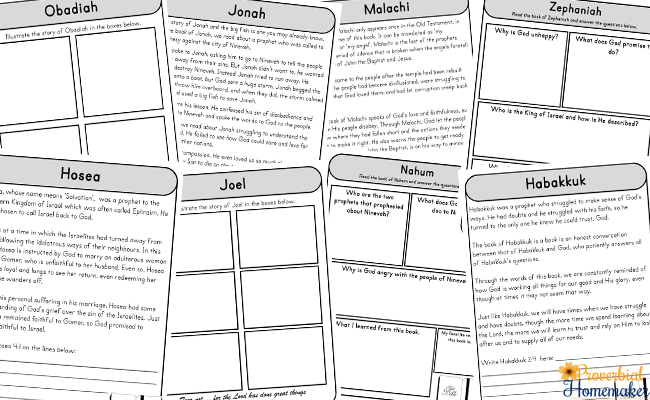 For each of the 12 Minor Prophets, it is recommended to read the book from the Bible before completing the activities. The three pages of activities for each specific prophet include an overview of the book, followed by writing a verse, then answering questions about thoughts and events that happened in the book and lastly, a page where children can illustrate the story.
Download the Teach Minor Prophets Bible Lesson Printable Pack
Click the arrow below to go to the Proverbial Homemaker store and get your Minor Prophets Bible Lesson Printable Pack!

You Might Also Like…