This easy his and hers gift idea for couples would be a great Christmas, wedding, or anniversary gift while being easy on the budget!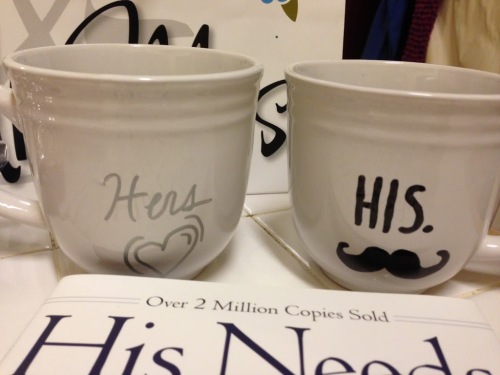 We went to a wedding recently and wanted to give a creative gift. We ordered His Needs, Her Needs (one of our favorite marriage books). The bag and wrapping came from the dollar store.
I saw the idea for the mugs here. I did make sure to get dollar store mugs because nicer ones have a better glaze that prevents the ink from taking.
Make Your Own His and Hers Mugs
To make your own, practice the lettering and drawing a few times and then write it on the mugs. If you mess up, you can wipe it up right away and start over. Then put the mugs in the oven set to 450 for 30 minutes. I ran the cups through the dishwasher a few times to make sure it was permanent and all was well.
Put in a pretty bag or basket with your book and some good coffee and you have a nice gift for a special couple!]
You Might Also Like:
5 Ways I'm Making My Marriage a Priority