Disclosure: *This post may include affiliate links. As an affiliate, I earn from qualifying purchases. Read the disclosures and terms for more information.
Welcome back to the Real Homeschoolers interview series! Join me in welcoming Kimberly Vogel. She offers the great encouragement for those who are considering homeschooling but aren't yet sold and for those teaching struggling learners. Thank you, Kimberly, for joining us!
---
A Reluctant Homeschooler
The decision to homeschool was not easy and one I fought it. After college, I taught school until I became a mom. I stayed home until my youngest entered preschool, where I taught. After all kids were in school, I continued teaching preschool. I loved teaching, but did not want to homeschool.
Then one day my eyes opened and I saw my daughter being crushed by her experiences in public school. I pulled her out of school overnight and fortunately brought her with me to work. Over the next year I pulled more kids out and now I homeschool all of them.
The best advice I received about homeschooling: "The first few weeks of homeschooling, after you take your kids out of school, just enjoy being together. Read books and do fun experiments. When you start schoolwork, do not model it after the school system." Even though I didn't follow it at first, I do now. When things get stressful, we make sure to ditch the routine and enjoy being together.
Heart Matters Over Education
Our vision in homeschooling is heart matters over education. This year our biggest change is an earlier start time and we begin our day with Bible reading, prayer, and memorizing verses and a new character trait a week. I discuss with my kids that homeschooling is a big sacrifice on my part and while I love it, it is time consuming.
I teach homemaking skills and we do chores. The kids pitch in around the house as part of our homeschooling. This works because they all want to be homeschooled and see what a big undertaking it is. I can see how in some families this would backfire! However, I do think chores for kids are very important in productivity and responsibilities.
Going Into the High School Years
I'll admit, the high school years intimidated me. I realized it's OK to not know what they are learning. They can tell when I don't know and it's better if I stop pretending I do! We belong to an amazing co-op that has so many opportunities for our older kids. By high school, my kids know where to go for information and how to learn independently. In high school, I become the case manager and my job is make sure they are doing their school work. It's a tough time in their life and I cherish all the talks and life learning opportunities.
Homeschooling a Struggling Learner
My biggest challenge is my struggling learner. I learned not to rescue her, but to do whatever it takes to help her succeed. The key to her success is to go at her pace. When I push too hard and work beyond her level, she shuts down and there's a higher chance of meltdowns (on both our parts!). I'm now starting to speak to others about homeschooling a struggling learner. God is using my/our struggles to bring encouragement and help to others.
More About Kimberly
Kimberly shares God's love for children through her writing, and encourages moms through her blog www.kimberlyavogel.com. Ribbons of Rainbows is Kimberly A. Vogel's first children's storybook, which will be published in Spring 2015 by Reflective Life Ministries. She lives in Texas with her husband, Kevin, and four daughters. The whole family enjoys serving God as leaders in the children's ministry at church. When she's not homeschooling her girls, or teaching creative writing, you can find her spinning words into stories or twisting yarn or wire into crafty creations.
---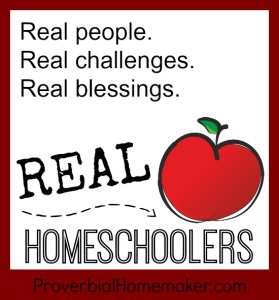 Check out all the interviews in the Real Homeschoolers series as well as a complete list of the questions that were asked. Not all the answers were included, but I have been careful not to change anything about their answers other than grammar and structure for the sake of presentation.