Disclosure: *This post may include affiliate links. As an affiliate, I earn from qualifying purchases. Read the
disclosures
and
terms
for more information.
These past few weeks I have been thinking quite a bit about what it means to homeschool from a biblical worldview. I've learned a lot in the years since we started this home education journey, especially about what is important, what isn't, and how to hold the line between the two.
*** HEY! There's a $430+ homeschool curriculum giveaway at the end of this post! Click here to go there. ***
In Christian homeschooling circles you will often hear that biblical worldview is important. Does that just mean making sure you tell your kids about Jesus? Or doing family worship? Or maybe it means using Christian curriculum?
No, it's much more.
What is a Biblical Worldview?
Everyone has a worldview. It simply means how we view the world — what our overall perspective is and how it shapes our experience of the world around us. It is about our most basic beliefs and assumptions. A common analogy is that worldview is like donning colored glasses. It will always affect how we perceive the world.
So, what is a Christian worldview or a biblical worldview? It is when we don the glasses of the gospel. It's when we look through the spectacles of the infallible and inerrant Word of God, seeing ourselves, others, and the world around us in the light of Scripture.
Why is it Important to Homeschool from a Biblical Worldview?
Each year, my husband and I spend time reflecting on how the last year of homeschooling and parenting went and strategizing how we'll tweak things for the coming year. A big part of that conversation is refreshing our homeschool vision or mission statement. If you take a look at our vision statements from year to year you'll see a pattern: It increasingly becomes more and more about Jesus.
Why? When we look at our children, our efforts to educate them, and any other way we spend our waking hours, we either look at them with a biblical worldview or we don't. We either consider it ALL through the lens of God's Word and the gospel of Christ, or we don't.
We want to homeschool from a biblical worldview.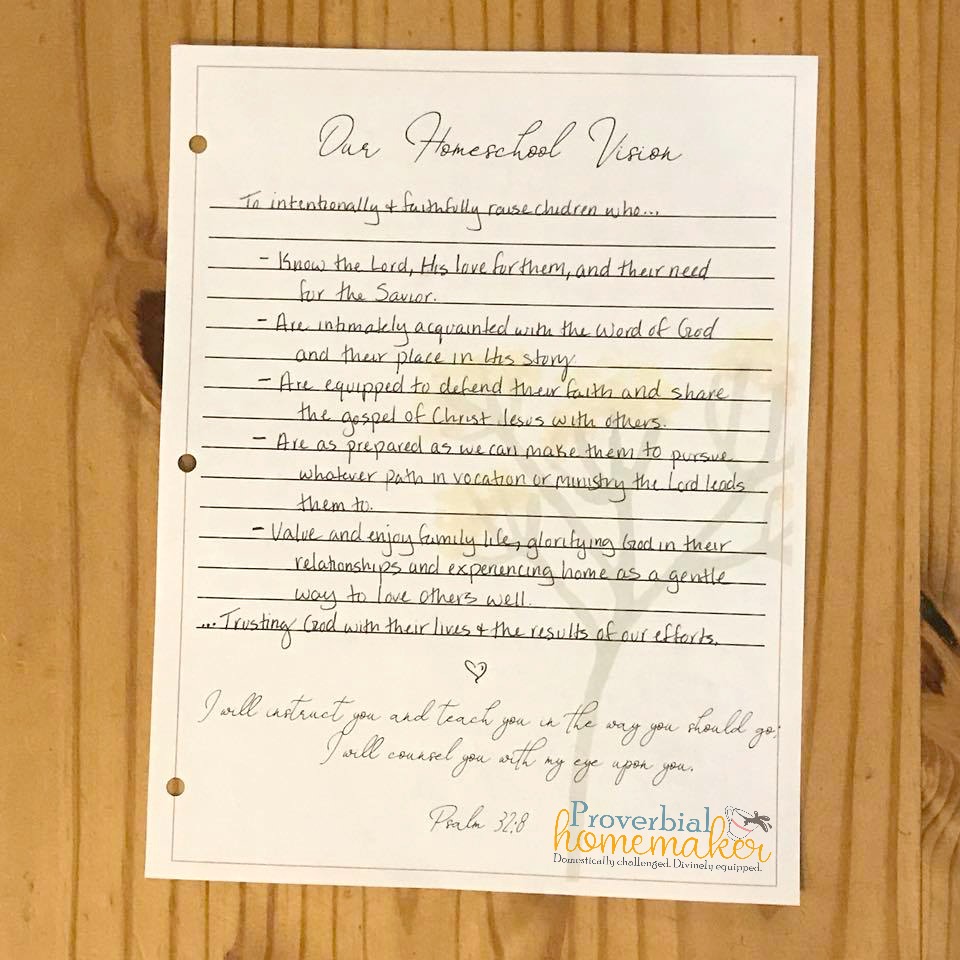 Here's what we are learning:
There is nothing more important than teaching our kids to know and love the Lord and to love others.

There is no goal more worthy than to raise children who walk closely with God and follow His path for them with faithfulness.

Fear of the Lord truly is the beginning of ALL knowledge… and no subject can ever really be independent from the knowledge of God.

Biblical literacy and sound theology and doctrine are critical in homeschooling and family discipleship
In fact, ALL of this — our parenting, our homeschooling, our life together — is from Him and for Him.
What Does It Look Like to Homeschool From a Biblical Worldview?
When you homeschool from a biblical worldview, it doesn't mean simply teaching that subject at some point, or even just choosing mostly Christian curriculum for our studies.
Homeschooling from a biblical worldview means that everything we do is done through the lens of God's Word and His purposes for our children. Whether we're mapping their course of study, choosing curriculum, planning their week, or reading together as a family, we do it all with the ultimate goal in mind: that they know and love God, and glorify Him with their lives.
Know Your Bible & What You Believe as a Family
The most important thing we can do as parents who want to homeschool from a biblical worldview is to have an accurate one ourselves! Polish those glasses. Study your Bible diligently. I know that we busy moms find that challenging, but be creative to make the time and keep it as a priority as much as you can!
Learn about false teachings so that you can recognize them. Have a clear idea of what you believe from a biblical perspective on the various issues of life.
You might find it helpful to work together as couple or even with your pastor, considering your church's statement of faith. But also think about writing down what you believe in specific areas that will come up in homeschooling in terms your children can easily understand: What does your family believe concerning the origin of man? Creation vs. evolution? The authority of Scripture? Marriage? The sanctity of life? Start with simple statements and add to your notes as conversations happen. Pray for wisdom and guidance as you formulate these statements together.
Equip Them for a Life of Following God
There are several things we want to teach our children so that they are as prepared as we can make them for a life following God. Although only the Holy Spirit can transform their hearts, and we can trust God to fully equip our children for whatever purposes He calls them to, it is our privilege and our responsibility to teach them these important things.
To know God's character, His creation, and His intimate working in their lives
To understand their relationship with God and their need for a Savior
To know God's Word thoroughly and accurately, treasuring it in their personal lives, and holding a high view of the authority of Scripture
To have the knowledge and ability to effectively communicate the gospel and defend their faith
To have the personal character and the tools to learn whatever they need to in order to follow God's specific call on their lives
You know… while you teach them addition. 🙂 Sure, these are not small things in the least, but be encouraged, dear mom! You are not alone! The Lord will strengthen you, guide you, and give you the wisdom you ask for in these efforts. He cares deeply about the hearts of your children!
[Read: Teaching Your Children the Bible]
[Read: Why You Should Teach Theology to Your Kids]
Teach Using Carefully Selected Materials
We must be careful to choose curriculum and materials that will help us to teach our children all of these things effectively and not work against our instruction. In our homeschool, we choose to use Christian curriculum that takes an overtly conservative biblical worldview, specifically in subjects that we consider most important for growing in and defending the faith: science, history, and (especially in later years) literature. And we find that each year we trade in for even more curriculum with solid biblical worldview because it just makes sense with our goals.
While secular science, history, or literature curriculum may provide "teachable moments" to discuss with your kids, I would argue that life will have plenty of teachable moments. They don't need to be specifically introduced through curriculum. So we keep such resources as a supplement and use them with care.
You will want to be especially careful with curriculum or books that don't align with your worldview when they are being used independently by students who can read well but aren't quite ready to identify and call out unbiblical ideas without your direct guidance.
Does that mean we should never use secular curriculum? No, not necessarily. I personally believe every subject can and should be taught with a biblical worldview, no matter what materials we use. Math, spelling, grammar, art, music, language, and so on are all studies of God's creation and opportunities to reflect on His character.
It IS possible to provide this biblical worldview on your own using a secular curriculum if you have a good understanding of Scripture. In our family, we do sometimes use secular curriculum for subjects such as math or art, but we still have those biblical worldview conversations. It comes somewhat naturally when you spend time studying the Bible and Christian theology together, too.
In many ways, we're more careful with Christian curriculum. With secular curriculum, your feelers are already up and you know what you're getting. But some curriculum that is sold as Christian may have unbiblical content or be authored by a non-Christian source. Sometimes you won't realize this until you are in the middle of using it. So I strongly encourage you to take even just a few minutes to of research the worldview and statement of faith of the author and/or publisher you are buying your Christian curriculum from BEFORE you buy it.
Whether the material is secular or Christian, be prepared to call things out that are contrary to what you believe. And if what you find about a curriculum or publisher is very concerning, consider whether it's time to joyfully let go of it, no matter how well it "works" for your child or how easy it is to use. Curriculum is fleeting and there are always other options. It is nothing compared to God's Word, which never changes.
Stay Focused & Keep Your Priorities Straight
The hardest part of all of this is staying focused and keeping our priorities straight in the midst of busy life and the constant promise of that new activity or curriculum. Stay the course, friends! Write that vision statement for your homeschool, keep reading God's Word and hiding it in your heart, and keep teaching it diligently to your children in every step of your day.
Filter all your planning and teaching through the lens of Scripture and everything else will fall into place.
To God be all the glory.
But seek first the kingdom of God and his righteousness, and all these things will be added to you. – Matthew 6:33

In all your ways acknowledge him, and he will make straight your paths. – Proverbs 3:6
All Scripture is breathed out by God and profitable for teaching, for reproof, for correction, and for training in righteousness, that the man of God may be complete, equipped for every good work. – 2 Timothy 3:16-17
~ Tauna
Win a $430+ Curriculum Bundle!
To celebrate the new school year for 2021 we are doing a series of sponsored Back to Homeschool giveaways! I love this week's giveaway bundle. These resources will help make your homeschool year a great one!
One winner will receive each of following gifts from our giveaway sponsors:
Beautiful Feet Books creates Charlotte Mason inspired curriculum that your kids will love. Their literature packs are available for all ages and include hand-picked living books and an easy to use teacher guide that is open-and-go.
For a wonderful literature-based homeschool experience that digs deep into stories to teach history, science, and more, you'll love Beautiful Feet Books! Our family has personally used BFB several times over the years. They are a wonderful way to dip into literature-based homeschooling and enjoy great books together!
The winner will receive a State History One-Year Combo, which includes the winner's choice of the bundle for Grades 3-12 or Age 4 – Grade 2! Winner will specify the state of their choice for the included state study.
"Study your way through all fifty states in order of statehood! For Grades 3-12, you will use Fifty States Under God and Geography of the Fifty States, either simultaneously or consecutively. Both books are completely self-contained—no additional books, resources, or teacher materials needed.
Fifty

States

Under God provides a context of US

History

and includes a timeline, progressive map study, complete reference section, color

state

symbol pictures, five tests, teacher instructions, and answer key. Your student will love learning the interesting facts and

historical

highlights about each

state

!
Geography of the Fifty

States

teaches US Geography and correlates the geographical regions to the order of statehood, showing how the geography of our country affected the growth pattern.
Our hands-on project notebook study of your own

state

can be inserted when you come to it chronologically.
Our levels are correlated so parents can teach all ages together!
Prize includes 4 books ( $109 value):
Fifty

States

Under God
Geography of the Fifty

States

State

History

from a Christian Perspective Student Booklet (on winner's choice of

state

)
Master Lesson Plan Book
Or winner may choose the 3-piece lower level set for age 4 through grade 2, ($52 value) which includes:
Fifty

States

Under God for Young Learners
My

State

History

Funbook for winner's choice of

state
Special Coupon Code: Use coupon code FIVEOFF at checkout for $5 off any order. Shop here.
Teach your kids the basics of the Christian faith with Sound Words for Kids: Lessons in Theology. Your children will learn what the Bible says about important topics such as God, creation, and salvation. Includes scripture memory, notebooking, activities, coloring pages, discussion questions, and more!
Win all 5 currently published volumes of Sound Words for Kids!
Special Coupon Code: Use PHBackToSchool through August 31 to get 25% off storewide! Shop now.
ENTER TO WIN ALL THIS BELOW!
By entering this giveaway you agree to sign up for emails from Proverbial Homemaker (if you aren't already signed up). Must be 18 years of age or older to enter. Giveaway ends September 12th at 11:59pm PST. Vendors are responsible for delivery of the prizes. Winner has 48 hours to claim prize before another winner is chosen.