Last year I wrote this post about how we do our homeschooling year round with a 4-day homeschooling week. It has worked so well for us I decided to update it with some new insights and tips after a year of putting it into place! If you homeschool year round, finding a good rhythm for your weeks is critical to avoid burnout. As we tackle a new year of homeschool curriculum, planning, and scheduling, it's a great time to evaluate our routines!
Our Year-Round Schedule
You may have heard of the sabbath schedule for homeschooling: 6 weeks of homeschool followed by 1 week of rest. For a while we adopted this approach but with a 4-week cycle instead. We went four weeks on and one week off, the "off" week for planning and doing fun activities that may or may not be connected with school. Nowadays, we just plan some regular vacation-type breaks through the year and then take a break when we need it instead of having a set rotation.
We start in July and end in July. Our big vacation is usually in September, and we have two weeks off at Christmas. We take time off for babies, too. Then our off weeks are generally adjusted to happen around other holidays if we want (like Easter and Thanksgiving).
How do you plan a schedule like this for yourself? Get out a calendar that gives you a year's view, and we'll do it together. Here are the steps:
Mark your first day of school.
Mark off your known vacation weeks.
If you're doing a 4 week on 1 week off thing, start counting from the first day for 4 weeks and then mark off the fifth.
Adjust around holidays or other major events. Some cycles may be 3 or 5 weeks long. That's ok.
Have a PLAN for those off weeks: special activities, schedule dedicated days for your planning, etc.
I plan a quarter's worth of work at a time in a rough outline, and then put more details in for each of those 4-week blocks. It works so well! The planner I use is the Relaxed Mom Homeschool Planner & eCourse available here at Proverbial Homemaker! You will love this valuable resource that walks you through setting up a rhythm-based homeschooling system like ours that works just for you and your family. FIND OUT MORE!
Our 4-Day Homeschooling Week
Our homeschool week is a little wonky because my husband has Sunday and Monday off. So our days for dedicated learning time are Tuesday through Saturday. But this 4-day homeschooling approach will work no matter what days you have available. We do our "normal" school time Tuesday, Wednesday, Thursday and Friday.
Saturday is our "Home Blessing" day, which is basically housework, meal prep, character focus, and Home Ec. I take the time to teach my kids specific tasks that are life skills, including cooking, cleaning, sewing, gardening, etc. It's technically school in my mind but they don't know that. 😉 You can find out more about Home Blessing Day here and download my free planner.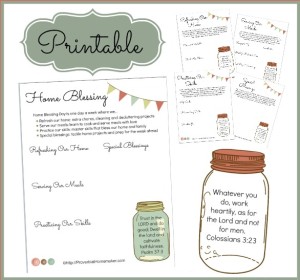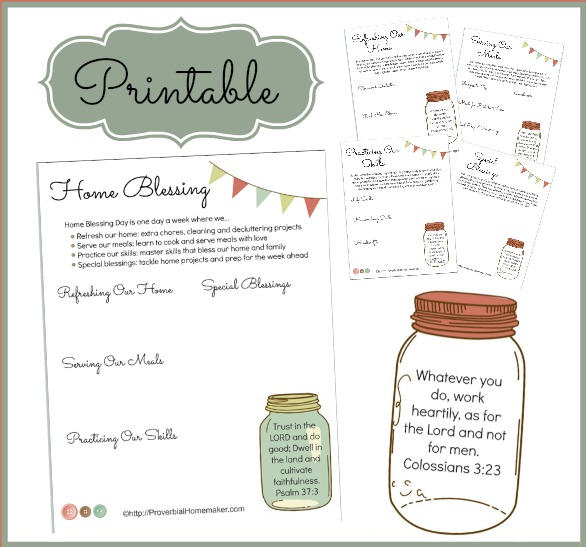 4-Day Homeschooling Week: What We Do Each Day
The 4-day homeschooling week fits really well into our weekly family rhythm. Tuesday through Friday we always do our Bible lessons, math, reading, writing, and language arts. The remaining subjects (history, science, poetry, geography, etc.) we alternate or loop. This is something we learned this past year – assigning certain subjects to certain days of the week did NOT work. Instead, I struggled with what didn't get done and fell behind, getting discouraged and contributing to a rushed and negative homeschool environment.
Now we alternate or loop all but the "core subjects." For example, we do a week's worth of science followed by a week's worth of history. We have a list of memory work we loop though each week as well. Combining this block schedule for main subjects with looping/alternating for the rest has worked quite well and keeps us moving forward without stressing over rigid schedules.
Here's what we do for ALL the days of the week.
Sunday – Sabbath
Monday – Family day
Tuesday – Standard lesson day
Wednesday – Standard lesson day
Thursday – Standard lesson day
Friday – Standard lesson day + Library
Saturday – Home Blessing Day (housework, character, life skills, art, etc.)
What I love about this schedule is that I KNOW the basics will get done with our regular routine. The rest will keep progressing and adjust to life situations without derailing us from the plan. Our yearly and weekly homeschool schedule is flexible, conducive to low-pressure planning, helps us get things done without being a slave to the schedule… and I love it. How about you? What does your homeschooling week and year look like? Do you wing it, schedule it, or have something in-between?
You Might Also Like…