Disclosure: *This post may include affiliate links. As an affiliate, I earn from qualifying purchases. Read the
disclosures
and
terms
for more information.
Finding a good approach to your homeschool schedule can make a huge difference. Use the right method that fits your family well, and you'll get more done and have less stress overall.
*** Hey! Don't miss the $280+ homeschool GIVEAWAY at the end of this post! Click here to go there.***
But it's not always easy to find that groove. In fact, it usually takes homeschool parents 1-3 years before they really hit their stride and have landed on a homeschool approach that works for them, including how they schedule their days and weeks.
That's totally fine and to be expected! In fact, how you handle scheduling will likely change with different seasons.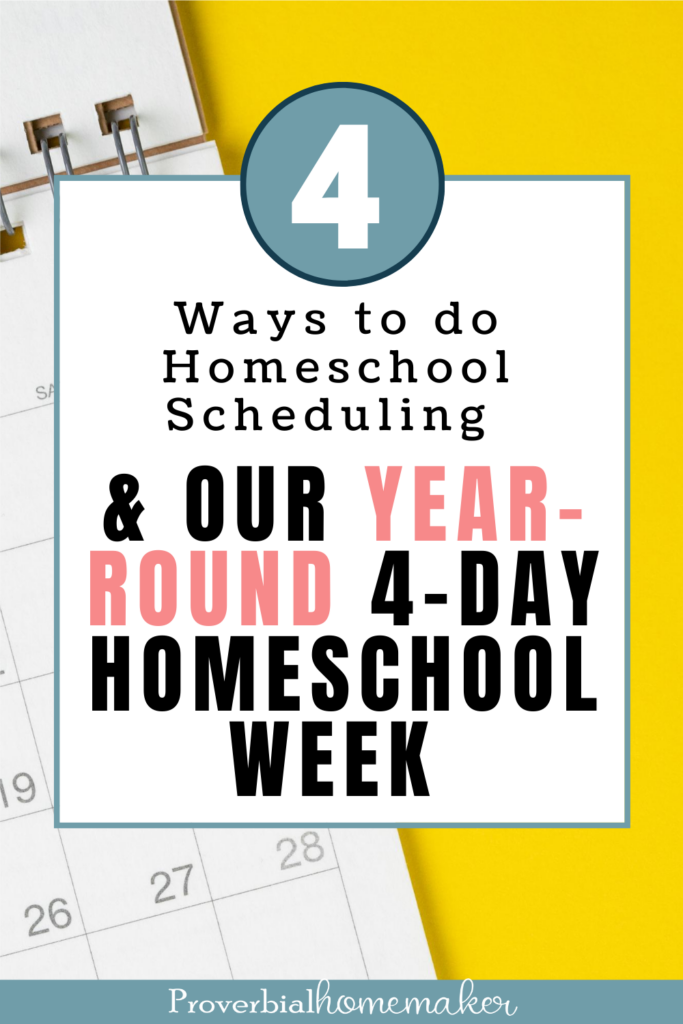 In this post, I'm going to share with you the four basic methods of homeschool scheduling. Then I'll go into some detail on how WE do our homeschool schedule, with a flexible year-round, 4-day week routine.
It's been such a fantastic fit for us what we've been doing it all these years! I'll also share some great tips and tools for how to craft a homeschool schedule that fits YOUR family's needs best.
Let's get started!
4 Methods of Homeschool Scheduling
How we schedule the year, our week, and each day.
Traditional Scheduling – Think of your public school experience! You can replicate this at home (although it's not really recommended). You follow the school calendar and generally teach every subject every day all year with electives on the side. Homeschoolers may find this too rigid for their needs.
Block scheduling – "Block scheduling" means different things depending on who you're talking to. The general idea is organizing tasks into blocks of time.

Blocks in your week/year: This could mean block scheduling days (Science on Monday, History on Tuesday and Thursday, etc.), weeks (alternating a week of science with a week of history) or longer periods (science the first semester and history the second half).
Blocks in your day. This could be a traditional-looking schedule with each hour or two (as blocks) focused on a different subject. Or it could mean dividing the day into blocks by the TYPE of work that is done, such as group work in the morning and individual work in the afternoon, or blocking by age range. Block scheduling simplifies things and allows for less switching between subjects so that families can really dive into those topics.

Loop Scheduling – This can be done with all or just some subjects. It means rotating through a list of subjects each day or week, and then when you get through it, starting back at the top. Especially helpful for younger grades, but group work can be put on a loop, as well as electives for older kids. Loop scheduling allows you to make progress with more flexibility and subjects are less likely to fall through the cracks.
Checklist Scheduling – This means that each day or week you just write out a list of what your child needs to do and they work through that list. A popular suggestion for this approach is just to have a spiral notebook for each child and write a checklist of what they need to do each week/day.
Our Year-Round Homeschool Schedule
Although some homeschool families follow the public school schedule for various reasons, just as many seem to do a year-round homeschool schedule. That's what we use! We enjoy the benefits of year-round homeschooling and the flexibility it provides our family.
There are many ways of doing a year-round schedule for homeschooling:
Sabbath schooling – homeschool for 6 weeks then 1 week of rest and planning.
4-week cycle – same approach but with 4 weeks on 1 week off (we did this for a few years).
Just take breaks as needed – this is what we do now, working breaks around planned vacations/holidays and whenever we need a break.
I love this relaxed approach. It's less stress and less planning needed. Things just sort of even out in terms of lessons, too, and we always get more than a full year's worth of work in.
I tell ya, moms… we have a tendency to invest too much into detailed plans that we'll end up ditching altogether when life happens. This way of doing scheduling and planning is the happy medium we've found that works so well for us!
---
The planner I use is the Rhythms & Routines Homeschool Planning System, available here at Proverbial Homemaker. You will love this valuable resource that walks you through setting up a rhythm-based homeschooling system that works just for you and your family. It includes a customizable planner and a video course. FIND OUT MORE!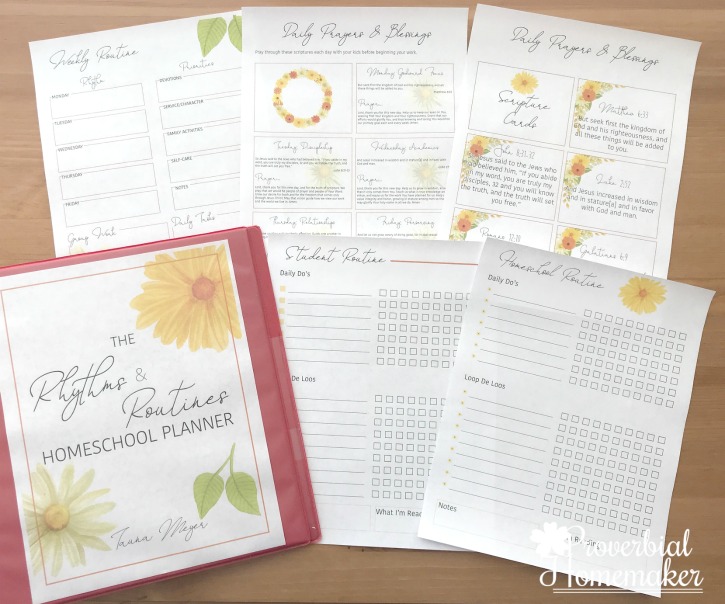 ---
Our 4-Day Weekly Homeschool Schedule
Our homeschool week is a little different than most because my husband has Sunday and Monday off and does shift work with hours that change each week. So our days for dedicated learning time are Tuesday through Saturday. But this 4-day homeschooling approach will work no matter what days you have available. We do our "normal" school time Tuesday, Wednesday, Thursday and Friday.
Saturday is our "Home Blessing" day, which is basically housework, meal prep, character focus, and life skills. I take the time to teach my kids specific tasks that are life skills, including cooking, cleaning, sewing, gardening, etc. They also take on extra assigned chores to earn a commission (it helps teach them money management). It's all homeschooling in my mind but they don't know that. 😉 You can find out more about Home Blessing Day here and download my free planner.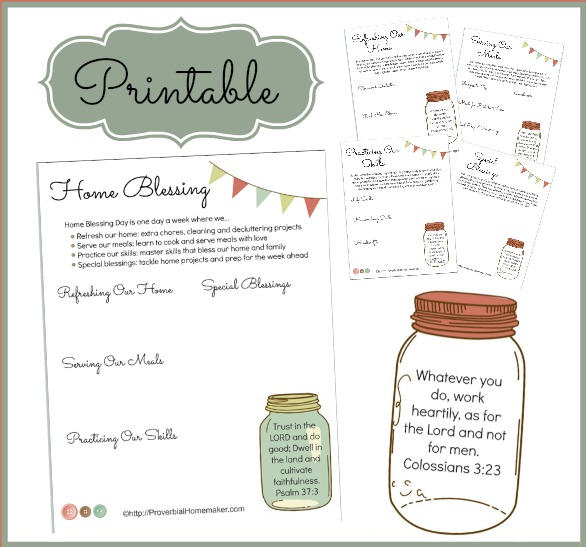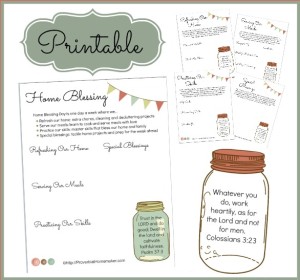 Here's what we do for ALL the days of the week for our year-round homeschooling schedule.
Sunday – Sabbath
Monday – Family day
Tuesday – Standard lesson day + Piano lessons
Wednesday – Standard lesson day
Thursday – Standard lesson day + Choir/Baseball (although those are currently cancelled)
Friday – Standard lesson day + Library (we may do hikes on Fridays this year instead due to restrictions)
Saturday – Home Blessing Day (housework, character, life skills, art, etc.)
What I love about this schedule is that I KNOW the basics will get done with our regular routine. The rest will keep progressing and adjust to life situations without derailing us from the plan.
Our Daily Homeschool Schedule
Once you have your yearly and weekly homeschool schedule decided, it's time to plan your daily schedule. What exactly goes into what I called a "standard lesson day" above? As usual, this depends greatly on your own family rhythms, goals, and the curriculum you're using.
You can use one of more of the scheduling methods I listed above to craft a schedule to meet your needs. The main thing to decide is which subjects subjects should be done every day and which ones can be done less often. Those less often subjects are the ones that will require some creativity on your part to decide where they fit best into your homeschool.
Here's what our regular schedule looks like and which subjects we do. Note that all our academics are done by 3-ish (more like noon for younger kids). We like read alouds, so we tend to do a lot of audiobooks and read aloud sessions in general.
Breakfast: Bible & memory work
Morning Chores & responsibilities

Group work time at the table (looping through Charlotte Mason style resources / Morning Basket)

Individual work

The older kids do their independent work (daily work and loop schedule) and come to me with questions or any tasks that need input/instruction.
I spend some 1:1 time reading or playing with my preschooler. He's more likely to stay sane if I do that. 🙂
Then I sit down for 30-40 minutes of desk time with my early elementary kids (reading/writing/math).

Lunch: History (Always includes read aloud, may also include coloring pages, videos, projects, etc.)
Older kids finish independent work (short video at 3PM for those who have finished).
Some days in the afternoon we do a tea time or preschool activity (but usually they all join in because it's fun).
Dinner: If Daddy is working we do an audiobook literature selection.
Evening read aloud: About 3 days a week we do a before-bed read aloud session where the kids play with Legos or color and I rotate through a basket. We include a missionary biography and I often bring in literature selections related to our school work.
So, we make the most use of loop scheduling. Block scheduling comes in when we use the 5th day that follows a similar schedule as above, but we swap "home blessing" work.
Best Tools for Homeschool Schedules
If you're working on putting together a homeschool schedule, here are some tools I recommend.
Rhythms & Routines Homeschool Planning System – This includes a printable, customizable planner AND a video course that walks you through how to create a schedule that best fits your family.
Student Work & Habit Tracker – Uses loop scheduling, goal sheets, habit trackers, and more to help your students manager their time and homeschool tasks independently.
Want more planner ideas? Here is my short list of favorites.
Loop scheduling – This was a game-changer for me.
Create a Cheat Sheet – Write out the weekly and daily schedule you're trying to work on and post it on the wall, at eye level, wherever you'll be sitting down with your kids. No kidding! It's super easy and the best way to remember what in the world you were trying to do. Here's an instant download you can use (it's pulled from the Rhythms & Routines Homeschool Planning System) and an example of my current one below.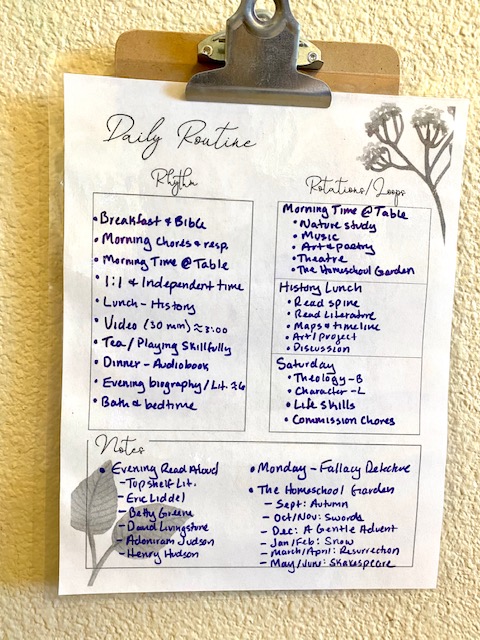 Our yearly and weekly homeschool schedule is flexible, provides for low-pressure planning, helps us get things done without being a slave to the schedule… and I love it.
How about you? What does your homeschooling week and year look like? Do you wing it, schedule it, or have something in-between?
$280+ Curriculum Giveaway!
To celebrate the new school year for 2021 we are doing a series of sponsored Back to Homeschool giveaways! Today we have a fantastic bundle giveaway to bless your family.
One winner will receive each of following:
LEARN THE WHOLE BIBLE –
Bible Road Trip™
is a three-year Bible survey curriculum for preschool through high school.
That means that if you start in preschool, you can take your child all the way through the Bible five times by the time he or she graduates from high school.
In just three years, your family will learn the whole Bible, focusing on the overarching themes of Scripture:
Who God is

Our fallen nature

God's sovereignty

God's plan for salvation through Christ

Our relationship with God
ENGAGING & FUN – To help you get the most out of your studies, Bible Road Trip™ has an array of fun coordinating weekly activities:
Researching the section of the Bible you're studying

Reading and discussing the Bible

Memorizing Scripture

Notebooking about your studies

Praying for the nations

Suggestions for further study

Crafting about what you've learned

For your older students: Sharing what they've learned through a project
Special Coupon Code: Use the code BRTPH21 at checkout to get 15% off all Bible Road Trip™ Year One, Two, and Three products, and Help Your Kids Learn and Love the Bible (Bethany House). Ends: 8/31/21 at midnight PST. Shop now.
The winner may choose a grade level between 3 and 8 and will receive both the teacher and student book.
Learning Language Arts Through Literature is a complete language arts curriculum for 1st through 12th grade that integrates all the parts of literature into one, literature-based curriculum. This easy-to-use curriculum has been a trusted source in the homeschool community since 1989.
Special Coupon Code: Use the code BacktoSchool! at checkout to get 15% off all orders until the end of September! Shop now.
Two Complete Unit Studies of your choice from Homeschool Complete ($8.95 – $19.95 value, each)
Winner chooses two Complete Unit Studies. Options available for K-2nd and for 3rd-6th grades.Enjoy hands-on activities, experiments, art projects, recipes, games, songs, and more! Utilize quality literature books as well as reading comprehension worksheets to teach content.
Their complete unit studies are written in the same format as their all-inclusive, year-long curricula. Each unit study is fully-planned and includes skills and activities that cover all subject areas:
Language Arts
Mathematics
Social Studies
Science
Fine Arts
Physical Development and Fitness
Character Development and Bible
The unit studies are designed to take one to three weeks to complete. The lessons include a specific list of skills, step-by-step instructions for teaching your child, a list of materials and literature, and worksheets for skill practice.
Special Coupon Code: Use the code equipped at checkout for 5% off their entire order. No minimum order requirement. Valid Aug 15 – Sep 15. Shop now.
Scheduling Resources from Proverbial Homemaker ($64 value)
Loop Scheduling Workshop – Use loop scheduling to help you get more done in your homeschool. This workshop includes templates and videos that will walk you through all the ways you can adapt loop scheduling to your needs. No more rigid schedules or falling behind!
Rhythms & Routines Homeschool Planning System – If you're planning-challenged, this is for you. This system helps you design a homeschool routine and get the most important things done each week.
With the Rhythms & Routines Homeschool Planning System you will:
Capture the big picture for your homeschool
Cast your vision and set your goals
Make a sketch for the year and each quarter
Establish a weekly routine that really works
Prioritize prayer for your homeschool
Record what you actually accomplish!
Special Coupon Code: Use PHBackToSchool through August 31 to get 25% off storewide! Shop now.
ENTER TO WIN ALL THIS BELOW!
By entering this giveaway you agree to sign up for emails from Proverbial Homemaker (if you aren't already signed up). Must be 18 years of age or older to enter. Giveaway ends August 30th at 11:59pm PST. Vendors are responsible for delivery of the prizes. Winner has 48 hours to claim prize before another winner is chosen.