I wrote this post several years ago, sharing all about how we do our homeschooling year round with a 4-day homeschooling week. You know what? It's such a fantastic fit for us what we've been doing it all these years! So I decided to update the info here with some new insights and tips I've gleaned on this approach.
Many homeschoolers do the year-round model. One thing we've learned in this process is that we HAVE to have a good rhythm for our weeks and build in breaks to avoid burnout. Whenever you tackle a new season in your homeschool, including curriculum, planning, and scheduling, it's a great time to evaluate your routines as well.
Our Year-Round Schedule
There are many ways of doing a year-round schedule for homeschooling. Some folks do "sabbath schooling," which means they do 6 weeks of homeschool followed by 1 week of rest. You can adopt a similar approach but with a 4-week cycle instead. This is how we started out our year-round routine. We went four weeks on and one week off, using the "off" week for planning and doing fun activities that may or may not be connected with school.
Over time, it evolved to an even more relaxed routine. We just assume that a typical week will be a school week, then handle breaks in two ways: 1) build in planned vacations, and 2) take a week off when we really need it for sanity or character training. Things just sort of even out with this approach, and we always get a full year's worth of work (and then some) every year with breaks when we need them most and less planning stress.
I tell ya, moms… we have a tendency to make things too planned out or ditch the plan all together. This way of doing things is the happy medium we've found that works so well for us!
A Typical Year
Generally, we "start" our year in July and end in July. This is when we say that our kids have moved up in grade level, and we base that on their age. Of course, for math and some other grade-based curriculum, they do tend to move up to the next level when our new year starts. But the rest of it is more fluid and we choose subjects and curricula that best fits their needs and interests. (Side note: you always want to consider your state homeschool laws. Thankfully, Oregon has no requirements on what we teach for each grade.)
As far as breaks, we like to take time off in September (when everyone else is back to school), during Christmas and Easter, 4th of July, and then we just pick a week or two to break up any large blocks of homeschool weeks so we know we have fun vacations built in.
How do you plan a schedule like this for yourself?
Get out a calendar that gives you a year's view, and we'll do it together. Here are the steps:
Mark your first day of school.
Mark off your known vacation weeks.
If you're doing a 4 week on 1 week off thing, start counting from the first day for 4 weeks and then mark off the fifth.
Adjust around holidays or other major events. Some cycles may be 3 or 5 weeks long. That's ok.
Have a PLAN for those off weeks: special activities, schedule dedicated days for your planning, etc.
I plan a quarter's worth of work at a time in a rough outline, and then put more details in for each of those 4-week blocks. It works so well! The planner I use is the Rhythms & Routines Homeschool Planning System, available here at Proverbial Homemaker. You will love this valuable resource that walks you through setting up a rhythm-based homeschooling system that works just for you and your family. It includes a customizable planner and a video course. FIND OUT MORE!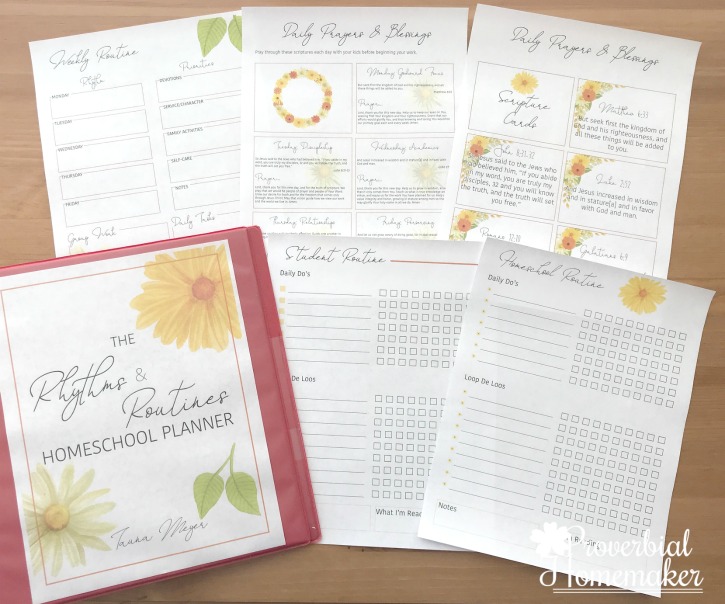 Our 4-Day Homeschooling Week
Our homeschool week is a little different than most because my husband has Sunday and Monday off. So our days for dedicated learning time are Tuesday through Saturday. But this 4-day homeschooling approach will work no matter what days you have available. We do our "normal" school time Tuesday, Wednesday, Thursday and Friday.
Saturday is our "Home Blessing" day, which is basically housework, meal prep, character focus, and life skills. I take the time to teach my kids specific tasks that are life skills, including cooking, cleaning, sewing, gardening, etc. It's technically school in my mind but they don't know that. 😉 You can find out more about Home Blessing Day here and download my free planner.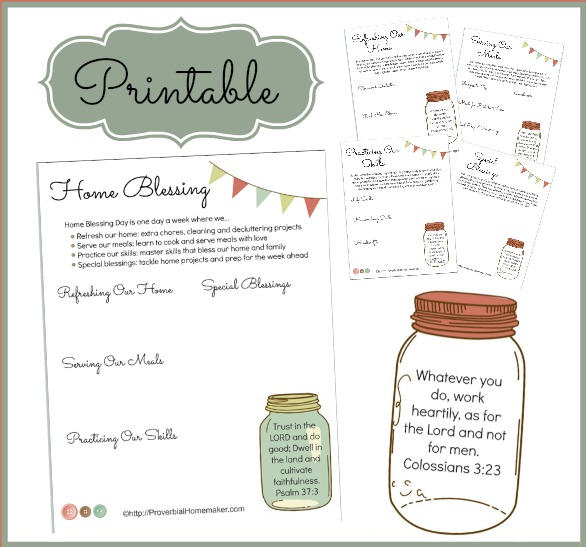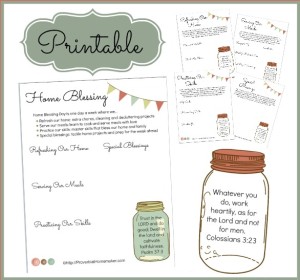 4-Day Homeschooling Week: What We Do Each Day
The 4-day homeschooling week fits really well into our weekly family rhythm. Tuesday through Friday we always do our Bible lessons, catechism, history, math, and reading. The remaining subjects (science, nature study, poetry, geography, music, language arts, electives, etc.) we have in looping schedules. Many people use block scheduling or do all the subjects every day. This did NOT work for us. Loop scheduling has been a game changer for the things that don't need to be done every day but we still need to make weekly progress on.
For example, you could do a week's worth of science followed by a week's worth of history and alternate them in a short loop that way. Or you could have a loop for group work and loops your kids do on their own in addition to their daily work. It's very helpful. Loop scheduling keeps us moving forward without stressing over rigid schedules.
Here's what we do for ALL the days of the week for our year-round homeschooling schedule.
Sunday – Sabbath
Monday – Family day
Tuesday – Standard lesson day
Wednesday – Standard lesson day
Thursday – Standard lesson day + Choir (when in session)
Friday – Standard lesson day + Library
Saturday – Home Blessing Day (housework, character, life skills, art, etc.)
What I love about this schedule is that I KNOW the basics will get done with our regular routine. The rest will keep progressing and adjust to life situations without derailing us from the plan.
Our yearly and weekly homeschool schedule is flexible, conducive to low-pressure planning, helps us get things done without being a slave to the schedule… and I love it.
How about you? What does your homeschooling week and year look like? Do you wing it, schedule it, or have something in-between?
You Might Also Like…
My Loop Scheduling Workshop will provide you with several templates to get you started as well as a guide to begin implementing loop scheduling in your home right away!
Loop scheduling can help you with:
Housekeeping
Kids' chores
Menu planning
Homeschool student work
And more!