Disclosure: *This post may include affiliate links. As an affiliate, I earn from qualifying purchases. Read the
disclosures
and
terms
for more information.
Most kids love listening and dancing to music. By actively involving your child with musical experiences such as music theory activities at a young age, you are exposing them to some very beneficial skills.
Some ways playing an instrument is beneficial to your child are:
Helps with organizational and time management skills
Enhances coordination, especially hand-eye coordination
Helps with reading and comprehension skills as well as math skills
Helps them with be better at focusing and controlling their bodies
Allows them to have a higher self esteem
Teaches them responsibility and discipline
Enhances their respiratory system
Helps boosts their listening skills.
---
The Praise Hymn Bible series from our sponsor Praise Hymn Inc. goes through the Bible chronologically for grades 1-3 and then goes back to Genesis for grades 4-6 adding additional highlights. Children who have been in Bible schools, Sunday schools, Christian schools and home schools may find a new twist to familiar stories. For instance, have you ever considered who could have come to Methuselah's birthday party? This Bible study began as a family devotional and from that developed into a Bible curriculum for grades 1-6. Praise Hymn Inc. doctrinal statement is available on our website. www.PraiseHymnInc.com.
---
Along with learning to play a musical instrument, comes the music theory. I have created some beginner music theory activities to help introduce music theory to your kids.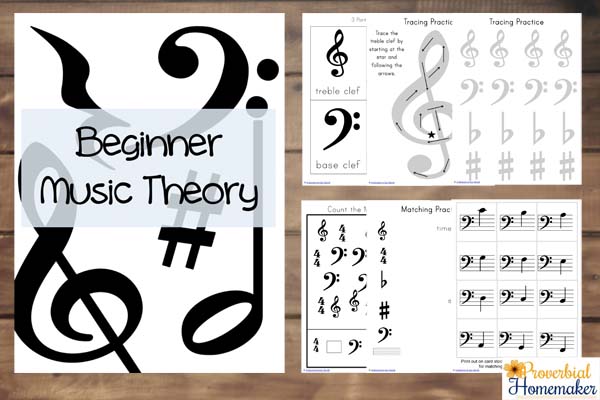 Included in this Printable Pack are three part cards. Our boys have found these very useful, especially in learning music terminology.
These 3 Part Cards can be used in many ways. For repeated use, I recommend you laminate them.
Print out two copies to play the memory game or snap
Use as vocabulary cards
Match the smaller cards to the larger cards
Match the words to the cards without words
Give your child the cards without words and ask them to write what the picture is
Music symbols can be really difficult to learn to write. The tracing pages included in this pack, are there to show your child how some of the most important music symbols are written. These would be great printed out and laminated or placed in a plastic sleeve, allowing your child to practice over and over again with a dry erase marker.
---
Praise Hymn Inc. has been supplying Bible and music publications to Christian schools and home schools for 47 years. Thier God Made Music series covers music concepts, composer stories, instruments of the orchestra, sing-a-long and classical music. God Made Music is offered to K-4 through grade 7. Students learn to play the flutophone in God Made Music grade 3 and learn to play the recorder in God Made Music grade 4.
Praise Hymn Video School is now available for grade 1. The 34 videos teach the 34 lessons in the God Made Music grade 1 student workbook. A free teacher manual PDF and a free student workbook PDF are included in the video order. Go to www.PraiseHymnVideoSchool.com to see 8 trailers of the video lessons.
---
These is a lot of math involved with music. These counting pages will help children with recognising the music symbols as well as with counting and writing practice.
Learning the names of the notes is quite difficult to understand. These Name the Notes pages can be used over and over again if laminated and the answer written with a dry erase marker.
To learn to read and play music, you need to learn about rhythm. These Clap the Rhythm pages are a great way to practice by clapping the rhythm or tapping the rhythm on a drum. A wooden spoon and a saucepan works really well too.
The matching cards pages are our boys favourite. After cutting out and laminating, I placed all the cards in a pile and the boys took turns at matching all the notes. These cards can also be used in a game of memory.
Also included are some music theory posters. These are great to refer to when completing other activities in the pack and for learning basic music theory.
I sincerely hope you enjoy this 40 page music theory pack and I encourage you to bring some music into yours and your childrens life.

---
FREE Praise Hymn Video Sample!
Check out this sample of the God Made Music Grade 1 level from Praise Hymn Video School! This is lesson 30 out of 34 in the God Made Music grade 1 student workbook. A free teacher manual PDF and a free student workbook PDF are included in the video order. Go to www.PraiseHymnVideoSchool.com to see more trailers of the video lessons.