Disclosure: *This post may include affiliate links. As an affiliate, I earn from qualifying purchases. Read the
disclosures
and
terms
for more information.
A mother's job is a full-time job. We coordinate, nourish, teach, correct, and speak to the souls of precious ones put in our care. We manage house and home, tend to relationships, and expertly handle the many problems that are thrown our way. Running on empty, yet, sweet mama? Consider taking personal prayer retreats!
Taking care of ourselves physically so that we can better take care of our families is essential. But filling up our tank spiritually is even more important! We simply cannot do the work we are called to without prayer. Of course, daily time in God's Word is a huge part of is effort. But how would you like to have a yearly tradition that helps you re-set, spend time with the Lord, and cover your family in prayer?
Learn below about WHY it's good to take a personal prayer retreat, WHERE and WHEN to go, and WHAT do to when you get there!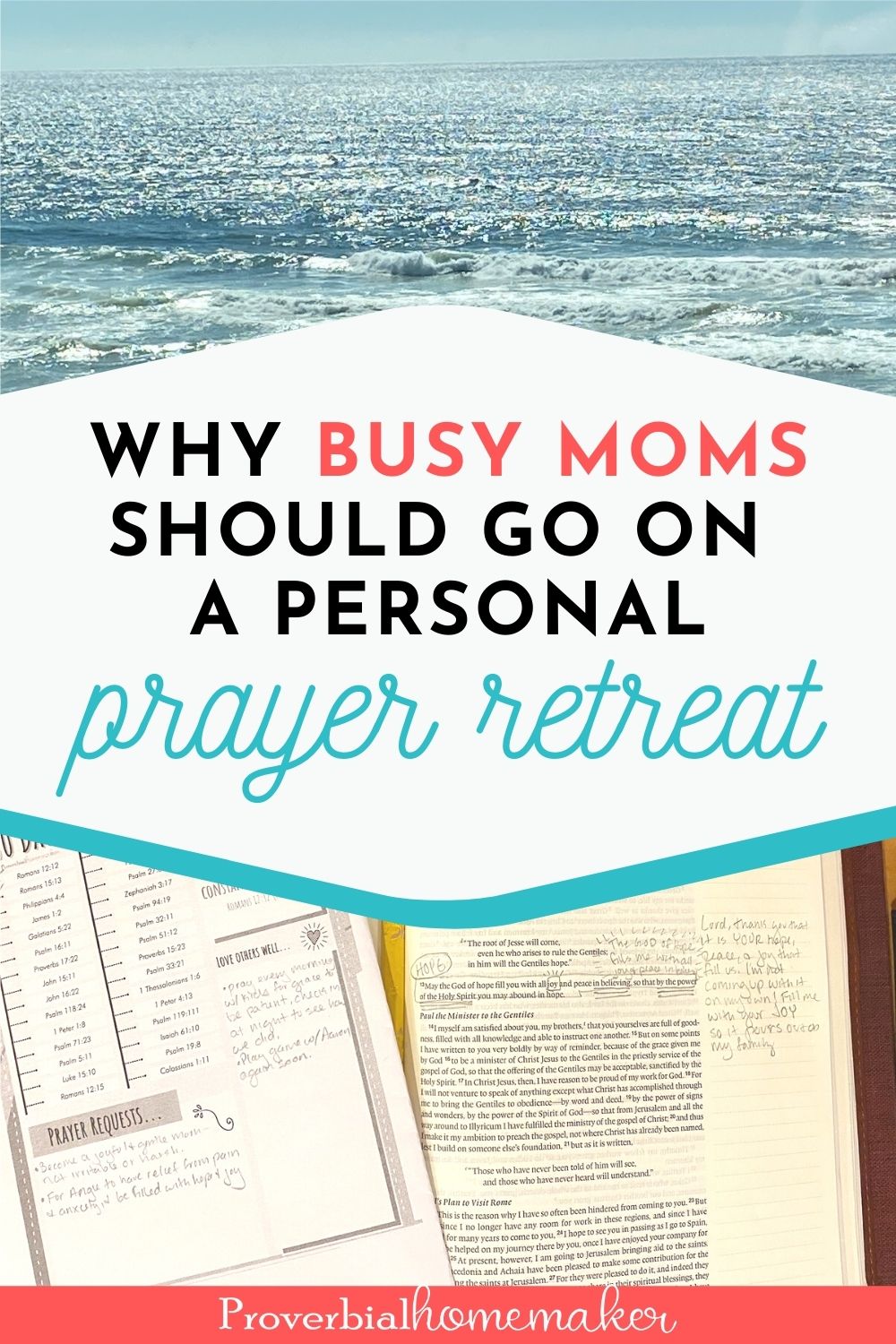 Why Take Personal Prayer Retreats?
About 10 years ago I took my very first personal prayer retreat. My goal was to spend focused time in prayer for my family. It has become one of the most fruitful, refreshing, and precious traditions to me and I know it would bless you, too!
Other than a few off years, these little personal prayer retreats have become an annual event. Each year I become even more convinced of the value of them.
Focused time spent in God's Word
Reflecting on the past year and looking ahead
Praying for family, friends, church, and work
Getting needed rest and refreshment
And more!
Sometimes I arrive at a retreat with a problem or concern to work through, bringing it to the Lord in prayer. But even when that's not the case, I always head back home rejuvenated and equipped with a plan for focused prayer in the months ahead.
Friends, that's gold.
Now, I can almost hear you thinking about how you just don't have time for personal prayer retreats, don't really need them, or can't see how it's even possible with your life right now. But if I can do it, so can you!
Evolution of a Personal Prayer Retreat
While it's funny now, my first prayer retreat started out pretty awful. I found a Christian camp within driving distance and learned that they had a little individual cabin in the woods they called "Hiding Place" just for such purposes. It was a wonderful idea and such a cute cabin nestled in the trees!
Unfortunately, that time it also included nosy llamas, angry dive-bombing birds, rodent pellets in the bed, scratching noises in the night, and a dramatic, ridiculous fall down a hill as I ran away. Cue the howling noises behind me in the forest and the muffled screams as my sleeping bag and I rolled to the car. Lol! So, yah. Since then I stick to less rustic solutions. 😉
There have been years where all I could manage is coffee shop afternoons during busy seasons. When the world shut down, creating a little prayer retreat in my bedroom for the day was the best I could do. But it was STILL GOOD. In recent years, I most often save up and use birthday money to get a beach-front motel room. Not a rodent pellet in sight. 😂
While location does make a difference in these prayer retreats, they aren't the main focus. The most interesting thing about how my retreats have changed over the years is how I manage the silence. You see, I live a very busy, very noisy life as a homeschool mom of 6. To stop, pause, rest, reflect,… these are not easy things for me to do.
In fact, it took me a few years to learn how to quickly break through my apparent need to stay busy (in thought or in deed) and get to a place where I could just be still and linger with the Lord in prayer. That struggle was a part of my learning. It was awkward and at times even frustrating, but it was also beautiful and necessary!
These days, I know exactly what to expect and what will help me get to that place of prayer and focus. I also know better now how to show myself grace for being an imperfect, busy-minded mama. I keep showing up, expectant and submitted to the Lord in prayer, and He keeps faithfully meeting me there.
You can do this, too!
How to Take a Personal Prayer Retreat
Of course, there are manny ways you can take a personal prayer retreat. A lot of it will depend on your resources and preferences. But here are a few things I have learned that may help you.
Start simple – Your retreat can begin as an afternoon at a park or coffee shop by yourself, Bible and notebook in hand. Maybe try an overnight nearby the next year.
Go alone – There are other times you could retreat with your spouse or friends. This is a time just for you and the Lord. If you DO decide to invite someone, what I've done the past three years is coordinate with a friend to meet for a meal or two on just one of the days. That works well!
Don't overdo it – Again, use other times for homeschool planning, big projects, online work, etc. Keep your time relatively open and simply focus on rest, prayer, and reflection. Keep your expectations reasonable. This is something you can try more than once, so don't worry if it doesn't go exactly how you planned. (Hopefully no rodent droppings, though…)
Where Should You Go?
There are many options depending on what you can manage and what would be most fruitful for you. Here are some ideas.
Ministry resources – Ask your pastor and church leader friends if they know of any ministries that provide cabins, guest houses, etc. for couples and individuals looking for a prayer retreat.
Rent a room – Get as nice of a room as you can reasonably manage. (Whatever is wise for your budget.) You can look at a bed and breakfast, a guest house, hotel/motel rooms, air b&b, etc.
Camping – If you love camping, look at going tent or RV camping on your own, or rent a yurt or cabin.
Day trips – if you can't manage overnight, pick a day or two where you can head out in the morning and not be expected home until night. The beach, a lake or river, a park, etc. Look for places with restaurants or stores nearby unless you're bringing all your food.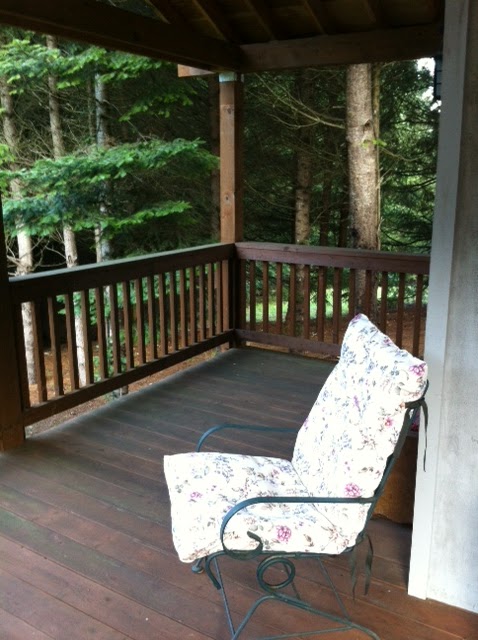 When to Take Personal Prayer Retreats?
Consider what makes sense for your yearly family rhythms and when you most need refreshment. Lately July has been my preference because it's right after my birthday (birthday money!), after homeschool conference season, but before the start of a full homeschool lesson load. Downside is renting a room is more expensive in the summer.
October (beautiful in the NW and before the holiday rush) and March (when homeschool moms often start burning out) have also been good times to take a retreat. Do what works best for you!
What to DO When You Get There
All my prayer retreats include the following:
Bring your Bible and a notebook.

Write out your prayers to God.
Search the Word, pray, and journal about a problem you are mulling over.
(My favorite) Prayerfully choose a verse or two to pray over each family member in the coming months.
Pick an article or sermon you enjoy and dig into God's Word to learn more about that topic.
The possibilities are endless.

Listen to / read something inspiring. Find sermons, audiobooks, and books that are interesting.

Play the Bible on the YouVersion app as you drift off to sleep.
Listen to audiobooks/sermons while you drive, take a bath, or as you watch the ocean waves.
Read a few chapters of a book you've been meaning to start or finish.

Rest and enjoy. As much as I had to learn to embrace the silence, I also had to learn to let myself have fun and rest. It's not like doing so cancels out the spiritual effectiveness of the thing. In fact, as ordinary as the activities are, they are always saturated with prayer during these retreats. Here are the things that have been good for me:

Go out to eat or bring some special foods to enjoy (especially cuisine that only I like).
Arrange to meet a friend for lunch or dinner.
Go to a local book store and get lost in the aisles.
Or just rest. Sleep, paint your nails, watch the ocean… Those things are ok, too.
Fast if the Lord leads you to. There have been a few times I have done this as I worked through a particularly challenging problem, or on behalf of someone I was praying for.
Remember: Keep it simple and don't heap huge expectations on it!
When I leave my prayer retreat, my goal is to have had genuine (not perfect) time abiding in Christ, leaving blessed and ready to pour out that blessing to my family.
It's good, dear friends! Start your personal retreat tradition this year!
~ Tauna
You Might Also Like:
No More Angry Mom – Becoming a Gentle Mother with Practice and Prayer