We have a lot of hats to wear, don't we? We cook and clean, teach and train, nurture and attend. We have plans to make and gatherings to organize. And some days just getting through the day is all we can manage. How can we possibly be getting it all done?
"How do you do it all?" This is a question I am asked often.
Disclosure: *This post may include affiliate links. As an affiliate, I earn from qualifying purchases. Read the disclosures and terms for more information.
How do we keep up with the house, parent our children with intentionality, and teach math and history? Let alone nurture our marriage, work on extra projects like blogging or gardening, and find time for personal care?
How do I do it all? Well, that's actually an easy question for me to answer.
I don't! And neither should you.
Shifting Our Thinking
Does that surprise you? I think in this fast-paced culture, especially in the Christian homemaking and homeschooling circles, we think we need to have it all together. We need our homes, relationships, and home schools to match those pinterest-perfect images we see every day. Because all the good moms are doing that.
Just, no.
Ladies, we need to shift our thinking from "how can I do it all" to "how can I do the most important things with excellence?"
When we start to look at techniques, tips, and approaches as great tools in our toolbox – things we can adjust to make them work for US and OUR homes – it takes the pressure off and puts our thinking caps on. Time and task management are all about prioritizing and problem solving. Great tools are what makes it come together!
When I finally made that shift in my thinking, everything changed for me. This domestically challenged mama went from paralyzed and discouraged to empowered.
How, you ask?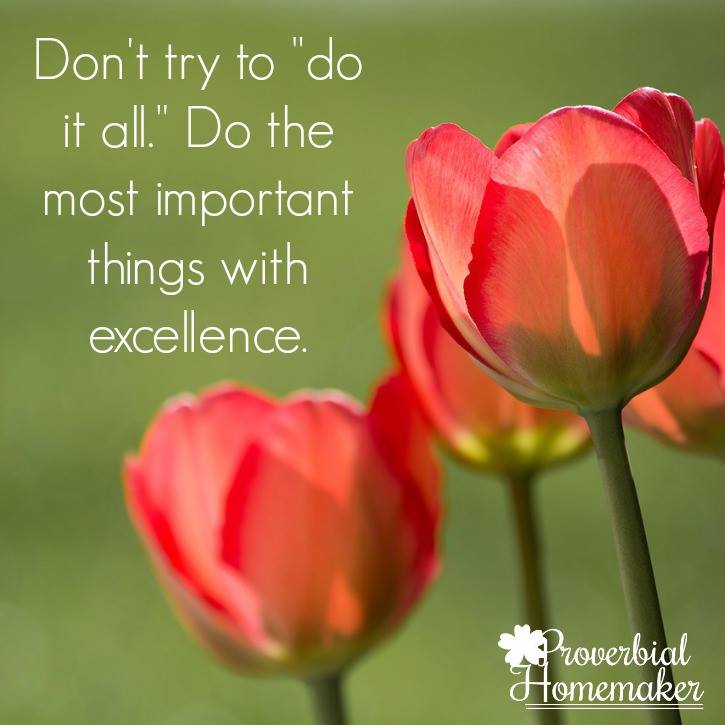 3 Steps to Doing it All Doing the Important Things With Excellence
1) Keep the big picture
Remember that God created you and put you here — with these relationships, resources, and situations — and that He has given you all you need for life and godliness. He cares about these things and will help you manage them effectively. Trust that!
2) Prioritize well
Most likely you know what your top priorities are. Is your day or week reflective of that? If not, start there. If you have this dream of an amazing urban garden or really want to declutter the garage, but you need to get a more reliable routine going for daily devotions, put first things first. Multitasking is overrated sometimes anyway. 😉
3) Find the right tools for your toolbox
It can be too easy to cast our net and fish around in the plethora of tips and ideas for the one that sticks. Instead, I recommend finding a few great resources and really focusing on making those tools work for you.
I have developed some tools and resources for that exact purpose — ones that help me as a busy homeschool mom of 6 who can't be locked into strict schedules! Check some of these out if you need some flexible but effective tools in your tool belt.
So get stared, mama! Take a step back and look at the big picture. Narrow that to-do list and focus on the things that match your priorities. And explore some tools that RELIEVE stress and chaos rather than adding to it.
You've got this! I'm cheering you on.
~ Tauna