One of our all-time favorite desserts is carmelitas! We make these for holidays like Easter and as the occasional sweet treat to share with neighbors and co-workers. It is definitely rich and decadent, so a small piece goes a long way, and the kids love to enjoy it with a glass of milk. I hope you enjoy this easy carmelitas recipe as much as we have!
Disclosure: *This post may include affiliate links. As an affiliate, I earn from qualifying purchases. Read the disclosures and terms for more information.
Fast and Easy Carmelitas Recipe
First melt three sticks of butter in a bowl (yes, three – it's not a healthy recipe! lol!). Then combine with 1 1/2 packed brown sugar and 2 tbsp vanilla extract and mix until just blended. Then add 2 cups flour (we use whole wheat but all purpose white works just as well), 2 cups old fashioned oats, 2 tsp baking soda, and 1/2 tsp salt. Mix until well blended. You'll end up with a sweet oaty mix that you'll use as the base and topping for the dessert.
Put half of the mix in a 9.5×11 greased baking dish and press until it covers the dish evenly for a bottom crust. Put in the oven and bake at 350 for 10 minutes to set. Then open a jar of good caramel sauce, like the kind you use for ice cream topping, and drizzle it generously all over the crust. I have used the cheap caramel sauce like the chocolate sauce you get for flavoring milk and it's ok. But the good stuff that you get in a jar is the best.
No need to heat – just spread it around until it looks about right. I probably use about 1 cup or a bit more per pan and always have leftover caramel sauce. It keeps for a while and you can use it another time to drizzle on popcorn for another sweet surprise for the kids. Then sprinkle 2 cups of chocolate chips (or a bit more or less if desired) around the crust and caramel.
Take the rest of the oat mix and sprinkle it around the top evenly. Then pop in the oven and bake at 350 for 15-20 minutes until edges are slightly browned. Cool before serving. I usually make this the night before I want to serve it so that it's not a complete mess, but I'v served it earlier in a pinch with spoons and ice cream or whipped cream, too.
I first came across this recipe at Averie Cooks but converted it to an easy carmelitas recipe it by doubling it (almost necessary), using whole wheat flour instead of white (although white works fine too), and using ice cream caramel for convenience. Who has time to unwrap a whole bunch of candies!? 😀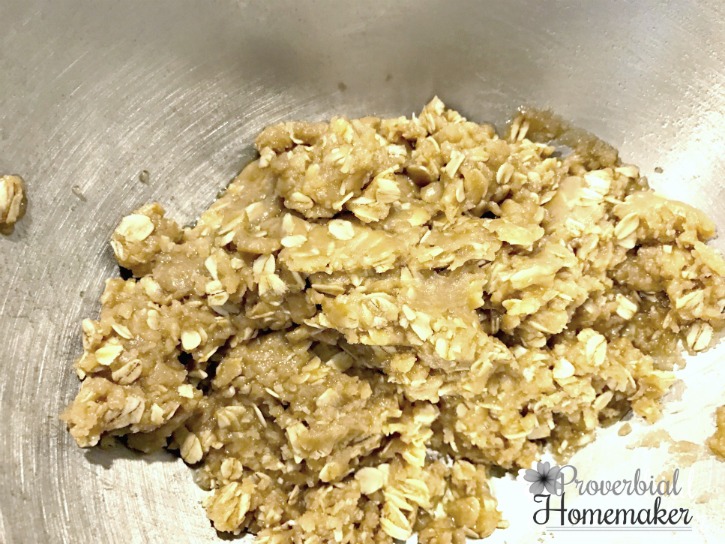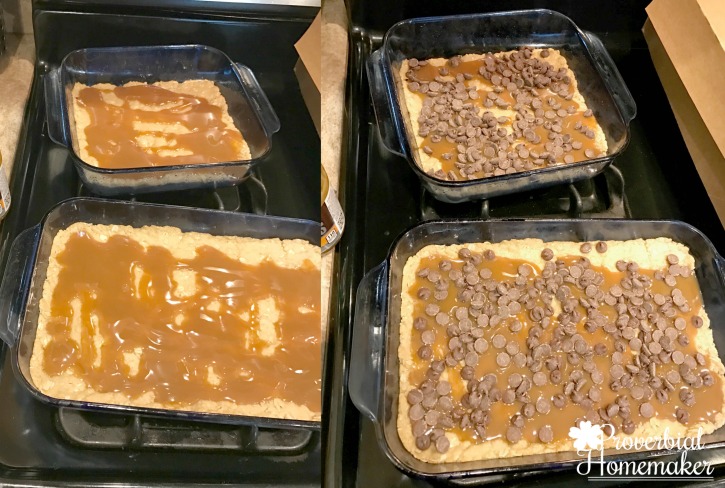 Fast and Easy Carmelitas Recipe
Prep time:
Cook time:
Total time:
This simple recipe for Carmelitas is a crowd pleaser and easy to put together! Serve cold with milk or warm with ice cream or whipped cream.
Ingredients
1½ c butter, melted (3 sticks)
1½ c packed brown sugar
2 tbsp vanilla extract
2 cup whole wheat or all purpose flour
2 cups old fashioned oats
2 tsp baking soda
½ tsp salt
2 cups chocolate chips
1 jar caramel sauce
Instructions
Pre-heat oven to 350
Melt butter and add to a mixing bowl
Add brown sugar and vanilla extract, and mix until blended
Add flour, oats, baking soda, and salt, and mix well
Put half of mixture in greased 9.5x11 baking dish. Spread and press until it evenly covers the bottom
Bake at 350 for 10 minutes to set
Generously drizzle caramel over crust (about 1 cup)
Sprinkle chocolate chips evenly across baked oat crust and caramel
Sprinkle remaining oat crust on top
Bake at 350 for 15-20 minutes, until edges slightly browned
Cool before cutting and serving
You Might Also Like…