Looking for some easy laundry soap recipes? I've tried a few different recipes for laundry detergent over the years. I used the standard Fels-Naptha and borax recipe for a long time and it worked just fine and was fabulous for saving money.
Eventually I decided to find a borax-free version I would feel more comfortable with, since my research on it left me feeling like maybe washing our clothes with it wasn't the best idea. Below are the top 3 easy laundry soap recipes I have used and enjoyed!
Disclosure: *This post may include affiliate links. As an affiliate, I earn from qualifying purchases. Read the disclosures and terms for more information.
1) General Laundry Soap (Borax-Free)
1/2 cup washing soda
1/4 cup baking soda
1/2 cup liquid castile soap (I prefer lavender scented)
This is my favorite of the easy laundry soap recipes so far. Take a 1-gallon jug and fill halfway with warm water. Add the washing soda and baking soda and shake blend well with a hand blender until mostly dissolved. Add water until mostly full and gently stir in the castile soap at the end. Turn the closed jug a few times before using. Use 1/4 – 1/3 cup per load depending on size and how soiled the clothes are. Of course, you can multiply this recipe for larger batches.
Version 2: My Lazy Day Laundry Soap
I also keep "back up" products for when the homemade stuff runs out and i'm too busy to make more.
Sals Suds
from Dr. Bronner's is s great all-purpose cleaner for many purposes. It also makes great clothes washing solution. Just add 1-2 tbsp and optionally a tbsp or two of baking soda! It's a super easy laundry soap and it works!
Does it work for HE washers? This is a question I've been getting lately. I would always recommend you follow the manufacturer instructions and use what they suggest. However, the issue with HE washers seems to be that you don't want a high-suds soap or something that may clog the small tubes.
That said, although I don't have a front-loader or HE washer, people have successfully use these first two recipes in theirs, especially the Sals Suds + baking soda one. They are low-sudsing soaps. Avoiding the soap dish might be helpful (apparently it has a small tube that can get clogged easily) and properly cleaning and maintaining your washer will prevent issues.
2) Standard Fels-Naptha and Borax Recipe (Most frugal)
This is the frugal general-purpose laundry detergent that I used for years. It works well! I know I got this from somehwere but don't remember. It's kind of a common recipe out there. Maybe ThriftyFun or the Duggar site?
(BTW Amazon sells this handy DIY laundry ingredient package)
1 Fels-Naptha soap bar
1 cup washing soda
1/2 cup borax
Grate bar of soap and add to saucepan with 4 cups hot water
Stir continually over medium-low heat until soap dissolves and is melted.
Fill a 5 gallon bucket half full of hot tap water. Add melted soap, washing soda, and Borax. Stir well until all powder is dissolved. Add more water until the contents reach the top two inches of the bucket.
Stir, cover, and let sit overnight to thicken.
Stir the detergent the next morning. Take a used, clean, laundry soap dispenser (I use a plastic milk jug) and fill up half way with the detergent. Then fill rest of way with water.
Shake before each use (will gel).
You can add 10-15 drops of essential oil per 2 gallons. Add once soap has cooled. Ideas: lavender, rosemary, tea tree oil. I like sweet orange or lemon. The fels naptha smells strong as you're grating it, but it's quite diluted by the time it gets to your clothes, and I don't think it's too strong then.
This recipe will make 10 gallons. Top Load Machine- 1/4 -3/4 cup per load depending on size. Front Load Machines- 1/4 cup per load. For the prices and amount of detergent I use, this comes to 224 – 336 loads (1/2 cup or 1/4 cup), which is .009 – .006 per load. Less than a penny! The generic Kirkland (Costco) brand is 7¢ per load.
3) Homemade Cloth Diaper Laundry Detergent
Right now I'm using
Molly's Suds Cloth Diaper Laundry Powder
from
Grove Collaborative
for my diapers. That's where I get discounted Dr. Bronner's bars and liquid castille soap, wool dryer balls, and Sal's Suds as well, among other things.
For homemade detergent, when I'm feeling up for it, I use the recipe below. It's important not to use castile soap recipes on diapers because it will effect absorbency.
Equal parts: baking soda , washing soda, and generic oxi clean
I bought the generic oxi clean from the dollar store along with a 2-quart container for the detergent. I mixed two cups of each ingredient and use 2 tbsp total per load. It came to about to 3-4¢ per load.
Use Wool Balls and Essential Oils for the Dryer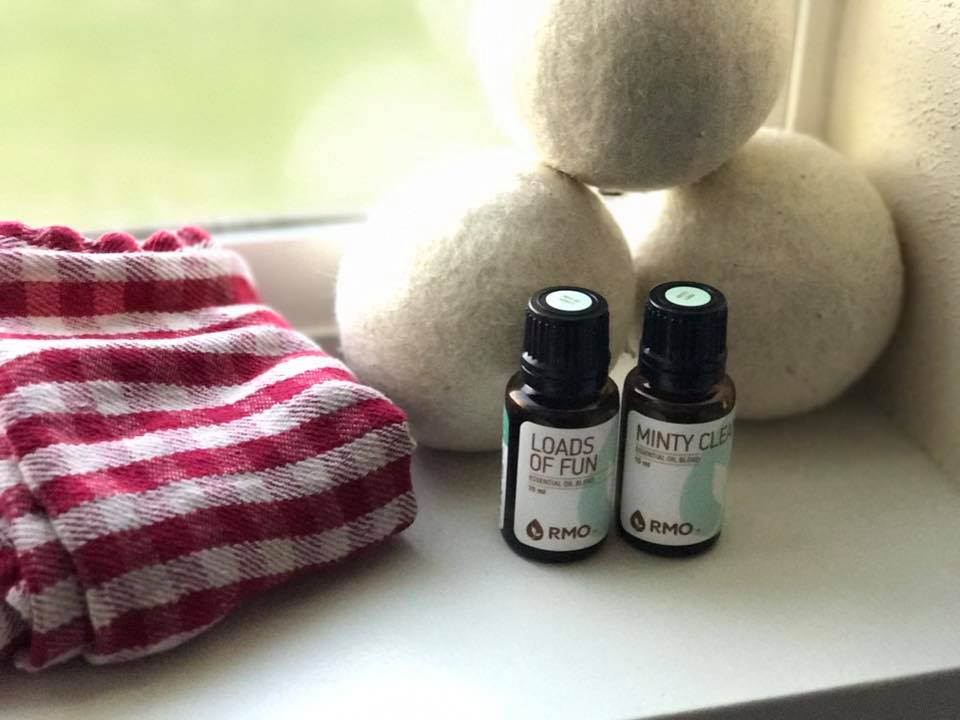 For drying clothes we use wool dryer balls with a few drops of the essential oils. The dryer balls help cut down on static and help the clothes dry faster. I don't always use oils, but I often do, and especially when the clothes were left in the wash a little too long and smell a bit off (you know it happens). My favorite is the new blend
Loads of Fun from Rocky Mountain Oils
(it's great to diffuse for an energy boost too).
Your turn to share easy laundry soap recipes! What is YOUR favorite homemade or store-bought general or diaper laundry detergent?
You might also like…
Large family laundry system with laundry room tour