Keeping clothes clean can be a little like managing Mount Laundry, especially for the large family mom! I have tried several different ways to handle laundry but our latest system is working really well so I thought I'd share it with you!
You can watch the video here (previously recorded from a FB live event) or read below to find out everything I talked about. Enjoy our large family laundry system!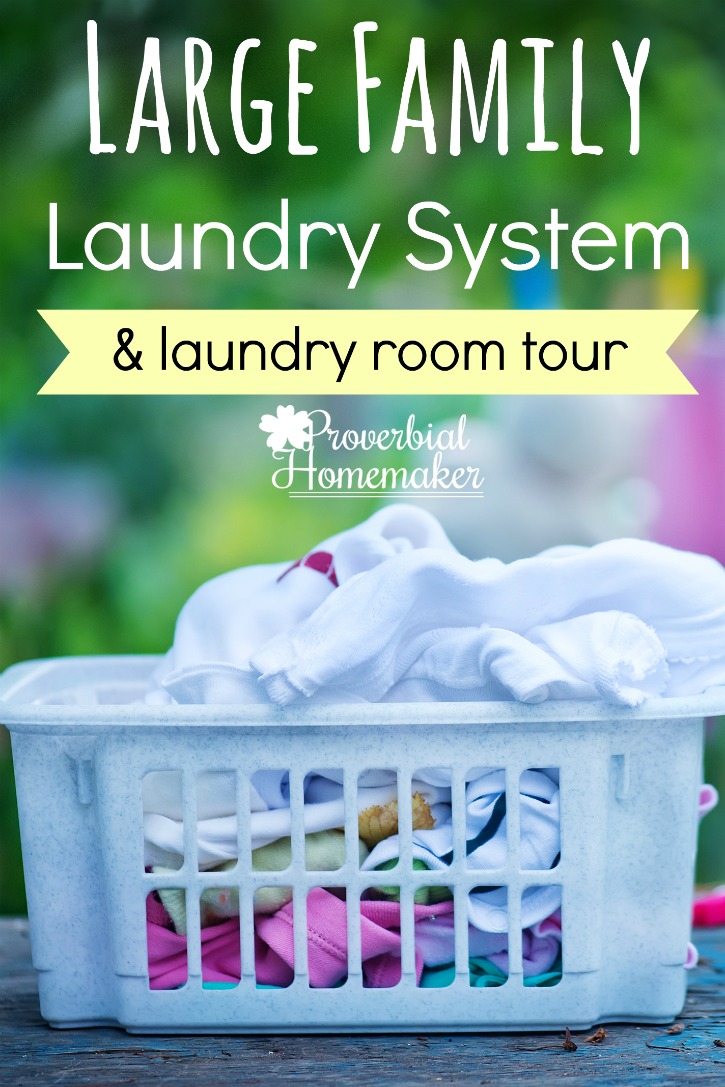 Disclosure: *This post may include affiliate links. As an affiliate, I earn from qualifying purchases. Read the disclosures and terms for more information.
Watch the Large Family Laundry System Recording or Read Below
In our old place we had a little laundry closet off our dining room. It was a little difficult to get laundry done with a small space and a big family. What we did that helped was make sure the top of the washer and dryer were always clear and fold laundry directly onto the top of them. Then my kids would put their clothes away from there into their rooms.
How We Manage Laundry Each Week
Now that we have a laundry room it's kind of exciting (who knew!). 😉 I'm going to show you our large family laundry system and how we get everything organized and running relatively smoothly. It's definitely easier now we have a little more space, but I'll give you some tips on how we adapted it to our previous smaller space.
Every day we have morning chore time right after breakfast. Everybody has one chore that they have to do. They are required to learn it well and be able to demonstrate that they can consistently complete it diligently, thoroughly, and with a happy heart. Once they can do that, they get to graduate to a new chore. That's pretty much the extent of any formal chore system in our home other than group clean up blitzes before mealtimes and bedtimes!
My 8 (now 9) year old does the one load of laundry each morning. Sometimes if it's a larger load than normal I'll help him. He takes the dry laundry out and folds it, placing it into bins labeled by person or area. Then he moves clothes over to the dryer (we use dryer balls) and loads the washer with new laundry. We pretty much always do cold water. That's it!
Keeping Up and Catching Up
Then every Saturday we have our "home blessing day" where we work on household projects and catch up. Often I'll do a few loads of laundry that day or one of the kids will do it to earn money (Saturday is when they get opportunities to earn money with extra chores or projects). Then we each take our bins of folded clothes and put them away as well as collect soiled laundry and dump it into the laundry room. We also use that day to fold socks, put away towels, etc.
If the bin fills up before Saturday and more clothes need to be folded, it is taken into the room of the person to whom it belongs and dumped out there. They then put their clothes away at bed time. We keep our large family laundry system super simple and flexible and it seems to work really well. We don't do a lot of sorting, we wash everything on cold (unless it's really gross or needs special attention, which is rare.)
Our Laundry Room Organization
Here are some pics of our laundry room and how we organize things.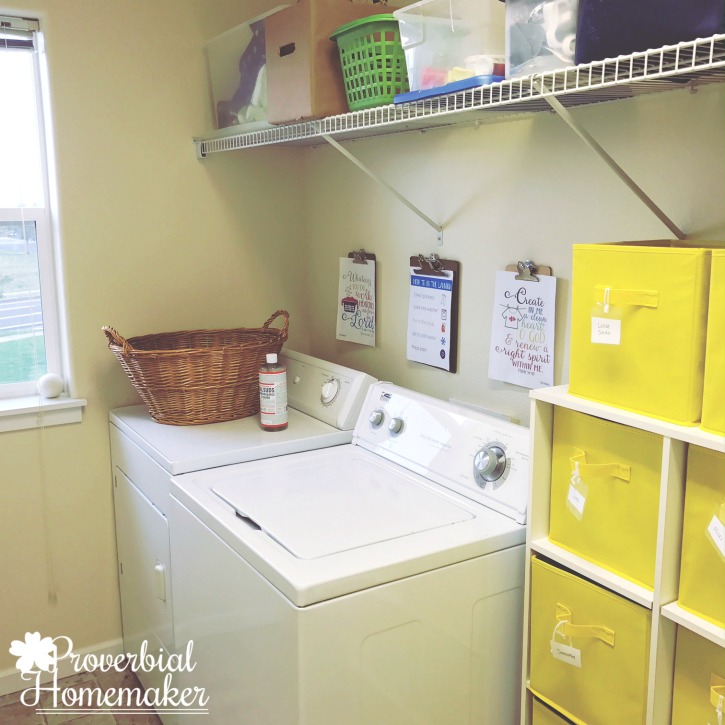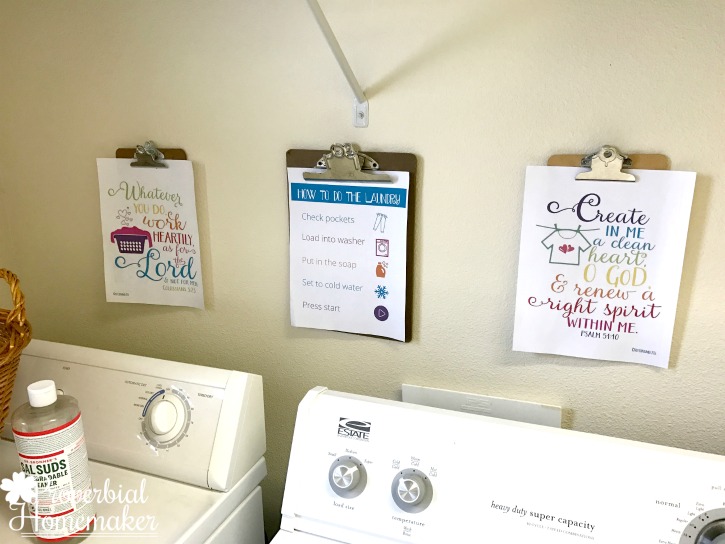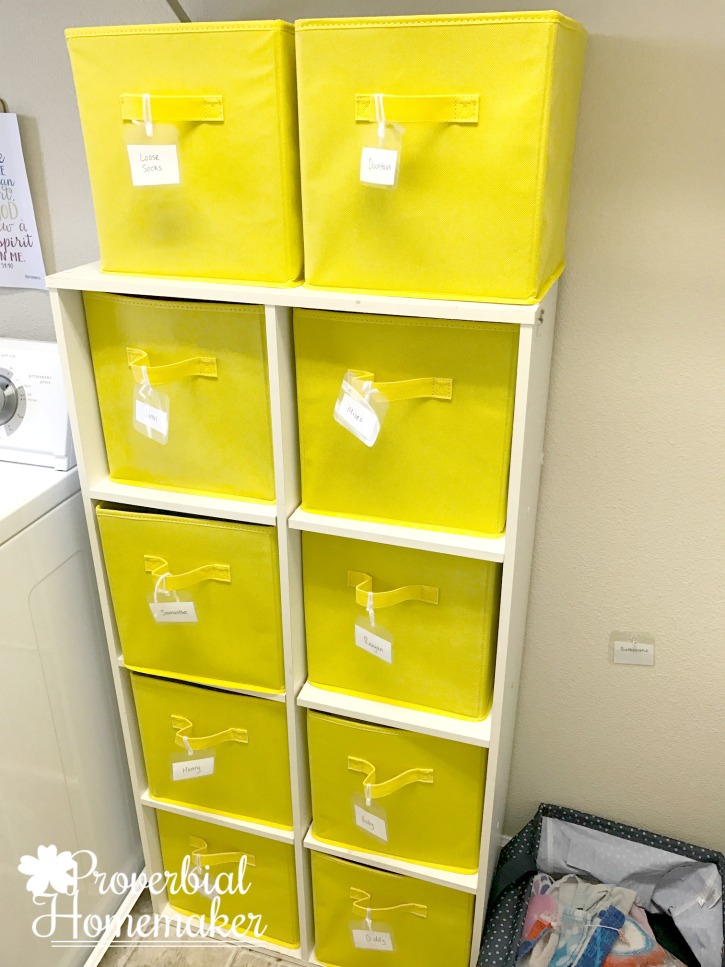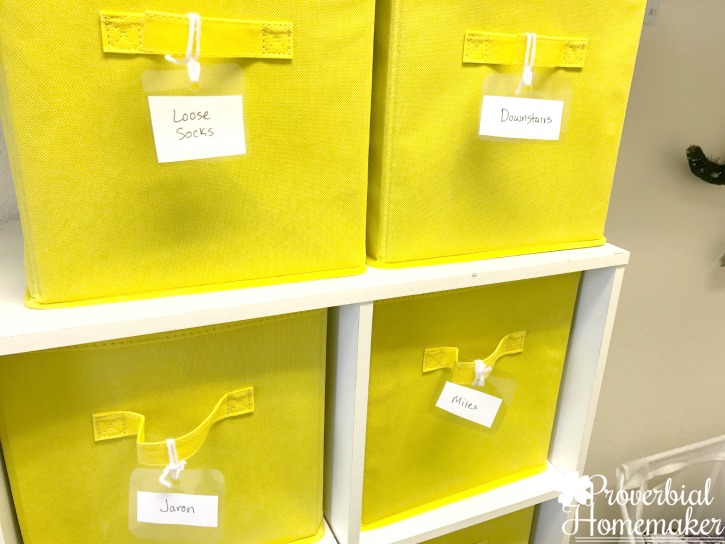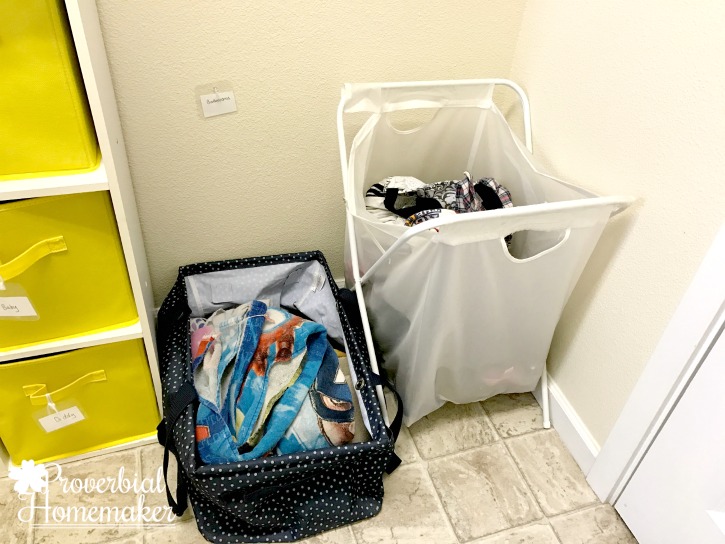 We just put the laundry from each room into a main hamper. The
laundry hampers
we use are great. I got them at Ikea but you can also get
mesh folding hampers here
. The handles make them handy for folding up and carrying around! Things generally stay in order by room so it works out.
The
cube storage unit
we use was $10 used on craigslist but you can also get them here. I got the
cube storage bins
on Amazon pretty cheap. You can find the storage bins here. I used my
laminator
and some yarn and created my own labels. Each person gets their own bin. There is also a bin for loose socks and one for things that need to go downstairs like kitchen towels. Recently I bought some
chalkboard labels
to affix onto the bins instead. I'll let you know how that goes!
You may have to use a stool or chair to allow your kids to reach the clothes in the washer. Obviously, be aware of safety issues with younger kids. We have a latch on the outside of our laundry room door to keep the littlest ones out. I found these cute instructions and inspirational
posters for the laundry room
as well. You can download them for free here!
On the upper shelves I have a bin for everyone's swimsuits (I hate hunting for swimsuits) a sewing kit and a bin of things to mend (ever neglected lol), a bin of stain remover and specialty products, and a bin where I throw the random "this doesn't belong here" stuff you always find. I also have one large bin where I toss the outgrown clothes. When it gets full I empty and sort it.
Laundry Products I Love
For products, I use a
homemade detergent
. I've tried several over the years and have landed on a borax-free Castille-based recipe for everyday use. I also keep "back up" products for when the homemade stuff runs out and i'm too busy to make more.
Sals Suds
is s great all-purpose cleaner for many purposes. It also makes great clothes washing solution. Just add 1-2 tbsp in and optionally 1-2 tbsp of baking soda!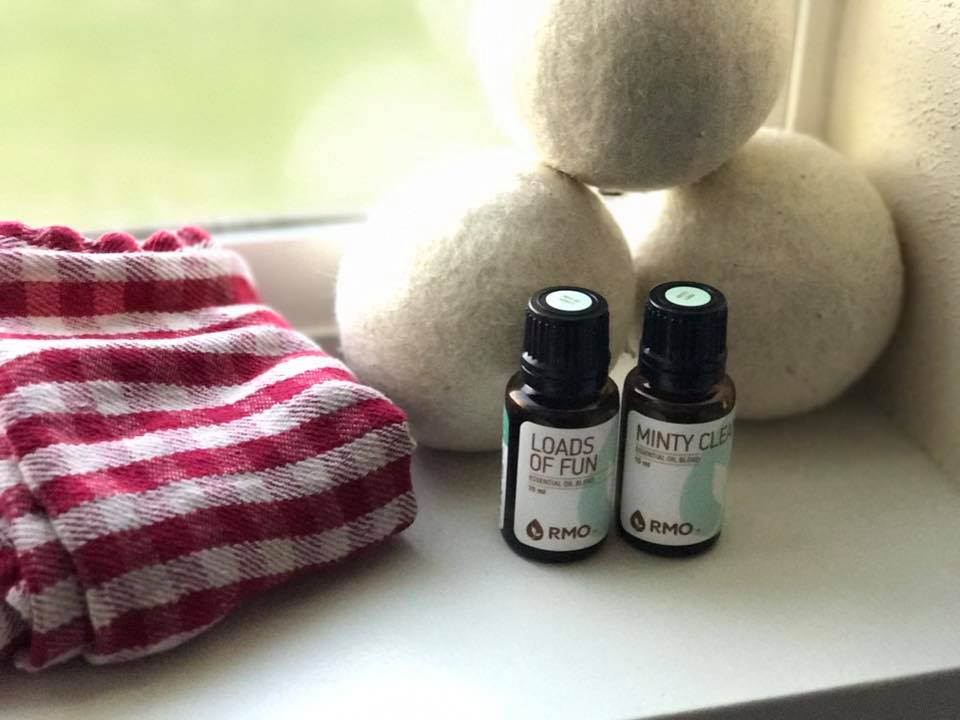 For drying clothes we use
wool dryer balls
with a few drops of the essential oils. The dryer balls help cut down on static and help the clothes dry faster. I don't always use oils, but I often do, and especially when the clothes were left in the wash a little too long and smell a bit off (you know it happens). My favorite is the new blend
Loads of Fun from Rocky Mountain Oils
(it's great to diffuse for an energy boost too).
Sometimes I like to air dry clothes. I use a
drying rack like this
inside and it will hold a large load (with creativity). I have also had this
outdoor drying umbrella
and it was wonderful. You could pull it out and store it during the winter. Then there's this little gem. I found this
octopus dryer/hanger
at Ikea but you can also find it on Amazon. It's perfect for a small load of diapers or microfiber cloths.
That's pretty much it!
How do you set up your laundry system that's similar? How is it different? Share your tips for us!
You Might Also Like…