Disclosure: *This post may include affiliate links. As an affiliate, I earn from qualifying purchases. Read the
disclosures
and
terms
for more information.
If you're looking for some tried-and-true DIY cleaner recipes using essential oils, you definitely want to try my 5 favorites! They all use common, versatile essential oils like Lavender so they are easy to make and use. I use these recipes in my own home and have tweaked over time until I found the right ratios. Other than my laundry detergent recipes these comprise the bulk of my every day cleaning solutions and make great spring cleaning aids!
DIY All-Purpose Natural Cleaner
Shake well before each use. Not only will your home smell great, but the cleaning punch of vinegar plus the antibacterial properties of the essential oils will get everything squeaky clean! This is my go-to spray bottle for counters, appliances, walls, the kitchen, floors, and more. It's very versatile!
If I am cleaning something that is SUPER dirty, I will start with a DIY Heavy Duty Cleaner (below) first, and then follow up with a shot of my All-Purpose Cleaner for added disinfecting.
DIY Heavy Duty Natural Cleaner
1 cup water
1 tbsp unscented (or peppermint) castile soap
Shake well before each use. Follow up with a disinfecting mist of the all-purpose cleaner above, if desired.
DIY Soft Scrub Cleaner
Combine in a storage container and mix until it forms a thick paste. Scoop out what you need for each cleaning job and add a bit of water to soften if needed, especially after storage.
Rub onto surfaces such as sinks, tubs, tile, plastic shower inserts, and toilet bowls. Scrub and let sit for a few minutes before rinsing or wiping clean with a damp cloth.
DIY Natural Hand and Dish Soap
Probably my most simple and favorite recipe is for dish and hand soap. I can't remember where I first saw the idea for this, but I use up the soap from a store bought foam hand soap pump.
When it's empty, I add 1 tsp of liquid peppermint castille soap (and the essential oil if desired) and fill the rest with water. Shake wall and viola! Perfect soap that can be used as a hand soap or when washing dishes in the sink.
DIY Cleaner for Glass & Stainless Steel
1/2 cup rubbing alcohol
1/2 cup white vinegar
1 cup water
Rubbing alcohol is the secret ingredient in any recipe for cleaning glass or stainless steel. Not only does it disinfect, but it leaves less streaks since it dries so quickly. Combine all ingredients in a spray bottle and shake before using. Use a microfiber cloth for best results.
Finding Supplies for Your DIY Cleaner Recipes
Many of the ingredients for a good DIY cleaner recipes kit can be found at your grocery store as you buy your resgular things. Then I make an order of essential oils from my favorite company, Rocky Mountain Oils. So many of the oils used for cleaning can be used for health and personal care as well, and we've come to rely on them in our family!
FREE 7-Day Essential Oils eCourse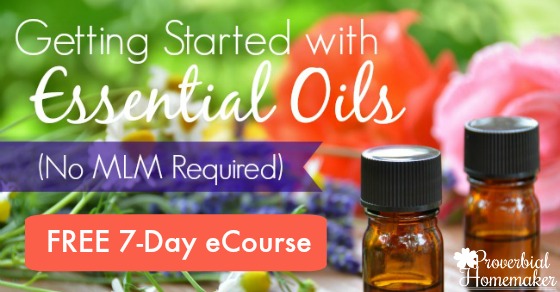 Join the Getting Started with Essential Oils eCourse!