Folks often do a big purge and deep clean around spring time. Spring cleaning chatter starts as early as March! Granted, it's a fantastic time to get a fresh start and clean house. But do you know what I have found even more helpful? Fall cleaning and decluttering!
As a busy homeschool mom, the fall is when I start settling in with more regular housework and homeschool routines after a busy summer. Right around October, however, I start to feel like I'm drowning in books and toys. That's when I begin itching to clear out the clutter and give everything a good cleaning as we head into the winter months. It's actually a WONDERFUL pre-holiday activity!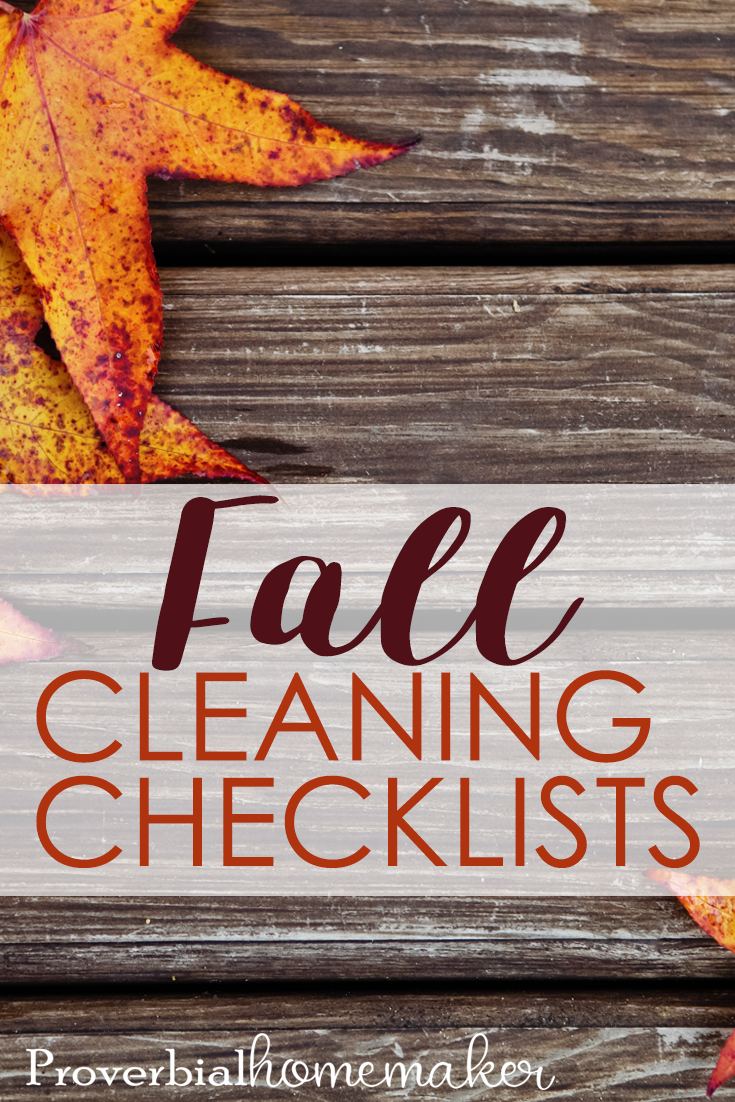 Disclosure: *This post may include affiliate links. As an affiliate, I earn from qualifying purchases. Read the disclosures and terms for more information.
Fall Cleaning VS Spring Cleaning
Is fall cleaning better? Or spring cleaning? Frankly, either is wonderful, especially for busy mamas like me who really just need to purge sometimes. But if you haven't tried fall cleaning and decluttering, you just might want to add it to your list! Here's why:
Back to School: No matter what your schooling style is, all children are "going back to school" in one way or another. Even if your children go year round, they are often still switching grades and getting new curriculum. They are probably getting school clothes or new clothes, too, as you take advantage of sales. This makes fall a great time to clean out the closets and bag up all the clothes that don't fit and find someone to hand them down to, consign them, or even have a yard sale!
More Regular Routines: As your family settles into the cooler months, refreshing your routines usually involves moving things around, simplifying, or getting a few new items. And it's a perfect time to handle those cluttered areas that have been driving you crazy forever so you can start fresh!
Closing the House Up: Spring is when we clean out because we're taking advantage of the warm weather and can throw open the doors and windows. But with the cooler weather, we close things up and winterize. Kicking it off with a freshly cleaned and decluttered home will make those winter months even more pleasant!
Holidays: The holidays are coming, which means our homes are going to be filled with people. One good scrub down in the fall helps keep the upkeep easier, and also allows the house to be decorated quicker. This is a time of year when we are even more engaged in hospitality, and it can be such a time and sanity saver to take a week or two to get our homes ready for visitors!
Christmas Presents: When the holidays come, usually that means more stuff is coming in the house, too. It's a blessed time of giving and receiving, but if you want to keep a handle on the clutter, then make sure to do a toy purge with the kids! Making it a tradition where you choose items they can bless others with can make it a wonderful act of service for them as well. Not a bad idea to do a purge of your own things and household items, too!
What Should I Clean?
Every house is different, but the best thing to do is walk through your house room by room and jot down what YOU want to clean or declutter. Then I suggest putting a star next to the top 3 items in each room. Because — let's face it — life happens and we usually don't get to everything on our list. But if we got those top 3 things done in each room? That's progress and it's gold!
However, I know that it can be helpful to have a starting point, so here's a list based on what I have written down for my own home. (P.S. Don't forget to get your supplies and DIY cleaning recipes ready!)
General

Dust everything
Clean ceiling fans
Do a freezer / fridge thaw and clean out
Clear off and decorate the front porch
Clean the walls (especially where little hands are often getting things messy)
Sanitize door knobs and light switches
Wipe down doors and door frames
Clean the curtains, blinds, and window tracks
Change lightbulbs or stock up for when you need to
Change the batteries and test the smoke detectors (get a carbon monoxide alarm as well if needed)

Living Room

Vacuum the couches and chairs
Vacuum floors, including under furniture
Shampoo carpets, if needed (mine needs it… it's pretty bad, you guys)
Clean out and rotate books
Thin out, dust, and rotate decorative items
Pull out fall decorations (but first, you know, find them. Lol! Where are they, anyway? hmm.)

Kitchen

Clean inside and outside of cabinets and cupboards
Clean out and organize pantry
Clean stove and inside oven
Clean out the toaster or toaster oven
Clean the inside, outside, and top of fridge
Clean under and behind appliances
Declutter and clean under the sink
Stock up on tea and coffee items for guests (or for me… just sayin')
Sweep and mop floors

Dining Room

Scrub down and sanitize tables and chairs
Thin out dinnerware, serving dishes, cups, etc. and replace items when needed. (Like the spoons. Where do they GO!? Just a tip from a mama who has spoon issues: Walmart and the Dollar Store often have bins of just spoons, forks, etc.)
Refresh table cloths and cloth napkins if you use them
Sweep and mop floors

Bathrooms

Clean inside and outside of cabinets
Declutter toiletries and medicine cabinets
Deep clean showers and tubs
Deep clean toilets
Clean mirrors
Scrub counters and sinks
Declutter and replace damaged or missing towels
Replace damaged floor rugs
Sweep, mop, and sanitize floors

Bedrooms

Change and wash bedding
Flip and vacuum mattresses
Pull out extra blankets for cooler weather
Rotate and thin out clothes and shoes (make a list of how many of each item every family members should have, and use that as a guide for decluttering)

Gardening

Rake and mulch leaves. As you clean up leaves, make them into piles and mow over them a few times to chop them up, then use them in compost bins or just spread them over gardens as a mulch.
Harvest and mulch. Harvest the last of your summer crops and whatever won't last the colder rainy fall months. If you are going to leave a bed empty until spring, plant cover crops or mulch with leaves and grass clippings.
Plant a fall garden. There is still time to plant! Here is a series on fall gardening to help you get started.

Winterizing

Check / service furnaces, stoves, and fireplaces. Not only will it help prevent a problem in the middle of cold weather, but it is safer and can save you money!
Reverse the direction of ceiling fans. Many of them have a switch. One setting functions to cool down in summer and other other changes direction to help circulate warm air during colder months.
Clean gutters and check roof. Clear out leaves a few times during the fall and check for missing or loose pieces on the roof. One year the flashing in one area of our roof was loose and caused leaking into the kids' room during a heavy rainfall! Not fun.
Winterize windows. You can add caulking around doors and windows to prevent leakage, replace them or add double-paned windows, or make your own draft stoppers (or draft snakes).
Fall Cleaning & Decluttering Checklist
Want those checklists in a printable format? Click the image below for an instant PDF download.
I hope that this list has will be helpful for you as you do your fall cleaning!
~ Tauna
You Might Also Like…
Once you get things cleaned and decluttered, the challenge is keeping them that way. I hear ya, and I can help! Download my FREE decluttering pack for a unique set of printables that will help you build decluttering into your regular routines.