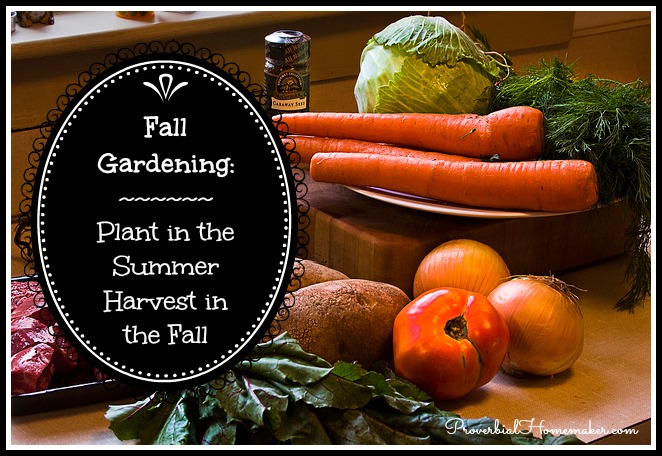 Disclosure: *This post may include affiliate links. As an affiliate, I earn from qualifying purchases. Read the disclosures and terms for more information.
Adapted from Source

Summer is in full swing and crops are being harvested. But did you know that this is a great time to start thinking about fall gardening?

Why would you want to plant in July?
Plant a few quick crops in places where early plants (such as snap peas) have been pulled.

Extend your current gardening activities to enjoy fresh food throughout the fall and winter.

Set up a new garden even if you missed spring planting this year.
For us, the first planting of the year was in February/March in our backyard square foot garden. Last week, we eked the last bit of food from it. Then we prepared it for new planting by pulling up and composting all the plant debris and then incorporating compost from our worm farm. Now it's ready!

Even if you don't have a full space for planting right now, that's ok! Just pick the spots that are bare or you have just harvested, work in some compost or aged manure, and pick from some of the great choices below.

When to Plant:
You're basically working backwards when planning a fall garden. Figure out the first frost date for your area. Ours is 10/18. Then choose some good fall plants and see the number of days to harvest on the seed packet or catalog (I had to look a lot of mine up online). I usually add a week or two to account for slower growing during the cold parts of the season.

For example, giant red mustard greens takes 40 days to mature. Add a bit of time for slower growing, and that's about 7 weeks. If I plant on July 20, they will mature September 14. Plenty of time! Now I know I can sow mustard green seeds this weekend and the next 5 weekends to have a continuous crop up until my 10/18 first frost date!



Seeds to Plant NOW:
Beets (leaves all seasons, winter root harvest)
Chicory (late Fall/Winter)
Chinese cabbage (late Fall)
Collards (Winter)
Fennel (Fall/Spring)
Lettuce (Summer/Fall)
Radishes (Summer/Fall)
Kale (Winter)
Mustard greens (Fall/Winter)
Bunching onions (Winter/Spring)
Shallots (Spring/Summer)
Parsnips (Winter)
Peas (Fall)
Rutabagas (Winter/Spring)
Spinach (Fall/Winter)
Swiss chard (Fall/Winter)
Turnips (Winter/Spring)
Beets and turnips are a favorite of mine because, although they're slow growing, you can selectively harvest leaves for salads and green smoothies until it's time to harvest the roots.
Lettuce and spinach are good choices but be sure to plant in part shade and keep well watered to avoid bolting in the summer heat.
Swiss chard, mustard greens, and peas are also fast growing and will often be ready mid-Fall. For a Fall harvest of other choices, try seeing if you can find seeds with a short harvesting time and choose varieties that are quick growing.
To broaden the variety of your fall garden, here are some good choices to plant as starts from the nursery. Just make sure to transplant them in the next week or so to be able to harvest before first frost! These are choices that you can direct sow or start indoors next year in May/June to get a jump start on your fall garden.
Basil (Summer/Fall)
Cilantro (Summer/Fall)
Dill (Summer/Fall)
Brussels sprouts (Fall/Winter)
Cabbage (Fall/Winter)
Cauliflower (Fall/Winter)
Kale (late Fall/Winter)
Leeks (winter harvest)
Next up in this series on fall gardening, I'll share choices for planting in August-October as well as some info on how to grow those starts if you don't want to buy them.
More Fall Gardening:
What would be your favorite vegetables to harvest all Fall and Winter long?