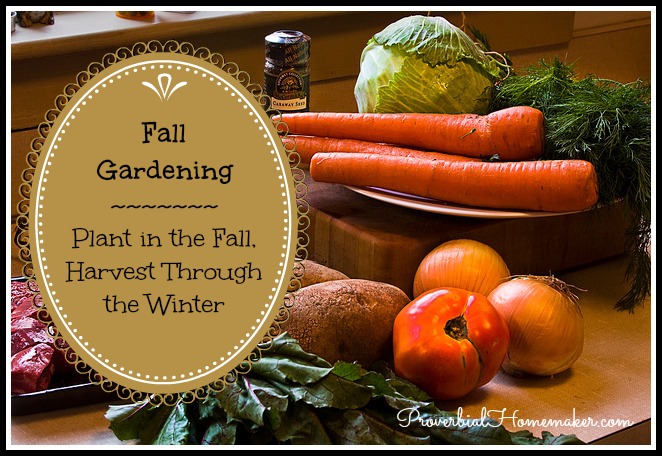 Disclosure: *This post may include affiliate links. As an affiliate, I earn from qualifying purchases. Read the disclosures and terms for more information.

The first post in this series was about how to plant a fall garden by starting your planting process in July. There is still time to plant now and get a good harvest before frost! This time, I'm going to give you some information on what you can do for fall gardening (mid-August through September).

Why would you want to plant in August and September?
Quick growing crops that thrive in cooler weather can give you a bonus crop before first frost.
Grow plants that can survive through winter for an early spring crop (called overwintering). Some can even be harvested sparingly throughout the Winter.

Don't forget that for your end of July and early August planting activities, you can continue to plant seeds for Fall harvest depending on how long they take to mature and when the first frost date is in your area. See the first post in this series to find out what to plant and when.

Here are lists of plants that can be grown through the Winter and into spring for early harvest (overwintering). I have indicated which ones can also be planted in the fall for fall harvest.
Seeds to Plant in the Fall:
Lettuce (Fall crop and overwintering)
Radishes (Fall crop and overwintering)
Peas (Fall crop and overwintering)
Onions
Carrots
Arugula
Turnips
Spinach
Mustard Greens
Kale
Corn Salad (Mache – winter lettuce)
Starts to Buy in the Fall:
Collards
Garlic and shallot bulbs (plant Sept-Oct)
Broccoli (overwintering)
Kale
Chicory
Cabbage
Other
Fruit trees
Blackberries, raspberries, etc.
Cover crops (fava beans, clover) for idle gardens to build soil health until spring planting.

Want more information? Check out your local extension office! Ours is with OHSU.

The last post in this series will be some tips to keep your fall and winter garden maintained and successful.

More Fall Gardening: