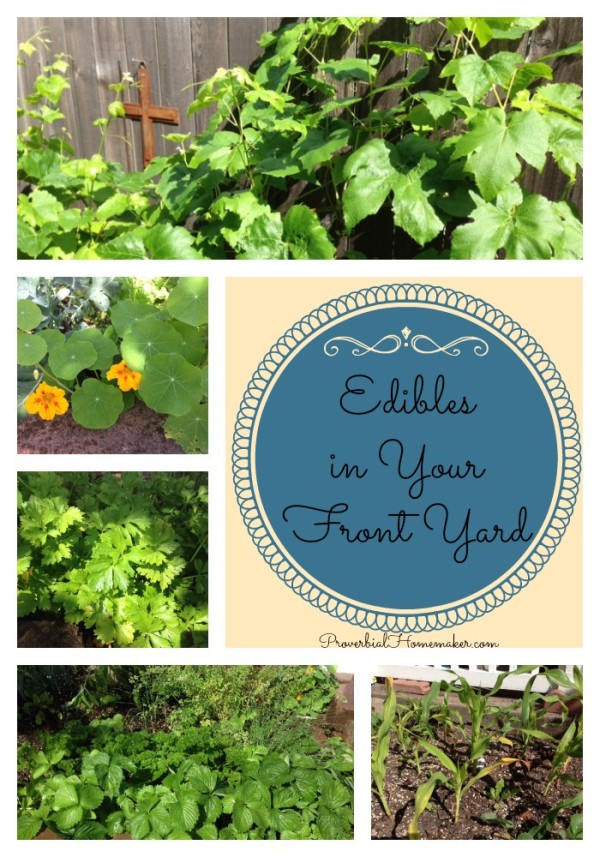 Disclosure: *This post may include affiliate links. As an affiliate, I earn from qualifying purchases. Read the disclosures and terms for more information.
I love to garden but have very little gardening space. I have already used every little extra nook and cranny of the back yard and even established some grape vines along the driveway. It was inevitable that we'd turn to front yard gardening as we started to run out of space!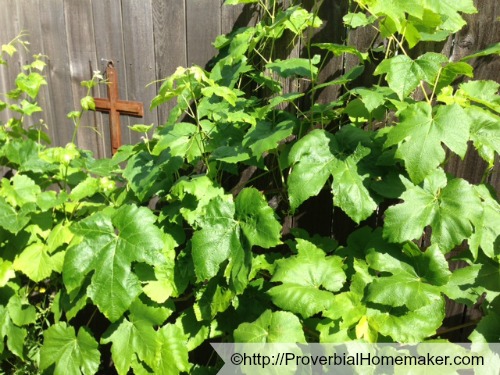 Grape vines
Last Fall, we decided to try some front yard gardening and turned our tiny front yard into a fruit, vegetable, and herb garden. It's legal where we live (it's crazy that it's not legal everywhere), and we have no homeowners association. So we took the plunge!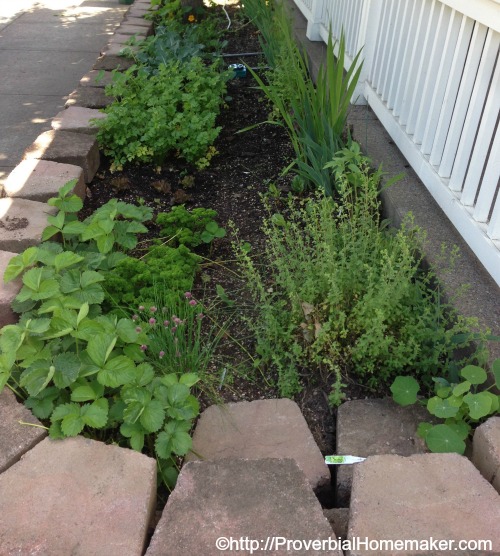 Our edible front yard – there are some irises and sunflowers in there too.
Here's what it takes to ditch the lawn and grow an edible front yard!

Prepare for Front Yard Gardening

Fortunately, we did not have an actual grass lawn to deal with. We just had a big tree and a poorly maintained, sloped strip of bark dust.

Our solution was to build up a retaining wall with bricks we found on Craigslist, fill the new raised bed with garden dirt, and sit over Winter and dream about what we would plant in the Spring.

Nasturtiums and potatoes play nice. Corn is around the corner to the left there.
For a lawn, you'd want either remove the grass, but a border around the whole thing, and prepare the soil, or build one or more raised beds over the top of your existing lawn. Here is a good article about converting a grass lawn.
strawberries, parsley, oregano
Plan for Your Garden
The most fun part of this project was planning what would go in our garden! The absolute best resource I found for this was Ivette Soler's book The Edible Front Yard: The Mow-Less, Grow-More Plan for a Beautiful, Bountiful Garden.

My front yard gardening tips:



Choose plants that look good and leaf out well. Carrots are not a good choice, for example, while potatoes and herbs look fantastic.
Choose plants that do not tend to sprawl or grow a shabby look later in the season, as tomatoes and vining plants tend to do.
Group many of the same plants together. Throwing things in randomly will not look as good as you think it will. Plus, it's easier to maintain and re-plant a block than running around to different spots for the same plant.
Create an appealing visual pattern, such as patchwork, rows radiating from a center, or something similar. Consider colors, plant height, shapes, and textures as well.
Set up a good irrigation system. We couldn't swing the built in timed sprinkler system. But we found a good sprinkler that had a shape that adjusted to our garden size. We also installed a timer on the faucet. So I do have to move the sprinkler once or twice in order to cover it all, but so far it's ok. Drip hoses did not work out so well for us in this situation.
The plant suggestions were fabulous and had pictures for each one.


The plants we chose this year:
Potatoes

Kale (lacinato, curly, and red winter)

Celery

Red-Veined Sorrel

Broccoli

Oregano

Cilantro

Dill

Italian parsley

Curly parsley

Red leaf and other lettuces

Corn

Strawberries

Blueberry bushes

Nasturtiums

Chives
What we'll do differently next year:
Not bother with front yard lettuces. The dog-sized slugs of the NW cannot stay away from them! Same with basil. (Note: I eventually found that dry pine needles in a fairly thick layer all around the garden deterred the slugs beautifully!)
Grow more kale. A lot more.
Have a better strategy for dealing with cabbage moth (aka, my nemesis).
Not kill the blueberry bushes. Not sure what happened there!
Spread out the strawberries more or split them among other garden beds. They're taking over!
Start seedlings in January (using winter sowing method) to cut down on costs.
I have to say, we LOVE having an edible front yard! And the neighbors seem to enjoy our front yard gardening too. My hope is that eventually it will be productive enough to share with neighbors as we harvest through the seasons!
Is there a space in your front, back or side yards that could become an edible garden for you? Start planning now for next year, or get a Fall garden in today!
Follow Tauna Meyer (ProverbialHomemaker.com)'s board Gardening on Pinterest.