Have you tried to take up a spring cleaning or decluttering challenge and just couldn't seem to finish it? Perhaps you didn't join at all because you were afraid you'd fail. Yet the cleaning and decluttering still need to happen, and looking at all the chaos can be so discouraging!
If you've felt that way – if you ever have these obstacles to a clean and decluttered house – this challenge is for you! It is a flexible spring cleaning plan that you can make as light or robust as you like depending on your goals and daily life.
There are many obstacles we might face when trying to spruce up our home:
Lack of time
Procrastination
Too many other responsibilities
Poor self-discipline
Bad habits on our part or on the part of family members
Lack of experience/skills keeping house
Overwhelmed by the sheer volume of work
I struggle with all of these things at different times, but I'm just tired of looking at the chaos in our home and the spring cleaning projects that never get done. So I set out to create a flexible cleaning challenge for busy moms – that's you and me!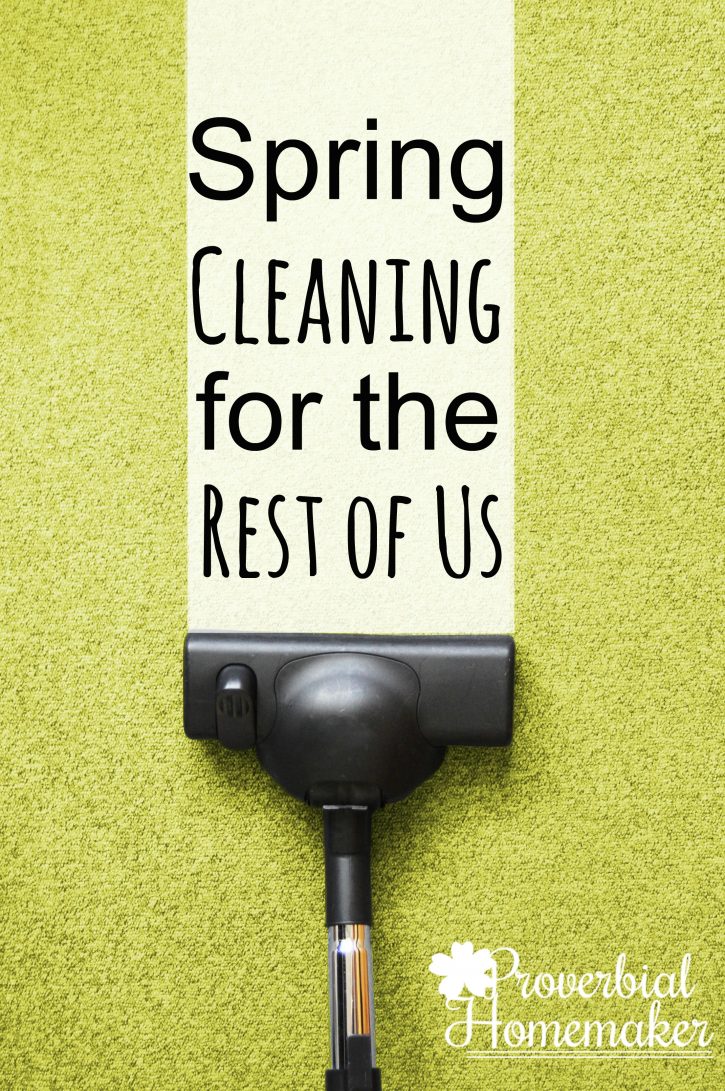 Disclosure: *This post may include affiliate links. As an affiliate, I earn from qualifying purchases. Read the disclosures and terms for more information.
Here are some of the things that will set us up for success:
Simple but flexible plan that fits our needs and goals
A challenge with a deadline that keeps us motivated
Community and encouragement from other busy moms
Continuous progress instead of a one-shot effort
Rewards for our accomplishments
How the 6-Week Spring Cleaning and Decluttering Challenge Works
Download the printables below to get started. There is a planning page, a blank planning page, and checklists for the 6 defined areas to work on.
Clean and Declutter Planning Pages
The planning page includes 6 weeks with a different area of the house to focus on each week. The columns have different types of tasks to do. The circle at the top right of the chart is where you can put that satisfying giant checkmark when the challenge is complete!
Here are the task types you can choose to do each week:
Clean – Any deep cleaning tasks you are going to do (there are checklists in the printable for your use)
Declutter – Specific areas you are going to declutter (this can be in the area you are focusing on for the week or some extra decluttering task you want to accomplish)
Habits – Any habits you want to focus on
Hot Spots – Areas you want to clean that are common hot spots for clutter in your home
Beautify – Decorating or other beautifying tasks for that area
Take Note – Notes on what worked or you want to do for that area in the next challenge
Set Up Your 6 Week Clean and Declutter Plan
First decide what you're going to tackle for this particular challenge. You can always do the challenge again in the future (I'm thinking every season, for myself). Be realistic based on what is going on in your life right now. Challenge yourself, but make it something you can succeed in!
Here are some examples of how you can set up your plan:
Complete a Clean set of tasks and a Hot Spots task for every week (anything extra is bonus)
Complete a Clean set of tasks and pick one additional type for every week as the challenge progresses
Fill all your tasks in ahead of time and cross them out as you go
Decide week-by-week what types of tasks you will do
If you want to do additional areas in your home or create a completely customized plan, use the blank planning page.
Choose an accountability partner or some other way to keep yourself motivated and encouraged
Plan a simple reward for yourself that you can enjoy upon completion of your challenge
Spring Cleaning and Decluttering Checklists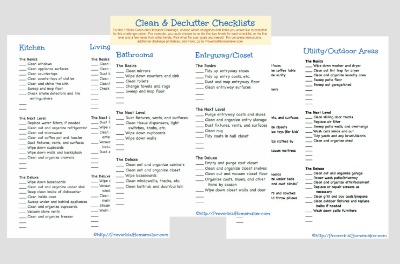 The printable includes checklists for each week's focus area. If you choose to use one or more of them, highlight which tasks you are going to do.
The checklists for each area are separated into three levels based on how difficult or involved they are. You can choose to do a whole level or pick and choose which tasks you'd like to complete for this challenge.
Example Spring Cleaning and Decluttering Plan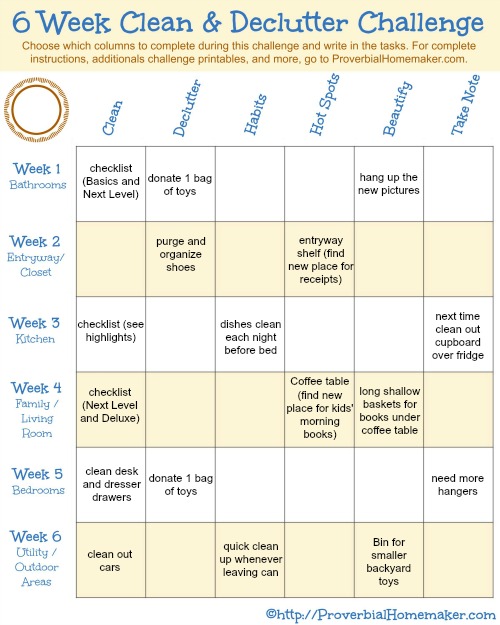 Here is an example of what the planning page might look like for you. My cleaning plan will look a lot like it! In this plan, I chose to use the cleaning checklists on some weeks but not others. I added a few random decluttering tasks I need to get done that may not necessarily fit in the areas.
Download the Spring Cleaning Checklist Printable!
Are you ready to put this into action? First, download and fill out your spring cleaning checklist printable and highlight any levels or individual tasks you plan on doing in the checklists.
That's it! Get your cleaning kit together and tackle the challenge!
Click the button to download the free checklist. I go through this challenge about once a quarter but you can do it any time!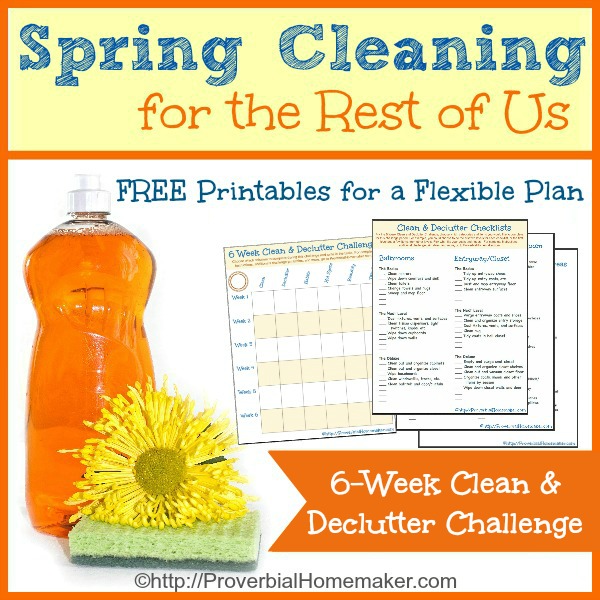 Download the 6-Week Cleaning Challenge!
*Your download link will be emailed to you and you will be subscribed to Proverbial Homemaker if you aren't already. Be sure to check your spam/promotions folder. If you have any issues, check out this troubleshooting guide or feel free to email me!
You Might Also Like…