Have you been thinking about using more natural cleaning products in your home? Especially for those of us that have kids or pets, commercial cleaners are not ideal and can easily be replaced.
At our house, we have been under a gradual transition away from those harsh chemicals and toward more natural cleaners. Spring cleaning is a great time to make some changes in your cleaning cabinet. Here are a few things we have in ours.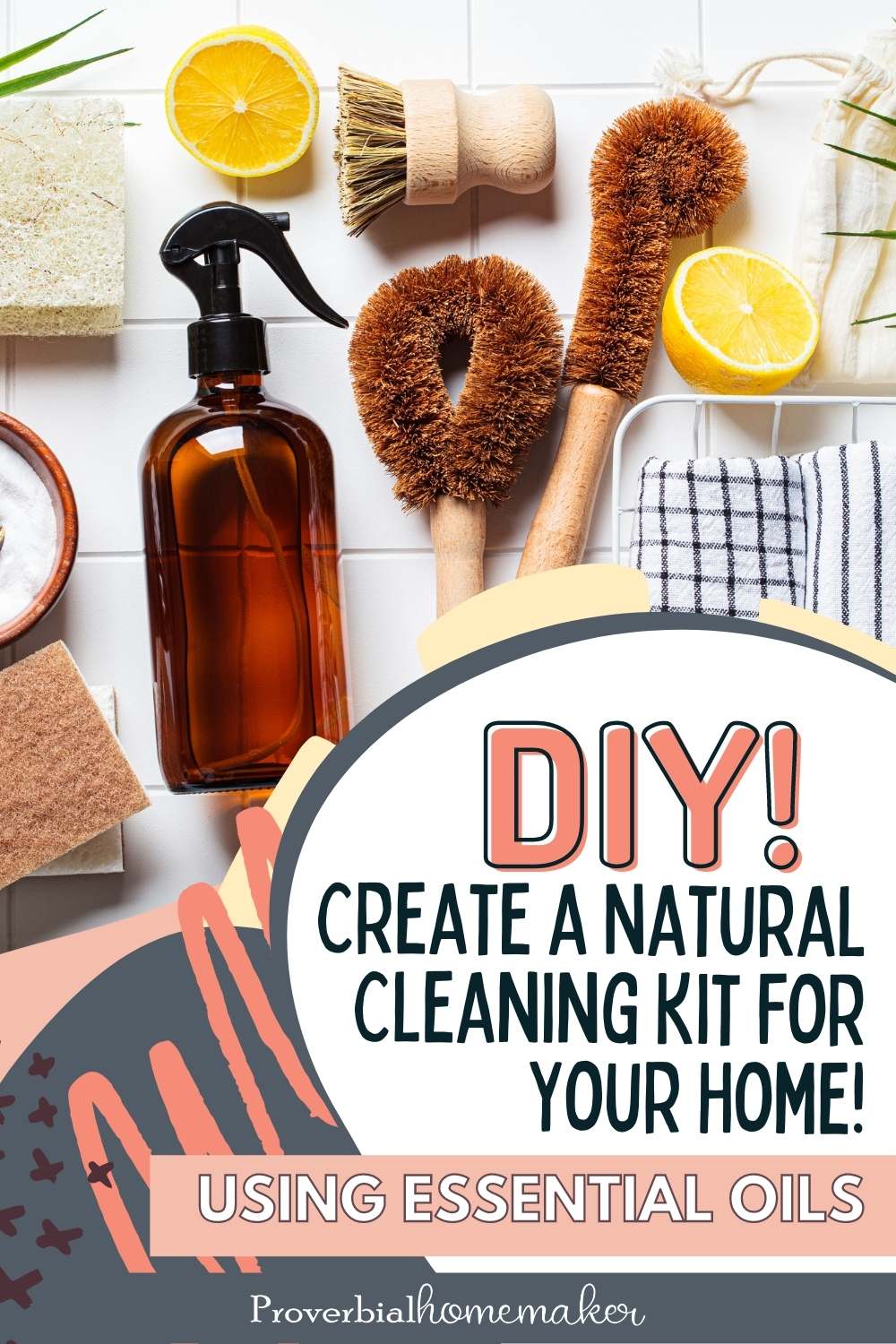 Disclosure: *This post may include affiliate links. As an affiliate, I earn from qualifying purchases. Read the disclosures and terms for more information.
Create a DIY Natural Cleaning Kit
Creating a DIY natural cleaning kit only requires a few products. With them you can create a variety of cleaning recipes and get your whole house spic and span! We have a caddy set up with spray bottles, sponges with scrubbers, microfiber cloths and paper towels, and scrub brushes. Here is a list of the ingredients we have on hand for making cleaners.
White vinegar: A staple for disinfecting, cutting through grease, cleaning windows, deodorizing, and more.
Castile soap: Castile soap is a wonderful general cleaner that works in several recipes and can replace hand soaps, detergents, and other cleaners.
Lemon juice: Cuts through stubborn grease and freshens up the home while deep cleaning
Baking soda: Great for scrubbing surfaces, freshening enclosed spaces, and used with vinegar to cleanse drains.
Hydrogen peroxide: Good for use as a disinfectant, removing stains, as a bleach alternative, and for loosening tough grime.
Washing soda: A tough cleaner for cutting through grease, de-griming inside appliances, and of course as a laundry detergent ingredient.
Essential oils: Tea tree, orange, lemon, and lavender are my favorites for cleaning products with their lovely scents and powerful antibiotic, antiviral, and antibacterial properties. You can get many more essential oils for cleaning!
What Can You Make with Your DIY Natural Cleaning Kit?
There are so many things you can make with your natural cleaning kit! Here are a few:
General cleaning spray
Heavy duty disinfectant
Tub and tile cleaner (soft scrub style)
Hand soap
Dish soap
Stainless steel cleaner
And more!
Get some great DIY natural cleaning recipes here and give them a shot.
Other Great Natural Cleaning Supplies
To make your DIY natural cleaning kit complete, add some of these handy cleaning supplies!
Looking for More Cleaning Inspiration?
You Might Also Like…
Essential oils safe for pets + 5 recipes!