One of the best uses of essential oils is to combat stress and anxiety. More studies have been done on the effects of essential oils on the mood, and specifically for calming purposes, than any other use, and it's clear they can provide a huge advantage. So, which oils should we try and how should we use them? We're sharing a helpful list of the 14 best essential oils for anxiety, as well as 5 fantastic recipes to get you started!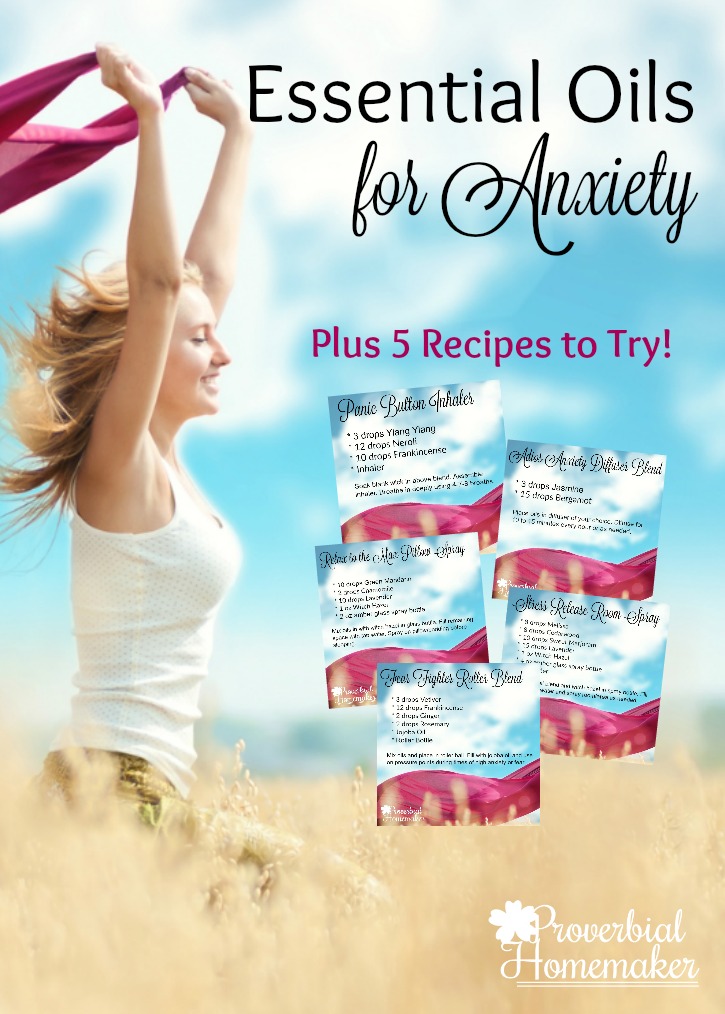 Disclosure: *This post may include affiliate links. As an affiliate, I earn from qualifying purchases. Read the disclosures and terms for more information.
Not only will using essential oils help to reduce anxiety, but they will help prevent other symptoms that stem from high anxiety, such as sleep problems and depression, simply because of the reduced levels of stress.
Check out the list of essential oils below! You can incorporate these into your DIY diffuser or roller bottle blends, combine them in an inhaler for quick relief you can carry in your purse, or add them to unscented lotion for a soothing nighttime routine. As always, note any safety concerns (we listed cautions to be aware of with each oil).
In addition, you can often find convenient and effective pre-blended oils that help reduce anxiety. These are great if you don't have a lot of oils to make your own blends yet or just want something quick and easy to help get you the relief you need!
14 Best Essential Oils for Anxiety
Vetiver. This earthy, powerful oil is perfect for those in need of grounding. Helps with nervous energy, sexual trauma and fear of death. Can also be used for feelings of disconnection from self and fears related to childbirth and sex.
Cautions: Avoid during pregnancy. No known toxicity.
Lavender. This popular oil is well known for its relaxation and anti-anxiety properties. Also great for wounds and skin care.
Cautions: Generally regarded as safe for all.
Neroli. This citrus oil has powerful anti-anxiety properties as well as the ability to lift the mood. Ideal for those suffering with both depression and anxiety, or depression that manifest as anxiety. Also useful for fear, shock and stress.
Cautions: Non-toxic and non-sensitizing. Do not use during pregnancy.
Ylang Ylang. This is known as the No. 1 oil for panic disorder. It is also useful for stress, general anxiety, irritability, fear and anger. Physically, it can help with high blood pressure, as well as rapid breathing and heartbeat.
Cautions: Can cause sensitization. Also known to give headaches if inhaled too long.
Bergamot. Well-known for its use in Earl Grey Tea, bergamot is the No. 1 oil for overall mental health and well-being. It's a natural go-to for anyone facing anxiety, depression or other mood disorders. Great for cold sores, oral infections, psoriasis, fever and flu.
Cautions: Phototoxic. If placed on the skin and exposed to the sun, can cause severe burns.
Roman Chamomile. Chamomile is a very calming oil, ideal for use with anxiety and overall stress. Also useful for muscle and joint pain, PMS and skin care.
Cautions: No known toxicity. Mild blood thinning effects so avoid if taking blood thinners. Avoid if you have a ragweed allergy.
Frankincense. Wonderfully calming, Frankincense is perfect for anxiety or stress-related issues. It's also a well-known oil for respiratory oil and anti-inflammatory.
Cautions: Avoid during pregnancy. Non-toxic, non-sensitizing, non-irritant.
Green Mandarin. A very gentle and uplifting oil, green mandarin is perfect for alleviating stress and anxiety. It is also used for wrinkles, scars, acne and insomnia.
Cautions: Avoid using oxidized oil to prevent skin sensitization.
Jasmine. This sultry oil can be a great aid in fighting against anxiety, stress and sexual trauma. Jasmine is also known for its aphrodisiac properties, use for women's health and as an anti-inflammatory.
Cautions: The absolute is highly concentrated and should be used with care.
Rosemary. This oil known for mental clarity, strengthen and stimulates the entire nervous system making it ideal to use when stressed or anxious. Rosemary is also used for acne, dandruff and circulation.
Cautions: Do not use during pregnancy or if you have epilepsy or high blood pressure.
Melissa (Lemon Balm). Best known for its use with the Herpes virus, shingles, chickenpox and cold sores, Melissa is also great soother of anxiety and stress. Also useful for cardiovascular health and high blood pressure.
Cautions: Avoid during pregnancy. Possibly sensitizer and skin irritant.
Ginger. Believed to ease anxiety, as well as reduce depression and anger. Commonly used for stomach ailments.
Cautions: Avoid during pregnancy. Can cause irritation on sensitive skin.
Cedarwood. This woodsy oil can curb stress, anxiety, depression and paranoia. This oil can also be used for skin issues, rheumatoid arthritis and mental clarity.
Cautions: Non-toxic, non-sensitizing, non-irritant. Avoid during pregnancy.
Sweet Marjoram. This oil helps with anxiety, grief, sorrow and loneliness. It's also helpful with insomnia, hyperactivity, hypertension and sore muscles.
Cautions: People with asthma, low blood pressure and depression should not use. Avoid during pregnancy.
5 Essential Oil Recipes for Anxiety
Download these 5 free recipes to use to help combat anxiety!
Panic Button Inhaler
Stress Release Room Spray
Adios Anxiety Diffuser Blend
Fear Fighter Roller Ball Blend
Fear Fighter Roller Ball Blend
You Might Also Like…
Best Uses for Frankincense Essential Oil
SaveSave