When seasonal allergies hit full force, it can really knock you down. Itchy red eyes, runny or stuffy nose, and all the "fun" stuff that comes from allergy season! There are a lot of suggestions for how to knock allergies down, but did you know that essential oils can be quite effective? Here are the 10 best essential oils for allergies, with my favorite all-purpose recipe.
First off, removing irritants from your environment can help overall. Consider replacing harsh cleaners with more gentle and natural cleaners. Here are a few natural cleaning recipes to get you started. Also consider simple steps toward replacing personal products with solutions such as this DIY hand cleanser.
Best Essential Oils for Allergies
If you already are struggling with allergy symptoms, there are several essential oils that can help. You can consider any of the below to be great oils that help avoid or soothe allergy symptoms.
A few more worth trying if you have them: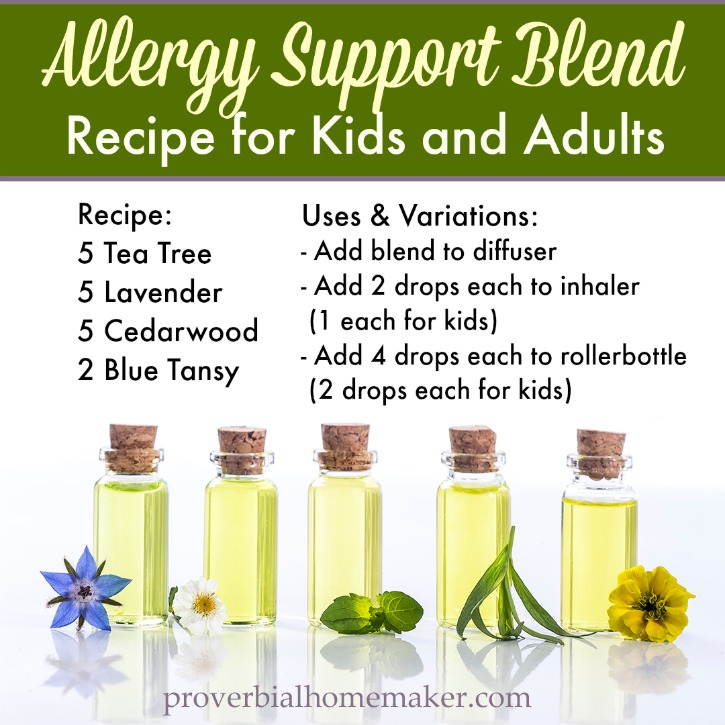 How to Use Essential Oils for Allergies
You can take any of the above oil and combine them in equal parts for an effective blend. Try 5 drops of 3 choices in a diffuser. You can also try 4 drops of 3 oils in a 10ml roller bottle and fill the rest with carrier oil (for a 4% dilution for adults), or 2 drops of 3 oils in an inhaler.
My top recommended blend would be to try equal parts Tea Tree, Lavender, and Cedarwood together. If you have it, I would also add 2 drops of Blue Tansy for the diffuser and 1 for the inhaler or roller bottle. That combination will help reduce sinus headache and congestion, calm allergic reactions, fight off infections, reduce inflammation, and boost the immune system. All good things for battling allergy symptoms!
Best Essential Oils for Allergies Safe for Kids
If you have kids, you'll want to keep a few things in mind. Not all oils are recommended for topical use or inhalation for kids depending on their age. Peppermint is the one most commonly recommended, but it is not recommended for topical use or diffusing for kids under 6 years old (according to Tisserand in his book Essential Oil Safety). Other oils you want to avoid (for kids under 10-12) are Ravintsara, Niaouli, and Eucalyptus Globulous due to their high content of 1,8-cineole.
So, What would a great allergy blend be for kids? Anything using the following oils and a dilution rate of 2-3%! In fact, the above recipe image works great for kids AND adults! For kids, I probably scale back the inhaler amounts to 1 drop of each oil up to 3 or 4 drops. For the roller bottle, use between 6 and 9 drops max and then add carrier oil for a 2-3% dilution rate.
I hope that helps! My oldest has just started showing signs of seasonal allergies so we will be using this blend with him and I'll let you know how it goes!
---