When seasonal allergies hit full force, it can really knock you down. Itchy red eyes, runny or stuffy nose, and all the "fun" stuff that comes from allergy season! There are a lot of suggestions for how to use essential oils for allergies, but a lot of conflicting information out there. Never fear, busy mama! In this article, you'll find just the essential oil information you need to easily address seasonal allergies in your household with success.
Here's what we'll cover:
Best essential oils for seasonal allergies
Kid-friendly list of essential oils for allergies (and what to substitute in when you find a recipe with an oil that isn't kid safe)
Instructions for making your own diffuser, roller bottle, and inhaler blends
Eight simple recipes to get you started!
Free cheat sheet with all this info in one convenient download!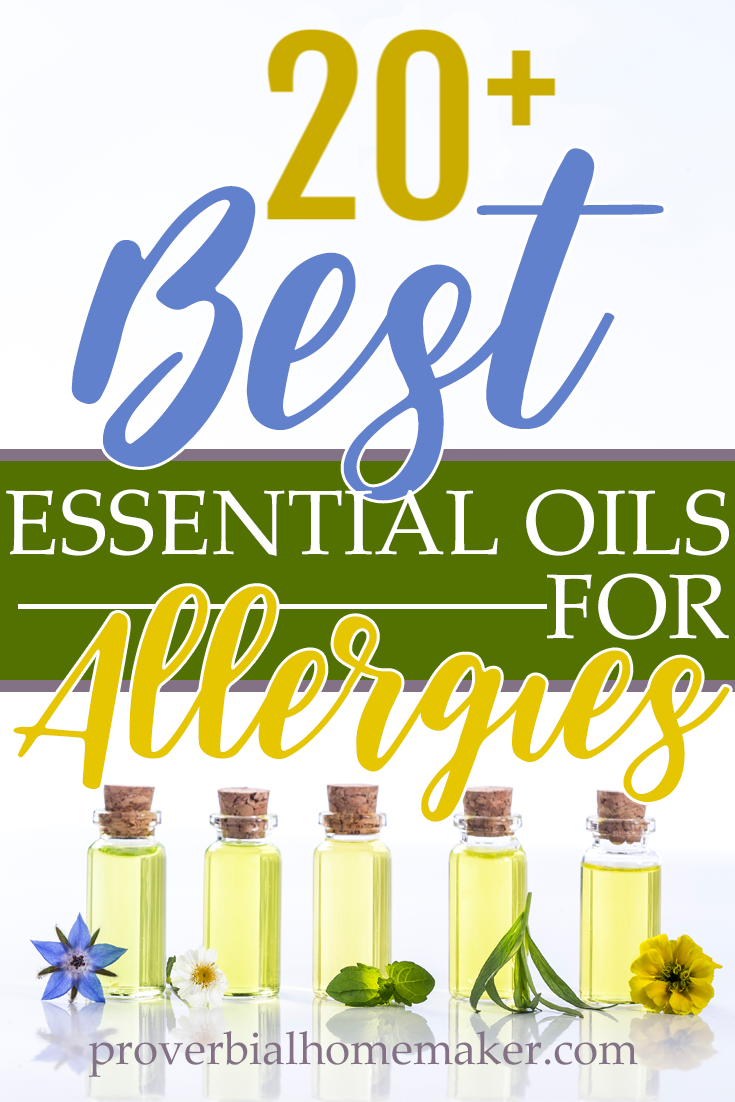 Disclosure: *This post may include affiliate links. As an affiliate, I earn from qualifying purchases. Read the disclosures and terms for more information.
Before We Start: Replacing Harsh Cleaners
First off, removing irritants from your environment can help with allergies overall and should be a preventative measure. Consider replacing harsh cleaners with more gentle and natural cleaners. Anything that is putting irritants in the air can impact lungs, and many people indicate that their overall seasonal allergy reactions go down once they start making good changes.
Here are a few natural cleaning recipes to get you started. Also consider simple steps toward replacing personal products with solutions such as this DIY hand cleanser and simple perfume recipes. Start making one switch at a time and pretty soon you'll have a household that is healthier.
Best Essential Oils for Allergies
If you are struggling with allergy symptoms, there are several essential oils that can help. You can consider any of the below to be great oils that help avoid or soothe allergy symptoms.
See which ones you have on hand a build a recipe from them, or use the recipes I've posted toward the end of this article as an easy way to get started.
The oils in this list include those that have antihistaminic properties, anti-allergy benefits, help with congestion and mucus, and support the immune system.
*** For a list of kid-safe oils and a cheat sheet you can download, go farther down in this post.
How to Use Essential Oils for Allergy Relief
You can take any of the above oils and combine them in equal parts for an effective blend.
By the way, that Tea Tree, Lavender, and Cedarwood blend (in the recipe below) is very versatile and will help reduce sinus headache and congestion, calm allergic reactions, fight off infections, reduce inflammation, and boost the immune system. Add a drop or two of Blue Tansy if you have it!
Kids Seasonal Allergies – Best Essential Oils
If you have kids, the list of oils and recipes changes just a bit for safety reasons. Not all oils are recommended for topical use or inhalation for kids depending on their age.
Peppermint is the one most commonly (and erroneously) recommended for young children. Peppermint is not recommended for topical use or diffusing for kids under 6 years old (according to Tisserand in his book Essential Oil Safety). Other oils you want to be especially careful with and know the proper ages for are Ravintsara, Niaouli, and Eucalyptus Globulous due to their high content of 1,8-cineole. They can potentially cause respiratory issues and averse reactions you do not want for your kids.
Allergy Essential Oils Safe for Kids
Lavender hydrosol or Chamomile hydrosol (spray sparingly on linens or in air for children 3-6m old.)
Tea Tree (Melaleuca alternifolia) – 6 months and up
Frankincense (Boswellia carterii) – 2 years old and up
Siberian Fir (Abies sibirica) – 6 months and up
Basalm Fir (Abies balsamea) – 6 months and up
Laurel Leaf (Laurus nobilis) – 6 years and up
Plai (Zingiber cassumunar or Zingiber montanum) – 2 years and up
Blue Tansy(Tanacetum annuum) – 6 months and up
Cedarwood(Cedrus atlantica) 6 months and up
Sandalwood (Santalum album) – 6 months and up
Helichrysum (Helichrysum gymnocephalum) – 6 years and up
Ravintsara (Ho Wood – Cinnammonum camphora) – 6 years old and up
Roman Chamomile(Chamaemelum nobile) – 6 months and up
German Chamomile(Matricaria recutita) – 6 months and up
Niaouli(Melaleuca quinquenervia ct 1,8 cineole) – 6 years old and up
Scotch Pine (Pinus sylvestris) – 6 months and up
Lavender (Lavandula angustifolia) – 6 months and up
Spike Lavender (Lavandula latifolia) – 2 years old and up, use sparingly
Blue Cypress (Callitris intratropica) – 6 months and up, avoid during pregnancy and breastfeeding
Black Spruce (picea abies, picea glauca, picea mariana, picea rubens) – 6 months and up
Sweet Marjoram (Marjorana hortensis) – 2 years old and up
Sweet Orange (Citrus sinensis) – 6 months and up
Peppermint (Mentha x piperita) – 6 years old and up
Lemon (Citrus x limon) – 6 months and up
Geranium(Pelargonium roseum X asperum) – 6 months and up
Want to know more about some of these oils and their uses? Check out these posts:
Using Essential Oils for Kids' Allergies
Take any of the above oils and combine them to build your recipe. Keep the following dilution rates in mind. Always use the more conservative dilution rate to begin with and increase, up to the indicated maximum, until you're satisfied with the effectiveness of the blend.
For kids 6 to 11 months, use a .5-1% dilution or lower

Roller Bottle (10 ml): 3 drops total
Inhaler: 1-2 drops total

For kids 2 to 5 years years old, use a 2-3% dilution or lower.

Roller Bottle (10 ml): 3-6 drops total
Inhaler: 2-4 drops total

For kids 6 to 11 years old, use 3-4% dilution or lower

Roller Bottle (10 ml): 6-9 drops total
Inhaler: 3-5 drops total

For kids 12 and up, adult dilution rates are appropriate, but we still stick to 4% or lower, 5% for short term acute issues.

Roller Bottle (10 ml): 9-12 drops total
Inhaler: 5-7 drops total
How many drops should you put in your diffuser? The number of drops I indicate in recipes for a diffuser is based on a 500ml capacity diffuser. Generally, use 3-5 drops per 100ml capacity. Using too much oil can cause headaches, dizziness, and nausea.
Download the Cheat Sheet + 8 Essential Oil Allergy Recipes!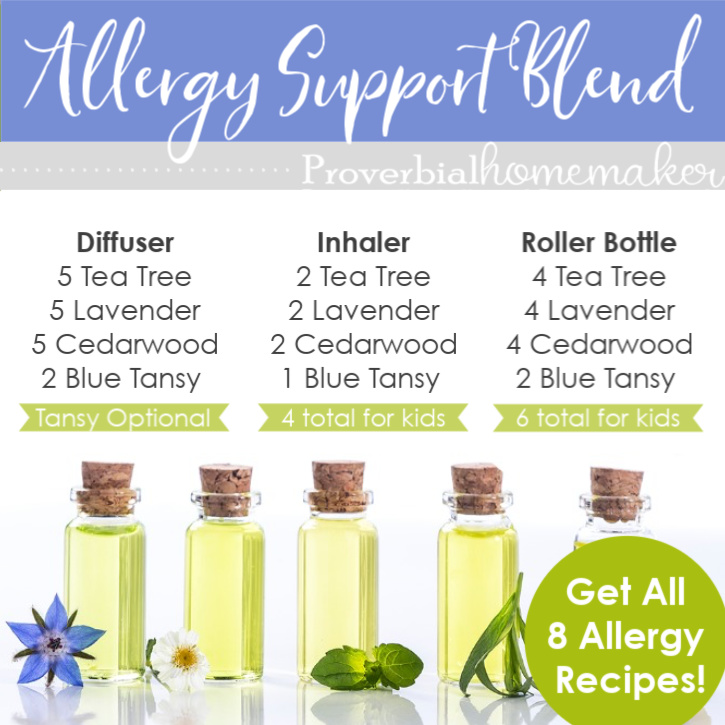 Want all this info in an easy reference format? Download the cheat sheet, print it off, and either post it somewhere visible or start a binder with all my great essential oil tips and recipes!
Plus, I've put together 8 recipes that you can start using now!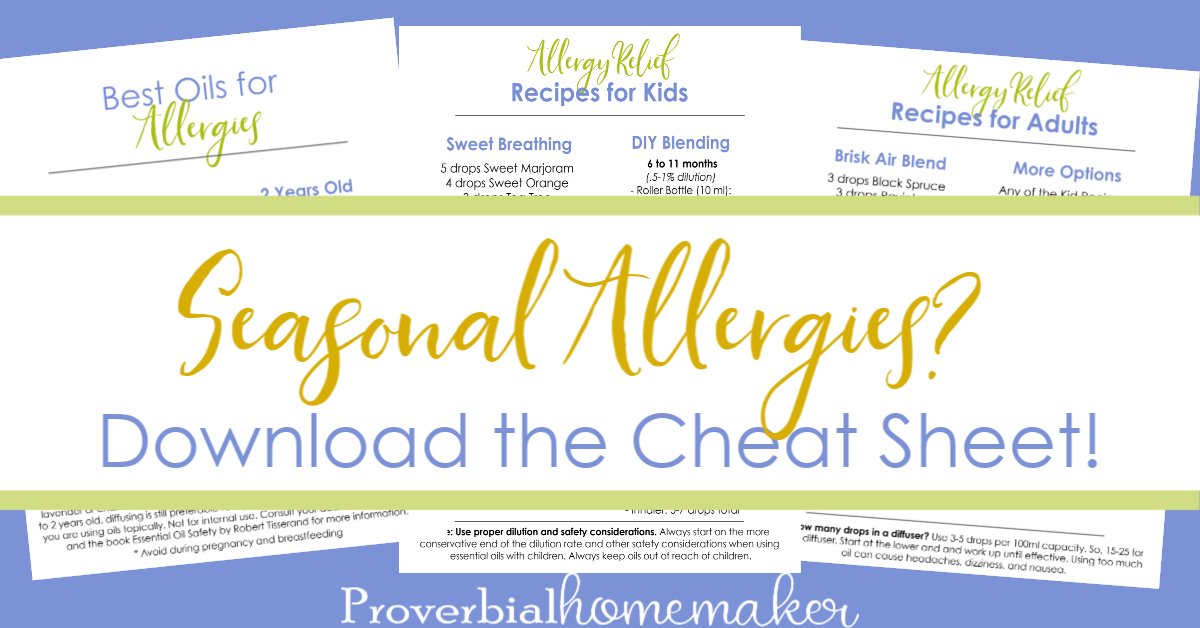 I hope this is helpful, friends! Let me know if you have any questions.
~ Tauna
---
You might also like…