Confused about which essential oils you can and can't use for your kids? It's so important to know for sure what is safe! Essential oils are powerful and should be treated with the same care that traditional medicines are. It's important to know about essential oils NOT safe for kids, too.
Whether we're dealing with cold and flu season, allergies, anxiety, sleep problems, or similar health and wellness issues, essential oils can be a wonderful addition to our tool kit as busy moms! But using essential oils safely is of utmost importance!
Two questions I get all the time are 1) how to use essential oils safely with kids, and 2) which oils should be avoided for a particular age. A little while ago I wrote a handy post for you with information about how to use essential oils for kids safely. But I still have mamas who would like to have a list of oils they should NOT use with their child, just so they can be certain. I totally understand that!
(Another question I get all the time is where I buy my essential oils. I use and recommend Rocky Mountain Oils. I love that you get free shipping, pure and high quality oils just as good as the MLMs, but with none of the MLM requirements and sign ups. Plus a satisfaction guarantee. 🙂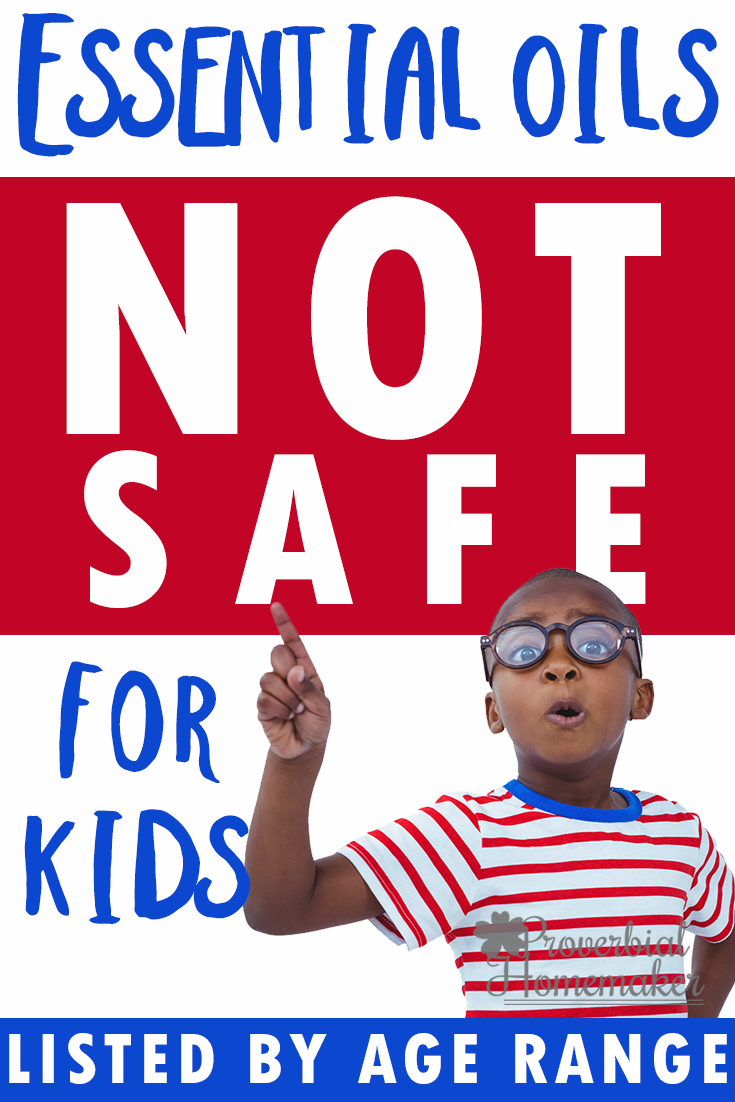 Disclosure: *This post may include affiliate links. As an affiliate, I earn from qualifying purchases. Read the disclosures and terms for more information.
How Safe Do We Need To Be?
This post reflects my recommendations based on a few key sources and other research I have done. I'll be sure to update it if I learn new information that changes anything! I get most of my essential oils safety information from two main sources: The aromatherapy certification course with The Aromahead Institute (here is a separate short course they offer), and Robert Tisserand and his book Essential Oil Safety.
I have learned that different experts have different approaches to safety use. The aromatherapy course does not recommend essential oils use for kids 5 and under. Instead, they recommend using hydrosols, which have many wonderful therapeutic properties with trace amounts of essential oils. This is the most conservative approach I have found thus far. The reasoning is that you can use herbs and hydrosols to get the effects you need without running any risk of overloading their the little systems of the under 6 crowd with powerful essential oils.
Many aromatherapists take a slightly less conservative approach similar to that of Robert Tisserand, another essential oils expert. In Tisserand's book, Essential Oil Safety, and other publications, he indicates proper usage and safety of various oils for different age ranges. Personally, I like his approach, although sometimes I lean a little more conservative on a few oils and situations when it makes sense to me. Erring on the side of caution is just wise, in my opinion, and it's really not that hard to do with all the hydrosols, herbs, and safe oils like lavender available.
You'll also find some sources that are much less conservative and have different recommendations about certain oils like peppermint, dilution rates, or whether or not they can be used for kids. Many times these are essential oils companies, books, or blogs. Sometimes there is a studied and reasonable difference in opinion (we have to remember that there aren't vast clinical studies and research sources to draw from like there are about drugs) but often they are simply repeating misinformation they found somewhere else. When in doubt, use sources like Essential Oil Safety.
So, let's get started! Below you'll find a list of oils organized by age group, indicating when they should NOT be used.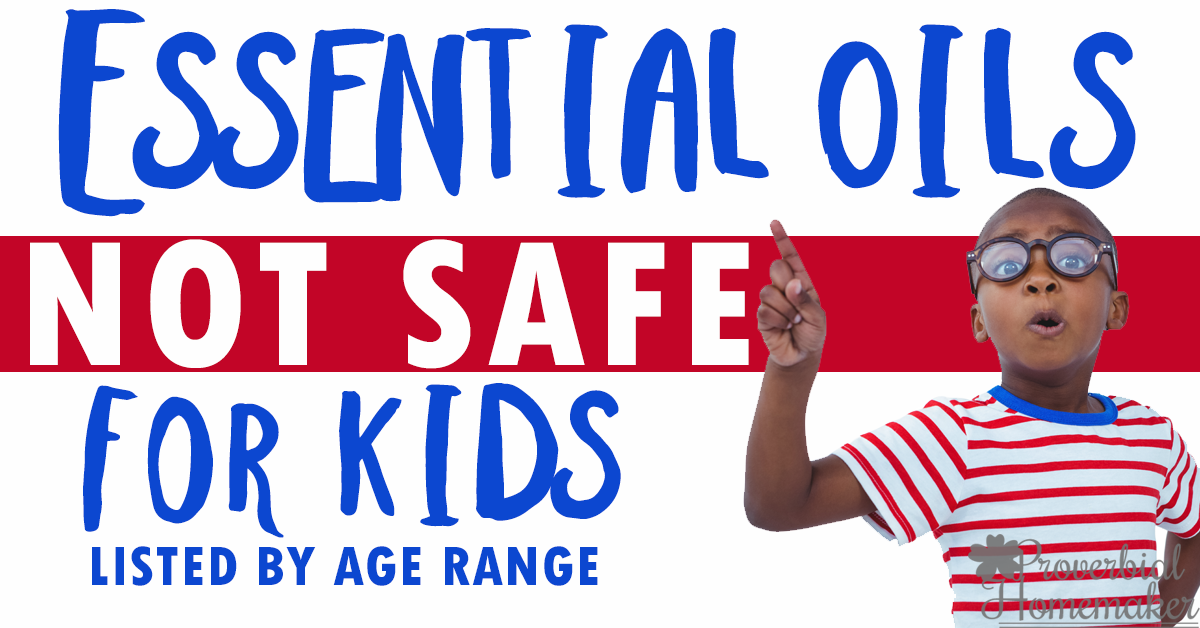 Essential Oils Not Safe for Kids Under 6 Months (Diffusion and Topical)
For safe oils, use a .5-1% dilution or lower.
(Do not use essential oils for children under 3 months old.)
Bergamot (Citrus bergamia) For older kids, be aware that bergamot essential oil is a phototoxic oil, which means they should just be diffused or only used topically when you can protect the area from the sun or avoid sun exposure for 24 hours after use.
Carrot Seed (Daucus carota)
Cedarwood, Atlas/Virgina (Cedrus atlantica, Cedrus deodora, Juniperus virginiana)
Cinnamon bark (Cinnamomum verum) Never safe topically for any age.
Cinnamon leaf (Cinnamomum verum)
Citronella (Cymbopogon nardus)
Coriander (Coriandrum sativum)
Cypress (Cupressus sempervires)
Fir needle (Abies sibirica)
Geranium (Pelargonium graveolens)
Grapefruit (Citrus paradisi) Expressed grapefruit is phototoxic.
Helichrysum (Helichrysum angustifolium)
Lemon (Citrus limon) Lemon essential oil that is expressed is phototoxic
Mandarin (Citrus reticulata)
Neroli (Citrus aurantium)
Palma Rosa (Cymbopogon martinii)
Petitgrain (Citrus aurantium)
Pine (pinus divaricata, pinus resinosa, pinus strobus, pinus sylvestris)
Ravensara (Ravensara aromatica)
Rosalina (Melaleuca ericifolia)
Rose Otto (Rosa damascena)
Sandalwood (Santalum spicatum)
Spruce (picea abies, picea glauca, picea mariana, picea rubens)
Sweet Orange (Citrus sinensis)
Tangerine (Citrus reticulata)
Tea Tree (Melaleuca alternifolia)
All the oils listed as not safe for older kids
Essential Oils Not Safe for Kids Under 2 (Diffusion Usually Safe Unless Otherwise Noted)
For safe oils, use a 2-3% dilution or lower.
Most of these are indicated unsafe just for topical application due to the stronger nature of the oil as well as possible skin reactions. Technically they are safe for diffusing unless otherwise noted. I commented where there's explicit safety concern for diffusing. However, as a practice I steer clear of them for both topical and diffusing since there are other, gentler oils I can use for the younger kids. If there is a small amount of one of them in a pre-made blend I am diffusing I may still diffuse it, but using a smaller amount.
Basil (lemon) Ocimum x citriodorum
Basil, Sweet (Ocimum basilicum)
Benzoin (Styrax all varieties)
Black Pepper (Piper nigrum)
Cassia (Cinnamomum cassia, Cinnamomum aromaticum)
Clary Sage (Salvia sclarea)
Clove Bud, Clove Leaf, Clove Stem (Syzygium aromaticum, Eugenia caryophyllata, Eugenia aromatica)
Copaiba Basalm (Copaifera officinalis)
Garlic (Allium sativum)
Ginger (Zingiber officinale)
Ginger Lily Hedychium coronarium
Frankincense (Boswellia carterii)
Hyssop (Hyssopus officinalis (pinocamphone chemptype) – avoid diffusing too)
Jasmine absolute (Jasminum sambac)
Juniper Berry (Juniperus communis)
Lemon Leaf/Lemon Petitgrain (Citrus x limon, Citrus limonum)
Lemongrass (Cymbopogon flexuosus and all varieties)
Lemon Verbena (see Verbena, Lemon in this section)
Massoia (Cryptocarya massoy, Cryptocaria massoia, Massoia aromatica) avoid diffusing, too
May Chang (Litsea cubeba, Litsea citrata, Laura cubeba
Melissa/Lemon Balm (Melissa officinalis)
Myrtle (honey) (Melaleuca teretifolia)
Myrtle (lemon)/Sweet Verbena Backhousia citriodora
Oakmoss (Evernia prunastri)
Opopanax (Commiphora guidottii)
Oregano (all varieties)
Peru Balsam (all varieties)
Saffron (Crocus sativus)
Sage (Wild Mountain) (Hemizygia petiolata)
Savory (Satureia hortensis, Satureia montana)
Styrax (Liquidambar orientalis, Liquidambar styraciflua)
Sweet Marjoram (Marjorana hortensis)
Patchouli (Pogostemon cablin)
Spearmint (Mentha cardiaca, Mentha spicata)
Tea Leaf/Black Tea (Camellia sinensis, Thea sinensis)
Tea Tree (lemon) (Leptospermum petersonii, Leptospermum citratum, Leptospermum liversidgei)
Thyme (Thymus vulgaris, Thymus Zygis)
Treemoss (Pseudevernia furfuracea)
Tuberose (Polianthes tuberosa)
Turpentine (all varieties)
Verbena, Lemon (Aloysia triphylla, Aloysia citriodora, Lippa citriodora, Lippa triphylla) Lemon Verbena is phototoxic.
Vetiver (Vetiveria zizanoides)
Valerian (Valeriana officinalis)
Ylang-Ylang (Cananga odorata)
All the oils listed as not safe for older kids
Essential Oils Not Safe for Kids Under 6 (Diffusion and Topical)
(for safe oils, use 3% dilution or lower)
Anise/Aniseed (Pimpinella anisum)
Anise (Star) (Illicium verum)
Cajuput (Melaleuca cajuputi, Melaleuca leucadendron)
Cardamon (Elettaria cardamomum)
Cornmint (Mentha arvensis, Mentha canadensis)
Fennel (bitter), Fennel (sweet) (Foeniculum vulgare)
Galangal (lesser) (Alpinia officinarum, Languas officinarum)
Ho Leaf/Ravintsara (Cinnamomum camphora (cineole chemotype)
Laurel Leaf/Bay Laurel (Laurus nobilis)
Marjoram (Spanish) (Thymus mastichina)
Myrtle (aniseed) (Backhousia anisata)
Myrtle (red) (Myrtus communis)
Niaouli (cineole chemotype)
Nutmeg (Myristica fragrans)
Peppermint (you can use a drop or two in the diffuser, but do be careful. I don't recommend topical use generally but if it's in a blend at less than .5% dilution it is ok. Personally I just stay away from peppermint for this age range.).
Rambiazana Helichrysum gymnocephalum
Sage White/Greek (Salvia fruiticosa, Salvia triloba Sage, Salvia apiana)
Sanna (Hedychium spicatum)
Saro (Cinnamosma fragrans)
All the oils listed as not safe for older kids
Essential Oils Not Safe for Kids Under 10-12 (Diffusion and Topical)
Birch (sweet) Betula lenta
Chaste Tree Vitex agnus castus
Any Eucalyptus (including blobulous Eucalyptus radiata) except Eucalyptus citriodora (This is a pretty conservative approach and it is possible to use these oils highly diluted safely for younger kids but other oils work well for similar purposes so I take the more conservative route. Oils high in 1,8 cineole can be dangerous for young children.)
Rosemary (Rosmarinus officinalis)
Wintergreen (avoid for any kids)
More Resources on Using Essential Oils With Children
You Might Also Like…
A Free 7-Day Essential Oils Course to Get Started!