There are pumpkins everywhere at this time of year. These fun pumpkin printables are a fun resource for helping the little ones that are learning to count.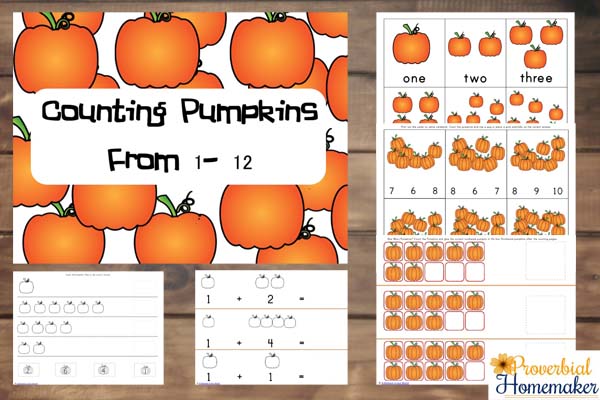 Disclosure: *This post may include affiliate links. As an affiliate, I earn from qualifying purchases. Read the disclosures and terms for more information.
This pack includes pages for those just learning to count from 1 to 12. With 35+ pages, they are aimed for ages 2-8.
In this pack you will find:
These three part cards go from number 1 through to number 12. With numerous uses, these cards can be used many times over, so I suggest laminating them to keep them from wearing out. Some uses for these cards:
Print out two copies to play the memory game or snap
Use as counting cards, placing them in order from smallest to largest or largest to smallest
Matching the smaller cards to the full card
Skip counting practice – such as counting in 2's and 3's
Adding / subtraction practice for those just starting – for example place the number 1 and 3 cards out and encourage your child to add the numbers together and find the card with the answer on it
These counting strips are a great way for children to learn to count. The child is not only learning to count the pumpkins, but by cutting and pasting the answer in the square provided they are also practicing their scissor and pasting skills. These worksheets are also great for the kids who are just learning to write, as they could write the answer in the square before pasting.
These count and clip cards will last longer if they are laminated with child loving to clip paperclips or pegs onto the correct answer. Not only are they learning their math but also fine motor skills. You could also use pom poms or lollies that can be placed on the correct answer.
Lastly there are adding strips. These are basic sums for the children just learning to add. Again, they can cut and paste the answer in the square provide or they could practice their handwriting skills and write in the correct answer. If they want they can write in the answer and then paste the correct answer on top.
In this pack I have included colour and black and white copies, so if your child enjoys colouring in they can colour in the pumpkins as they count them. This is also a great saver on printer ink.
I hope you enjoy these pumpkin printables!

You Might Also Like…
The Biggest Pumpkin Ever Unit Study