Have you ever looked at the ingredient list on your sunscreen bottle? Eeek! Not exactly the kind of thing you want soaking into your skin and entering your bloodstream, am I right
There's good news! It's easy and fun to make your own sunscreen at home with all natural ingredients. The recipe can be as simple or as complicated as you'd like. Just take a few base ingredients and add to it for your consistency, SPF, and scent preferences.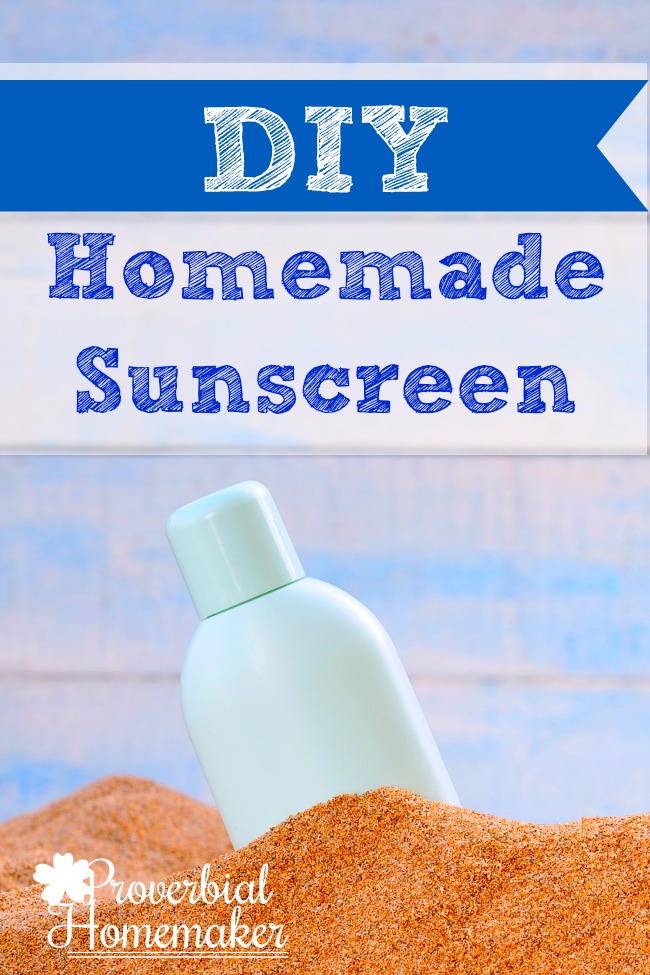 Keep in mind, this is not sunblock but sunscreen. I would consider this about SPF 15-20, mostly due to the zinc oxide (which makes it a barrier sunscreen). It's helpful for light exposure to the sun and daily use, but you may want to try some additional measures if you'll be out all day or at peak times (scroll to the bottom for tips on that). 
DIY Homemade Sunscreen Recipe
Ingredients
½ cup Coconut oil
2 tablespoons Shea Butter
2 oz of beeswax
1 teaspoon Sesame oil
1 teaspoon Aloe Vera gel
3 teaspoons Zinc Oxide
1 teaspoon vitamin E oil
10 drops Lavender essential oil
10 drops Palmarosa essential oil
Instructions
Melt coconut oil, shea butter, and beeswax in a double broiler or a glass bowl over boiling water.
Pour into a blender and add the aloe vera and zinc oxide. Blend until well mixed.
Add the vitamin E and essential oils, blending a bit more to mix.
Store in a container (preferably glass).
Keep refrigerated when not in use.
Important Notes About This Homemade Sunscreen 
Optional Ingredients:

The essential oils are optional, but Palmarosa and Lavender support healthy and hydrated skin. Plus they smell fantastic, so I always include them! Do be careful to avoid citrus or other phototoxic essential oils that can increase risk of sunburn.
Vitamin E oil helps preserve the sunscreen.
The beeswax gives a creamier consistency and allows you to make sticks or bars if desired.

I used to include carrot seed oil among others, being under the impression they provided natural SPF, but according to Tisserand (Essential Oil Safety) and others, there isn't any evidence that this is the case. 
Some of the other ingredients have a natural SPF but are rather low. I choose to include them anyway to help boost SPF. But to get an idea, 2-3 tbsp of zinc oxide in this recipe provides roughly 20-30 SPF according to some sources. Coconut oil has an SPF of about 4. 
More Tips 
It's worth mentioning that there are many ways to naturally protect ourselves from excessive sun exposure. You'll also want to consider how much sun exposure you will be dealing with on a particular day and what level of protection is required. This lotion has worked really well for us as a daily use lotion.
But if we're spending all day out in the sun or already have had a little too much exposure, I do more to protect my family from the sun. For example, wear protective clothing (long sleeve, sun-blocking, etc.), avoid sun exposure after 10 and before 3, use hats and umbrellas, etc. 
Rather Buy a Kid-Safe Sunscreen?
If you'd rather buy than make your own, try TruKid sunscreens for kids AND adults! This is my favorite natural product line for kids. There are various types of sunscreens available including handy sunscreen sticks!