Have you ever wondered how essential oils work? You apply them or breathe them in. Then what? How do they actually interact with the body? Is there proof they work at all?
As I set out on my skeptic's journey with essential oils, the first thing I wanted to do was get to the proof. What is the science behind essential oils? Why are essential oils effective? Today I'm going to share with you what I found.
Keep in mind, I learned what I could with the time and resources I had, and continue to take various sources of information into account. All of my information is from sources that I link to at the end of this post.
Disclosure: *This post may include affiliate links. As an affiliate, I earn from qualifying purchases. Read the disclosures and terms for more information.
What are Essential Oils?
You can get two kinds of oils from plants:
Fixed oils: Esters of glycerol and fatty acids
Essential oils: Mixtures of volatile compounds contributing to the flavor and aroma of the plant
Essential oils are volatile, meaning they evaporate when exposed to the air and have a strong aroma. They are not oily to the touch, and are slightly water soluble although they mostly behave like fixed oils in that they don't mix easily with water.
Essential oils are the "essence" of a plant which can be extracted from seeds, roots, stems, leaves, flowers, fruit, or bark. Essential oils can be extracted in various ways, usually expression (for citrus oils) or distillation. The liquid that results contains the "essence": a concentration of the aromatic and chemical properties of that plant.
What Makes Essential Oils Effective?
It is that chemical composition, or essence, that makes the oils effective as they interact with the body. Each oil is composed of a unique chemical composition of one or more of elements and compounds, including the following. (*See sources linked at the end of this post for more information.)
Terpenes – inhibit toxin accumulation and discharge them from liver and kidneys
Esters (and ethers) – anti-fungal, calming, anti-inflammatory, anti-bacterial, anti-viral
Oxides – expectorant, antiseptic, anesthetic
Alcohols – antiseptic, anti-viral, anti-bacterial, stimulate immunes system
Phenols – fragrance, antiseptic, anti-acterial
Ketones – stimulate cell regeneration, loosen mucous
Aldehydes – anti-infectious, sedative, topical irritants, calming when inhaled
More, including – Peroxides, lactones, carboxylic acinds, furans, etc.
Essential oil molecules are extremely small and are therefore very easily absorbed. Although each constituent may make up less than 1% of an oil, they can have a huge influence on the body by interacting with different systems in your body.
Essential oils effect your body primarily through aroma and absorption. When you smell an essential oil, the cilia and receptor cells in the olfactory organ receive the molecules and send signals to the lymbic system of the brain, which is also the center of memory and emotion. So you can see how an essential oil with higher amounts of esters and aldehydes (like lavender) would have a calming effect when inhaled.
When essential oils are absorbed through the skin or lungs, they are distributed throughout the body and interact with various organs and bodily systems. Your blood system functions as a highway delivering essential oils directly to your organs.
Why is Essential Oil Chemistry Important?
Now that you understand a little better how essential oils work, you can see why they may be very effective and should also be handled with care. Just because they are natural, doesn't mean there may not be safety considerations. Do your research before you use any oil or blend so that you know you are using it properly and safely!
In addition, knowing which elements and compounds are prevalent in an essential oil will help you understand how it will work in your body and guide you if you decide to try to mix oils into your own blends.
It will also help to know if the essential oil has different chemotypes. A chemotype is a way of identifying that the plant species can have different chemical constituents based on different environmental factors such as environment or soil quality.
What does this mean? It means that essential oil extracted from a plant grown in one part of the world can have a very different chemical composition (and therefore aroma and therapeutic effect) as the same plant grown in another part of the world. This is worth knowing as you research and purchase essential oils for your family!
How Are Essential Oils Used?
People usually use essential oils topically, through inhalation, or by ingestion. Which method you use will vary depending on your preferences, the oil you're using, and your safety concerns. For example, there are certain oils you should not use on young children or pregnant or nursing mothers. There is also much debate about ingesting oils, which I will write about more in the future.
Inhalation of Essential Oils. We talked about how the aroma of an oil can interact with your body. Inhaling oils delivers droplets to cilia in your nasal passages where they are received by receptor cells and cilia in your olfactory organ. Droplets also reach your lungs where they are absorbed into the blood stream.
How do you inhale essential oils? This can be as simple as breathing in from an open bottle, from applying drops to a tissue and breathing it in, or with a diffuser. Some believe that inhaling oils is the most effective and direct way to use them.
Applying Essential Oils Topically. Essential oils can be applied to your skin where they are then absorbed into the blood stream. It is argued that applying oils in certain areas (soles of feet, temples, wrists, under arms, etc.) is most effective because they are pulse points or are more permeable than other locations.
Essential oils should always be used with a carrier oil when you are applying them topically, diluting them to a proper and safe ratio. Some folks insist that certain oils can be applied neat (without a carrier oil) but I don't believe that is necessary and can sometimes be unwise. More on that another time.
Ingestion. This is another debatable topic. Many people ingest essential oils and have done so for years without any noticeable negative effect. Some books and companies will also promote ingestion. Again, I personally feel it is not necessary and may sometimes be unwise. I don't go around scolding people for it though, because I simply don't know enough about it either way.
The bottom line, however, is that I have not had the need or interest in ingesting oils, so since the safety of doing so is questionable, I just don't go there. Whatever you choose, I encourage you to do your research and not rely on the recommendations of a sole blog, book, or company. We are all fallible.
What Proof is there that Essential Oils Work?
Of course, I was very interested in nailing down the proof that essential oils work. That is easier said than done, however. For various reasons, finding mainstream academic research and analysis of essential oils and how they work is not exactly a piece of cake.
When I was initially researching, I discovered a few clinical studies that talked about topical application or inhalation of oils such as lavender and how they effect the moods of ill patients. I was surprised to read that there was a strong indication of positive mood effects with essential oils. Of course, it was just a few studies so it wasn't exactly conclusive evidence.
While what I found at the time was interesting and helpful, and I have learned much more in the past two years, I still came to understand that there really isn't an abundance of reliable research available on essential oils at this point. There just isn't. Perhaps it's because there's no big money in it for the folks who would be running the studies. I am hopeful that as people start asking for more evidence and research, more rigorous studies will be done.
However, I was convinced enough by what was available, along with the experiences and recommendations of people I believe are reasonably sane and intelligent, and decided to take the leap. I set out to test out essential oils and see if they could be beneficial for my family.
In the next post I'll talk about how I decided which company I to go with for that test run, along with a list of companies I'd recommend. I the meantime, I want to hear from you! What questions do you have about how essential oils work?
*FDA disclaimer: "These statements have not been evaluated by the Food and Drug Administration. This product is not intended to diagnose, treat, cure, or prevent disease." The information in this post comes from various books and web sites that I have listed for you here.
FREE 7-Day eCourse!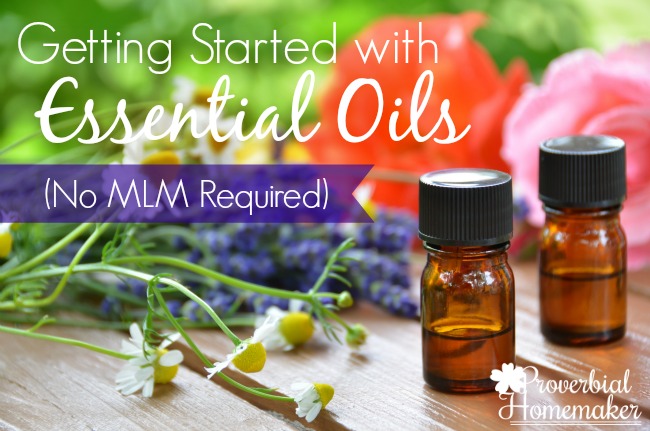 Join the Getting Started with Essential Oils eCourse!
You might also like these…