Disclosure: *This post may include affiliate links. As an affiliate, I earn from qualifying purchases. Read the
disclosures
and
terms
for more information.
I almost titled this post "'Why My Essential Oils Company is the Best' and Other Conversations that Make Me Twitch." If you have been digging around online to learn about essential oils, you completely understand why I would be tempted to do that. I am amazed at the level of unwavering devotion that some people have to their essential oils company and how vicious things can get in a conversation.
No need for that here, though! We can enjoy the health benefits of essential oils and happily continue learning together.
Of course, choosing an essential oils company to purchase from is a relatively important step in the process. You want to make sure that you are purchasing high quality oils that aren't adulterated. Nobody wants to be ripped off or put themselves or their family in danger from oils that aren't pure! You also want to buy from a reputable company that has the customer's education and best interest at heart.
So how do you go about choosing an essential oils company? Every person and blog post claims theirs is THE BEST. Terms like "therapeutic grade," "organic," "pure," and "wild-crafted" are thrown around to back up those claims even though most of them are more marketing than anything. The price points vary quite a bit and some of them require signing up to be a part of the club. It can be quite frustrating for the average consumer who just wants to make a wise purchase and try out essential oils for their family.
The Big Dogs in Essential Oils (MLMs)
The two main companies that usually come to mind when people talk about essential oils are doTerra and Young Living. I'm going to just cut to the chase: Multi-level marketing companies are just not my thing and I would prefer to purchase elsewhere. I am not convinced that they are a higher quality than some other top non-MLM companies out there, nor am I convinced they are the most cost effective, unless you have a distributor living next door (even then, I'm not so sure).
I am not anti-MLM, though. I have friends who sell Lila Rose and Usborne, and I make purchases from them on occasion. I have friends who join doTerra or Young Living to enjoy the discount, whether or not they choose to sell them. That's great! If it works for you and you enjoy these companies, by all means continue with them!
There are many folks who have talked with me about why their MLM company is fantastic and just misunderstood, and there are those who have blasted MLMs with all sorts of accusations. My reasons for steering clear of them are much more basic. I have dabbled in MLMs a few times, and again, they're just not for me.
Specifically with essential oils MLMs, the requirements that seem reasonable to others are always burdensome to me, and I feel like their marketing structure can negatively impact important things like price point and objective customer education. So I don't sign up with them and I personally wouldn't promote them here.
That's all fine and good, but where does that leave the average consumer who isn't interested in an essential oils MLM? Well I have good news! You DO have many choices when it comes to where to buy your oils and can try them out without spending an arm and a leg.
My Recommended Essential Oils Companies
First, let's take a look at some good points to keep in mind as you decide where to buy essential oils from.
Quality: Unadulterated oils that are the highest quality and purity
Service: Great customer service, education, and willingness to share source and testing information
Price: Reasonable product and shipping costs – good value for the cost
I don't mind paying a little more for high quality products but I do want something within my budget and cost effective. You will find that there are fantastic companies available that fit the bill. Here are a few of my favorites.
Rocky Mountain Oils – This is my top choice. I have been using these oils all along (I started with Native American Nutritionals before NAN merged with RMO) and will share more in the next post about my experience with them. They are high quality, reasonably priced, and have some huge wins in my book such as free shipping and the ability to check third party testing results online for every bottle. Pretty cool. I also LOVE their Mom Essentials kits and blends.
Plant Therapy – I have plans to try this one but it's my runner up because it has a good price point and reputation like Rocky Mountain Oils, a helpful "Kid Safe" line of products, and can be purchased on Amazon.
NOW brand oils – These I can buy at the local health food store (or Amazon) and I sometimes use them for scenting the home or making cleaning products. I'm not saying they don't work for therapeutic value, but I KNOW Rocky Mountain Oils does so I tend to stick with them for that. However, at the request of a friend I did get a bottle of lavender to test and see if it works as well as my own!
Mountain Rose Herbs is another company I have heard good things about but have yet to try. It might be nice to try it in addition to some other items in an order, but I started getting my herb products from The Bulk Herb Store, so I haven't had the occasion to.
I'm sure there are other good companies out there, but these are my top choices at this point for non-MLM companies.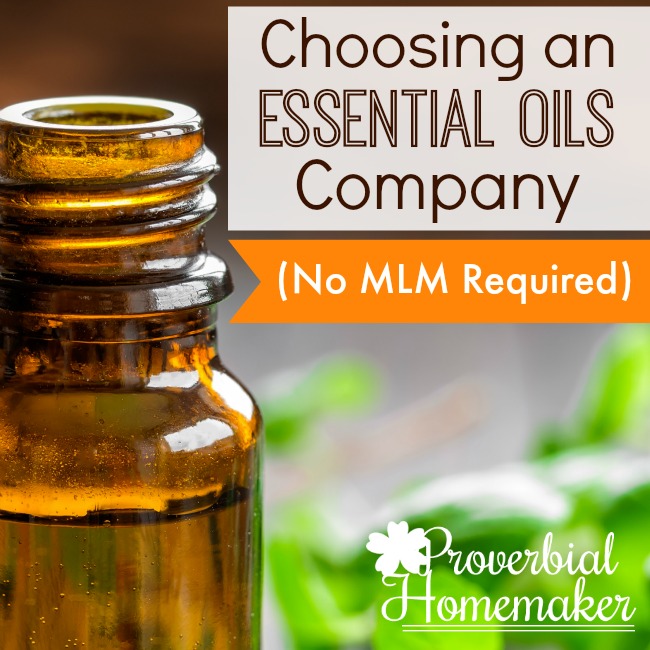 A Final Thought on Choosing an Essential Oils Company
There is a lot about your essential oils company choice that will come from preference and convenience (store down the road, free shipping, etc.) but some research is in order before you land on one as your main source of oils. There is a lot to share about Rocky Mountain Oils and I definitely will be in the next several weeks, along with some great exclusive discounts and giveaways! I am very excited about that company and I think you will be as well.
However, the idea is that you educate yourself so that you can make the best choices for your pocketbook as well as your family's health. Stick with me to the end of the series and I'll share some great books and sites to help you get there! I do think it's worth the effort to find a good fit for you, whether it's one or more companies, MLM or otherwise!
*FDA disclaimer: "These statements have not been evaluated by the Food and Drug Administration. This product is not intended to diagnose, treat, cure, or prevent disease."
Getting Started with Essential Oils FREE 7-Day eCourse!
Rock your homemaking (and support your family's health) with essential oils! This free ecourse includes helpful information like which carrier oils to use, safety concerns, using oils for health and household, and more!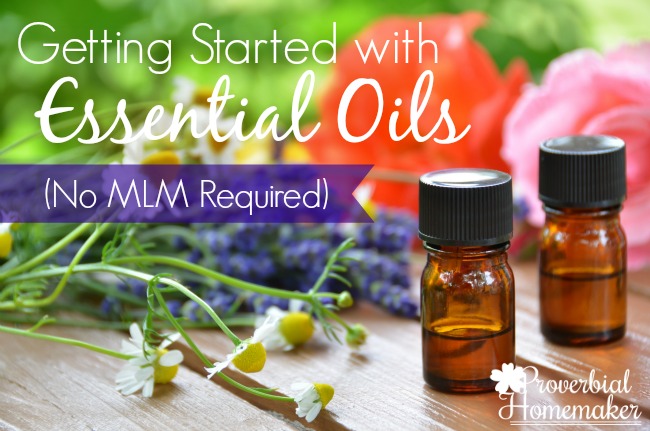 Join the Getting Started with Essential Oils eCourse!
You might also like these…