Disclosure: *This post may include affiliate links. As an affiliate, I earn from qualifying purchases. Read the
disclosures
and
terms
for more information.
Looking for a Christian online homeschool curriculum for your family? There are several great options available nowadays for independent homeschoolers, ranging from individual courses to full curriculum programs.
I've pulled together a roundup of several Christian online homeschool curriculum options just for you!
HEY! There's an awesome giveaway at the end of this post for a FREE semester course from Excelsior Classes!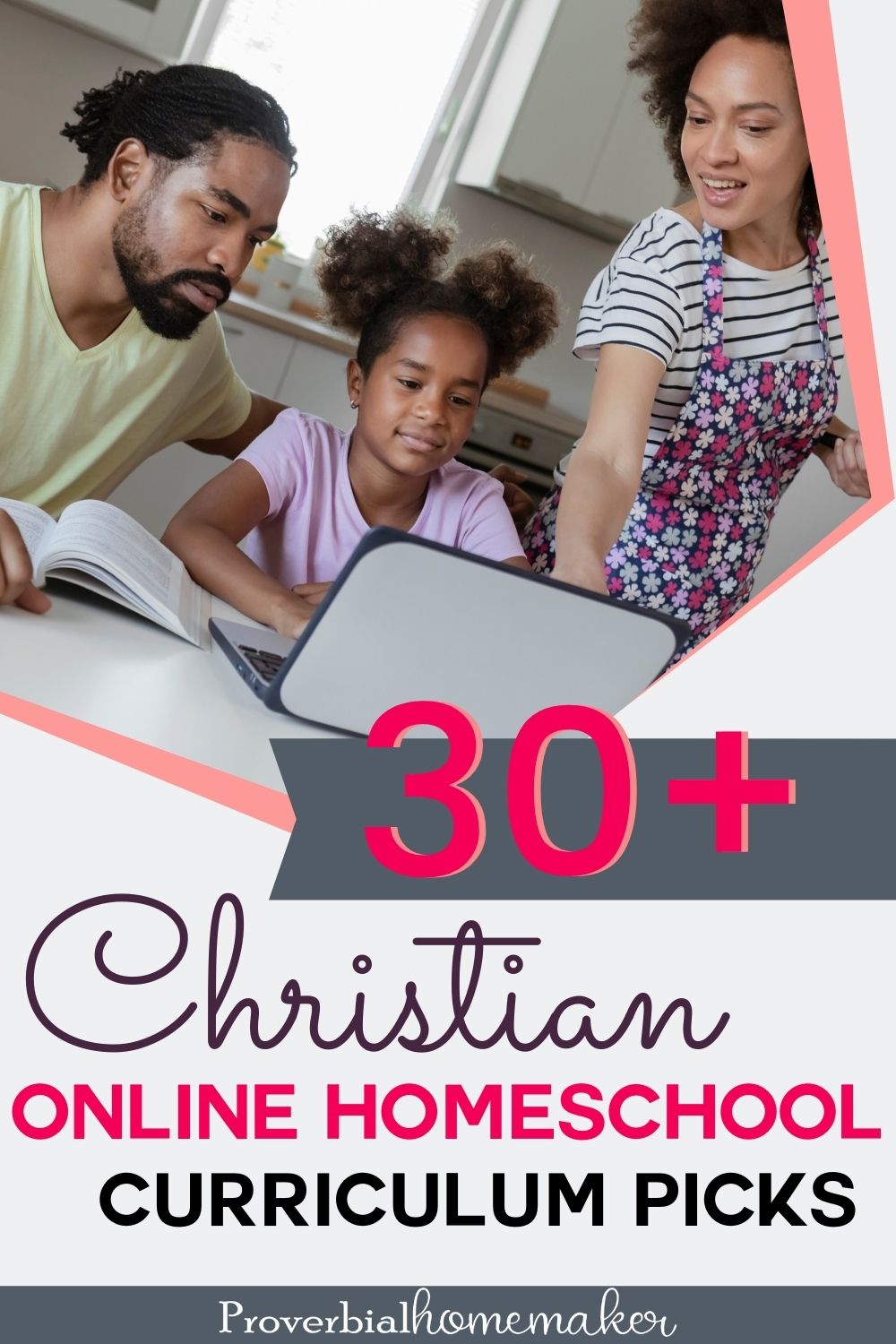 This post is sponsored by Excelsior Classes. See their giveaway below!
Why Use an Christian Online Homeschool Curriculum?
There are many reasons why a family may choose to use online Christian homeschool curriculum:
Changing things up and adding one or two fun online courses.
Interactive experiences or online discussion sessions that supplement or enhance the student's print curriculum course
Helping parents to provide a solid Christian education when time is extremely limited (such as when both parents work or there are major family/life changes happening)
And more!
As with any resources, it's important for parents to prayerfully consider what is appropriate for their unique child and situation, and be ready to adjust when needed. As you know, there are always pros and cons with screen time / technology solutions. In our family we limit it to occasional courses or for supplemental use. Just be thoughtful in considering the pros and cons before adding them to your homeschool, and you will do well!
All that said, once you have decided to look into online homeschool curriculum, it's handy to have great Christian resources to choose from. I hope this list will be helpful to you!
Top Picks for Christian Online Homeschool Curriculum
Here are several options to choose from! This list only includes curriculum that has Christian content and can be used entirely online (without printing).
Of course, there are MANY more options out there for digital curriculum intended for printing, and I did note three of those that I just didn't want you to miss, but generally this list is for completely online courses.
1 – Compass Classroom – A fantastic resource for online courses with a biblical worldview. They have history, language, writing, science, electives, and more!
2 – Schoolhouse Teachers – A huge resource full of courses that will meet the needs for every student in your family – all subjects and all grades! Use as your main curriculum or a supplement. While many do require download and print, there are several that can be used completely online as well as interactive courses and streaming video to choose from.
3 – Excelsior Classes – Provides live, online, & engaging Christian courses for your homeschool. Core and elective classes for 6th-12th grade include instruction, grading, and feedback.
4 – Masterpiece Studios – Online art curriculum includes a great variety of courses. Video courses for drawing, painting, art study, and more for all our kids pre-k through high school.
5 – Music in Our Homeschool – Video courses for K-12 and a variety of topics: Charlotte Mason, world music and cultures, music through history, and more!
6 – No Sweat Nature Studies Live – If you need some help being consistent with nature study, these live online classes are a great help!
7 – Journey Homeschool Academy – A growing resource for interactive online courses with a distinctly Christian worldview. Available now: science for Elementary and Middle School, Science and Bible for High School.
8 – Apologia Academy – Science and apologetics curriculum with live, self-paced, and on-demand class options. These are excellent options to go along with the Apologia print curriculum as well.
9 – BJU Press Homeschool – Full suite of biblically-based curriculum with online options: either DVDs or streaming online. Covers every grade and main subjects.
---
Live, Online, & Engaging! Core and Elective Classes for 6th-12th Grade with Instruction, Grading, and Feedback! #Christian #NCAAApproved #DualCredit.
Find out more here: Website, Facebook, Instagram, Youtube
---
10 – BiblioPlan Online – This is a new feature for the BiblioPlan curriculum to accompany their Remember the Days series. These are weekly live classes with the author that are fully interactive.
11 – Easy Peasy All in One Homeschool – This is a free online curriculum that includes Christian content. It encompasses all grades and subjects. Can be used as a full program or a la carte. It can be a little hard to navigate and get the hang of, but many homeschoolers find it valuable.
12 – MasterBooks Academy – This online resource is another new option, this time for the MasterBooks curriculum. New courses are being added all the time, several that feature the curriculum authors.
13 – Luma Learn – If you've been looking for a Christian version of Outschool, look into Luma Learn! Their class offerings are still growing, but we found fun ones to try.
14 – AOP Monarch – From Alpha Omega Publishing, Monarch is a Christian online curriculum for the core subjects. Includes grading, dynamic content, and more.
15 – Kirkwood Education Online – A pre-k through 5th grade online Christian curriculum that combines workbooks with online resources. It's self-paced with a mastery approach and includes all the main subjects.
16 – Abeka Academy – This staple in the homeschool world has an online version for K-12 that uses a spiral approach and covers the core subjects.
---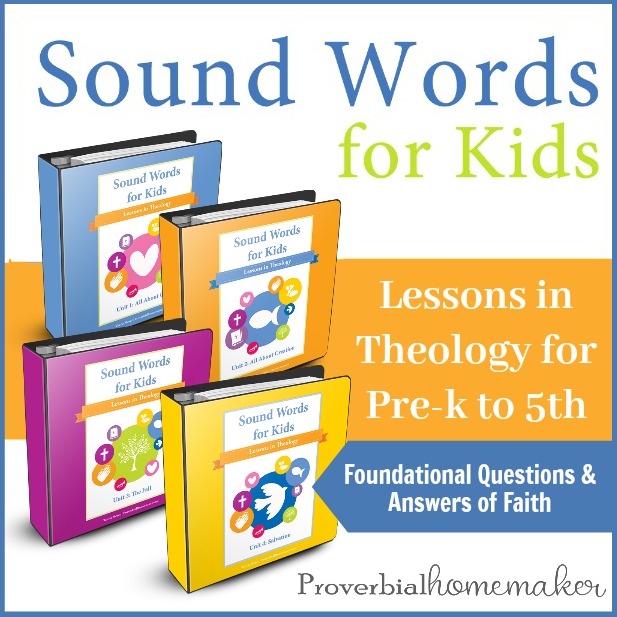 This is a download-and-go curriculum that teaches basic Christian theology for kids ages preschool through 5th grade. Includes devotions, activities, memory work, and more.
Go to the product page to learn more about Sound Words for Kids and how to use it in your home, co-op, or church!
---
17 – Veritas Press – A Christian homeschool company with online self-paced and live online classes. They are particularly known for their self-paced history and Bible.
18 – CrossWired Science – This online science curriculum is relatively new. It includes resources for all ages with engaging original instruction videos. It's rather difficult to navigate right now, although they are making efforts to improve that.
19 – True North Academy – Live online classes with a Christian worldview. Includes core subjects and electives. These are delivered via zoom by skilled teachers that provide grading.
20 – Lighthouse Christian Academy– Online option from the long-time homeschool curriculum provider, Accelerated Christian Education (ACE). It uses the ACE PACES for the materials in teaching.
21 – Skrafty Classes – The Skrafty homeschool Minecraft community from When You Rise Up has a ton of resources, including online courses for core subjects and electives.
22 – Memoria Press Academy – A full curriculum program for grades 3-12 with live and self-paced online courses using the classical homeschool method.
---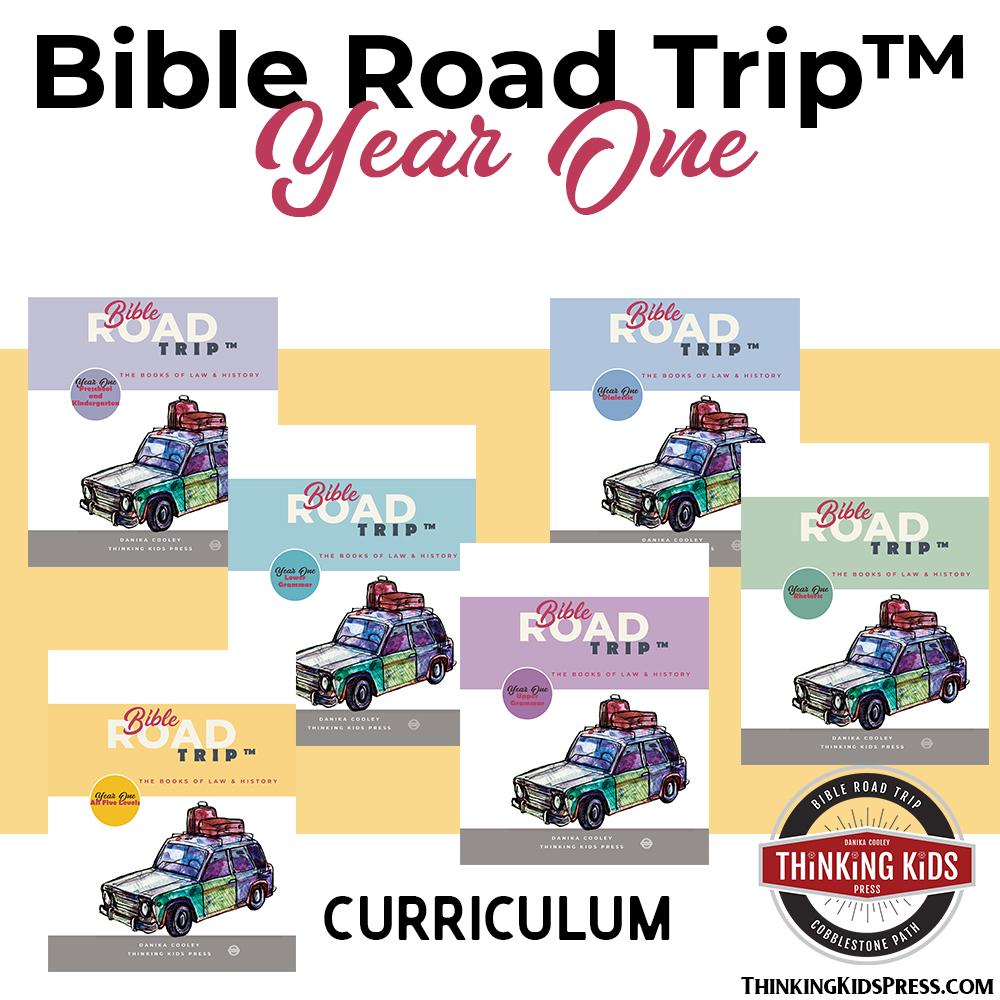 Bible Road Trip for homeschool Bible curriculum and family devotions!
Bible Road Trip™ is a download-and-print curriculum that is engaging and fun! It's a three-year Bible survey curriculum for preschool through high school.
Paired with leveled notebooking journals and Bible memory verse card sets, Bible Road Trip™ is a full solution for your family's Bible teaching needs!
---
24 – HSLDA Academy – From the Homeschool Legal Defense Association, you can select from over 40 live online classes for grades 7-12. The government and economics courses are particularly compelling!
25 – Lucerna Academy – If you're using Tapestry of Grace or just enjoy the classical learning model, you'll find good options here. There are courses that go along with TOG but also courses such as science and stand-alone workshops that are of interest.
26 – College Prep Science – Resources include full live online science courses or separate virtual science labs, from a veteran science teacher and presented with a Christian worldview.
27 – Answers in Genesis – AIG has several curriculum options but they also have online courses for apologetics, great for middle school through adult.
28 – Ambleside Online – This is a purist Charlotte Mason curriculum that is completely free online. It can be used as a main curriculum or as a supplement. It is presented with a Christian bent, although they often incorporate non-Christian ideas and resources. You can find more about that here.
29 – ABC Jesus Loves Me – Preschool curriculum with 5 levels that is Christ-focused and engaging. Much of it can be used without printing, and there are free levels available.
30 – God's Little Explorer – Preschool curriculum that's available as a purchased product or free version online. Scroll down a bit on this page to see links to all the free lessons.
Whew! That's quite a list! 😀 I'll add to it as I find more gems to share.
~ Tauna
So tell me: What Christian online homeschool curriculum options have YOU enjoyed in your family?
---
Win a FREE 1-Semester Online Course of Your Choice from Excelsior Classes!
Excelsior Classes
is generously offering one Proverbial Homemaker reader a chance to
win a free one-semester course for 2021-2022!
Enter today and #transformyourhomeschool with Excelsior Classes!
By entering this giveaway you agree to sign up for emails from Excelsior Classes (if you aren't already signed up). Must be 18 years of age or older to enter. Giveaway ends July 25th at 11:59pm PST. Vendor is responsible for delivery of the prize. Winner has 48 hours to claim prize before another winner is chosen.
Live, Online, & Engaging! Core and Elective Classes for 6th-12th Grade with Instruction, Grading, and Feedback! #Christian #NCAAApproved #DualCredit