If you follow a traditional school schedule, you will probably start planning and shopping for next year's homeschool supplies and curriculum by April. If you homeschool year round, then you probably have been making plans and writing a to-do and to-buy list since January. Either way, you know that you want to homeschool frugally and stay within your budget this year! If this sounds like you, I have some tips to share!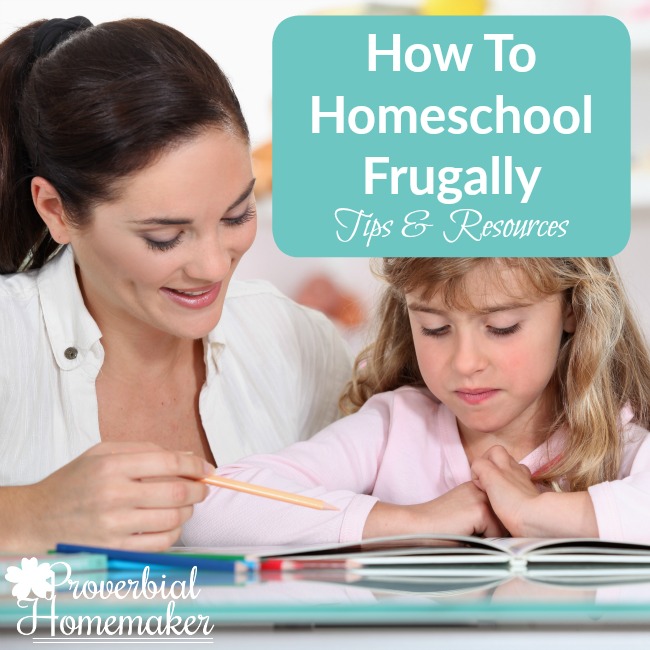 Disclosure: *This post may include affiliate links. As an affiliate, I earn from qualifying purchases. Read the disclosures and terms for more information.
Homeschool Frugally With These Tips!
Use curriculum and supplies you already have on hand.
In this way, you can recycle and reuse older student's unused curriculum with younger students.
Buy only the most important curriculum, such as the core subjects (math and language arts), and buy used when possible.
Especially for elementary grades, language arts and math are the most important subjects to lay a solid foundation.
Use cheap notebooks and journals.
You can use spiral notebooks for nature journals, book reports, literature studies, copywork, penmanship, and more.
Buy eBooks or find free eBooks.
Browse Amazon and you will often find many classics and nonfiction eBooks to use for reading, science, and literature studies for cheap or even free!
Invest in a great dictionary, use your Bible & library card, and create your own curriculum for one year.
You may find that you really enjoy creating curriculum from scratch! Even if you don't love it, a year of studying God's Word & God's world, reading great living books & learning new vocabulary words, while recording it all in a few notebooks may be good for both you and your children.
Use free resources and printables online.
If you go this route, you may want to invest in a laminator, a printer (if you don't have one), printer paper, and ink. But, you will find that there is a vast variety of amazing content available on the internet, most of it created by other homeschool moms and families! Notebooking, lapbooking, and work sheets for math, language arts, science, and every other subject can be found! You can also find websites offering free or affordable interactive math and other subjects.
Do you have a Netflix subscription? Use it for homeschool! Choose quality documentaries in history, science, geography, or social studies and have your children write a short report afterwards. You can watch cooking shows and home renovation shows for extra curricular studies.
Resources To Help You Homeschool Frugally
So, now that you know how to save money while homeschooling, here are several online resources to help you get started!
You Might Also Like…