When our kids are little, one of the most meaningful times of the day is when we tuck them into bed at night. We quite often make a ritual out of it. We draw a warm bubble bath for them complete with their favorite rubber ducky and various other toys. We read to them from delightful books. We cuddle and giggle and make delicious memories with them. As long as we aren't in a hurry, bedtime can be a wonderful memory we make with our kids. So, why do we stop tucking our kids into bed as they get older? I'm here to tell you that you should also be tucking your teens in at night.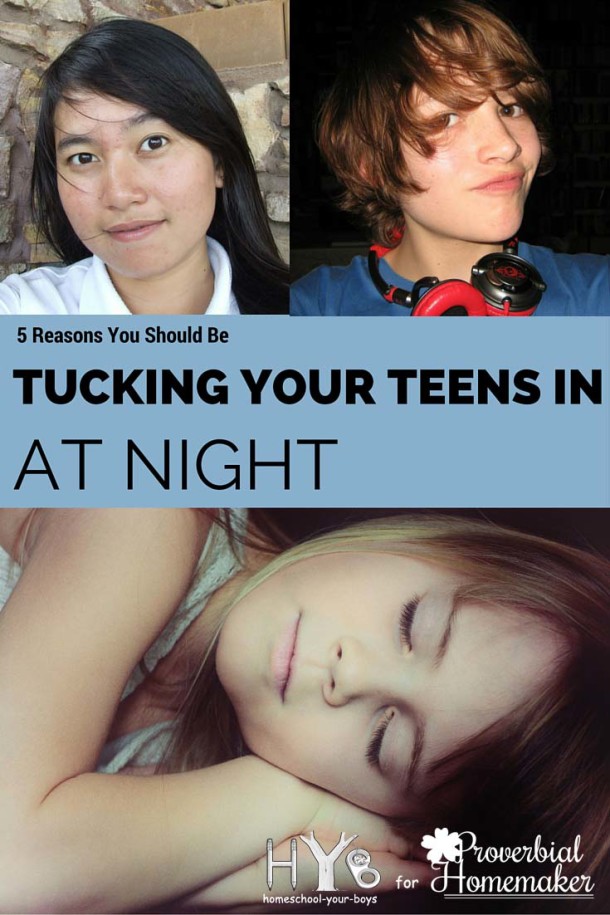 Disclosure: *This post may include affiliate links. As an affiliate, I earn from qualifying purchases. Read the disclosures and terms for more information.
Just because our kids are getting older doesn't mean we should stop tucking them into bed at night. In fact, the bedtime routine with our older kids is probably even more important than it is with our younger ones.
Tucking Your Teens in – Why is Bedtime Important with Older Kids?
As our kids get older, they quite often start to pull away from us parents. They have all sorts of thoughts that they no longer share with us. They have hopes and dreams and fears that they keep to themselves more and more.
Here are 5 Reasons You Should be Tucking Your Teens In At Night:
Shows Them We're Interested – When we're willing to ask our kids their opinions about various matters, they will be much more willing to listen to our opinions as well. Talk with them about various events that occurred throughout the day. Ask them what they're thinking. Ask them questions that don't have a "yes" or "no" answer.
Reminds Them They're Valuable to Us – We're all tired at night. When we are willing to take this time to show our kids how special they are to us, it makes a huge difference to them. By the way, don't ask them if they want to be tucked in at night. Just do it. They may say "no" because they think they're too old for it… when inside they really mean "yes." 🙂
Helps Them to Open Up – Almost magically, right before bed is a time when all of our kids seem more willing to share their hearts. In the evenings, they actually want to talk to us! If we are wise, we need to take the time to take advantage of this important opportunity.
Models Having a Servant's Heart – Probably the last thing we want to do at night is to spend extra time tucking in our kids. At least I know I feel that way! By the time bedtime rolls around, I'm pretty wiped out and I just want to sit and veg. When our kids see us spending this extra time with them, even though they know how tired we are, it is an excellent example for them. Showing our kids how they should treat people is much more poignant than merely telling them.
An Opportunity to Pray With Them – As our kids get older, they spend more time doing things on their own and away from the family. We need to grab whatever moments we can to pray for and with our kids. Tween and teen kids are dealing with savage hormones and stressful situations. We need to cover them in prayer!
My husband and I take turns tucking our sons in each night and I can't tell you how many times they've poured out their hearts to us at this time. We not only learn how they really feel about events from earlier… but they've also shared with us things they're struggling with as well as things their brother is struggling with. Bonus!
These minutes have been times when we've been able to strategize together. Sometimes they have become opportunities for confession – for us and for them. Our family has benefited greatly from these conversations through the years.
Some families struggle with their teens wanting complete privacy in their rooms and not wanting their parents to even enter. We've never had this problem with our boys. They're used to us coming in (after knocking, of course) and we feel completely welcome there. Tucking our older kids in at night is a great way to make sure they don't isolate themselves from the family.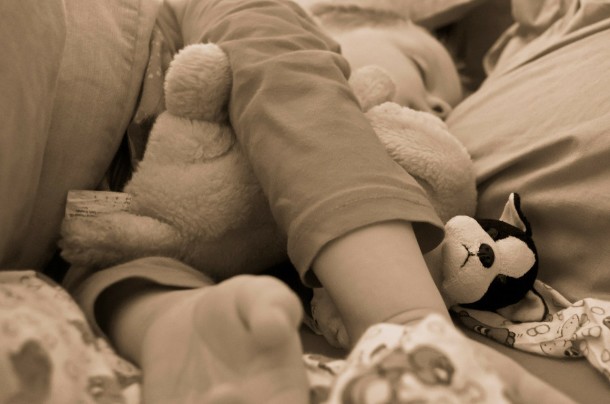 Our younger children benefit from having loving bedtime routines and so do their older siblings. If you've gotten away from tucking your older kids in at night, resolve to make a change. Tonight, as your children prepare to head off to bed, consider creating a new routine with them which will have a lasting impact!
Question: Do you tuck your older kids in at night? If you do, have you found that tucking them in has been beneficial? Please leave a comment below.
---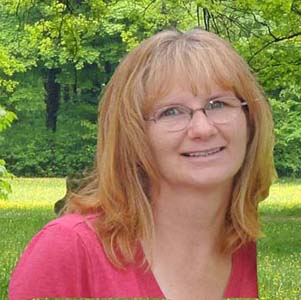 Michelle has been married to her best friend for 18 years. She is also a homeschool mom to her two wonderful (and tall) sons. Michelle is a Christian, a fan of simple living, and a lover of chocolate. She loves her spicy chai tea in the morning and she has a hard time staying out of the snacks at night. You can find her blogging at www.homeschool-your-boys.com. Her mission is to encourage and inspire parents as they homeschool their boys.