Having lived in the Great Pacific Northwest my entire life, I've experienced my fair share of rainy days. I've learned to make rainy days fun for both myself and my children! Rain makes me feel cozy, comfortable, and warm. Well, not when I am actually out in it, but when I am safe in my home with the sound of rain on the roof.
Disclosure: *This post may include affiliate links. As an affiliate, I earn from qualifying purchases. Read the disclosures and terms for more information.
I have childhood memories of rainy days on the farm that make me smile. Some are activities I'd rather my children did not do, like when my little brother and cousin went to ride bikes in the rain and came back to the house literally covered with mud, because they had decided rolling in mud was more fun. My mom didn't seem to mind and just gave them a warm bath (which seemed like a reward for bad behavior to me).
I, on the other hand, would not handle it so well if it were my kiddos. My excuse is that we grew up on a farm where it was okay to get dirty and my kids are growing up in a city rental house where it is not okay to get dirty. (as if farm life made it any easier for my poor mom to keep the house clean, hello!)
Moving on.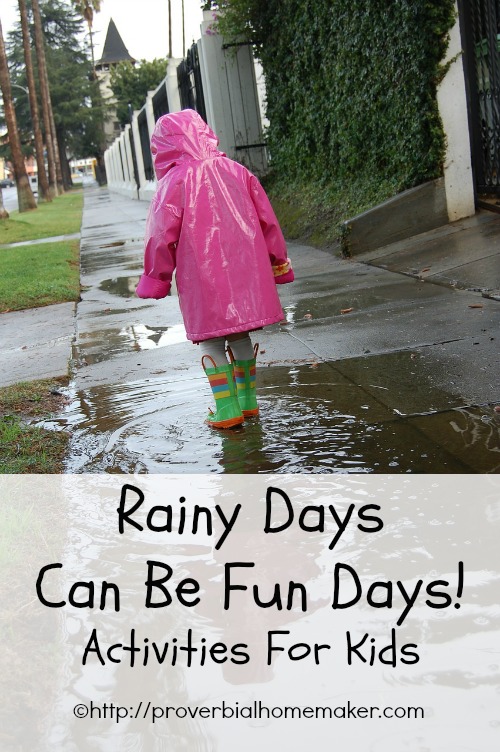 6 Ways To Make Rainy Days Fun
There are plenty of engaging activities that make rainy days fun! I've compiled a list with links to keep your kids busy when it's simply too cold, wet, or stormy to send them outside to carefully jump in non-muddy rain puddles in their designer rain boots and rain jacket.
Okay, let's be real. Sending the kids outside in hand-me-down not-too-holey rain boots and winter jackets in between downpours is perfectly acceptable! But, if you want them to stay indoors, here are some great ideas!
Get Creative –
At Inner Child Fun you will find 10 artsy, crafty activities for your children to do on rainy days. I'm loving the "make your own sunshine" window painting
idea!
Paradise Praises has a list of 30 rainy day activities for kids that include fun hands-on arts and crafts.

Get Active –
Here are a dozen active
activities to choose from to stay active
and keep children from going stir-crazy on wet days. I think my kids would love the obstacle course!
Little Earthling Blog has a list of 21 activities to engage your toddler and many of them are perfect for rainy days.
Get Cooking –
Kids stuck inside all day? Now is the perfect time to do some cooking together! Working together in the kitchen will teach children many skills. Besides the obvious of learning culinary skills, kids can learn math and science in the kitchen, too!
This mozzarella cheese recipe from Thrifty T's Treasures would make a great cooking experience.
Get Technical –
From musicals and home theaters to flashlight shadows and Google-search drawings, this website has a huge variety of media/techie type of activities.
Create a drive-in movie experience for your children, complete with adorable play cars.
Of course, the familiar build-a-blanket-fort or play some board games
options may be more your style. Mix it up and keep it fun!
Get Reading –
My favorite: cuddle up on the couch with your kids and pull out that neglected read-a-loud book
.
Or, let your kids make beds on the living room floor and look at and read their own stack of books.
Even better, put your library card to good use and make a morning trip to pick out books and then spend the afternoon cozily reading! That's right up my alley!
Get Out –
Take the kids on an impromptu field trip!
Your local children's museum would be a great place to start. Search online for activities and events in your area and you're sure to find something you and the kids will enjoy.
What types of activities do you like to do with your kiddos on rainy days?
More Activities For Rainy Days:
25 Fun Indoor Activities to Combat TV Watching
Layering the good, the bad, and the watercolors…
Mess-Free Indoor Activities For Kids