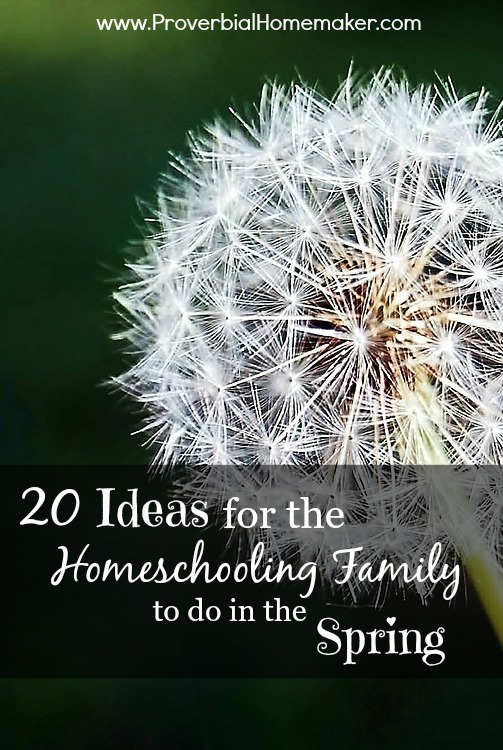 The sun is beginning to shine for longer, the clouds are thinning, the precipitation is reducing, and the temperature is rising…spring is on it's way!
One of the things that my kids and I love more than I can explain is when the year begins to make the transition from the cold of winter to the sweet warmth of spring. We always enjoy the cold and beauty of winter, but there is something to be said about sunshine, warm air, and sprouting plants all around.
20 Ideas for the Homeschooling Family to Do in the Spring
Love the Lord your God with all your heart and with all your soul and with all your strength. These commandments that I give you today are to be on your hearts. Impress them on your children. Talk about them when you sit at home and when you walk along the road, when you lie down and when you get up. Tie them as symbols on your hands and bind them on your foreheads. Write them on the door frames of your houses and on your gates." ~ Deuteronomy 6: 5-9
The reason we adore the turn of the seasons is the ability to really get outside and enjoy God's good Creation all around us. There is so much to see and for which to give thanks! It does not take much to appreciate God's glorious beauty in nature, but it can take some practice and intention to simply make the time to step outside.
I know how hard it can be to simply make a point to get outside for a while, but I can also not stress its importance enough. The benefits of being outdoors for a period of time each day are many, including health benefits, emotional and spiritual blessings, and simply the basic enjoyment of life.
1. Take a walk around your neighborhood and take note of all of God's beautiful creation.
2. Play at the park or playground and enjoy running around.
3. Look for butterflies and see how many different colors you can find.
4. Listen for baby birds popping up out of shells and look for nests. Count them and see how many you can find.
5. Pick little wild flowers (often known as "weeds") and make a little bouquet for your kitchen table.
6. Take a few pictures of the new sights of the season and make a little lap book or scrapbook to enjoy.
7. Lay in the grass and watch the clouds. See if there are any "pictures" forming in the sky.
8. If you have an adventurous side, look up edible foods growing naturally all around you, from the pine nuts to the chickweed in the yard. This is called foraging and it has a host of lovely benefits to it.
9. Look for caterpillars and other little critters crawling on the ground.
10. Watch ants for a while and then read through Proverbs 6 for some food for thought.
11. Plant a garden, even a small one. There is something amazing about watching food or flowers grow from seed.
12. Hang a hummingbird feeder.
13. Make a peanut butter and seed pine cone to hang and feed the birds. Make sure to place it somewhere that the birds have a place to lands while enjoying).
14. Have older children write an essay on their favorite parts of the new season.
15. Observe the buds on the trees change as they bloom into flowers and then leaves.
16. Give thanks to the Lord for His wonderful Creation and majestic beauty found all around.
17. Have a picnic in the yard, or at a local park. You surely don't need to make it high end or far to travel. Simplicity is always best.
18. Look up your local Parks and Recreation location and go for a hike or enjoy the local attractions it offers.
19. Make a rock garden of rocks collected on walks as a family.
20. Have a fire to enjoy as a family. Sing camp songs. Roast marshmallows. Laugh.
The Best Classroom is God's Creation
Don't underestimate the power of God's first classroom: Creation. There is much to learn, and only so many hours in the day to learn it. Teaching children to take the time to notice and appreciate these things when they are young will enable them to carry this same heart attitude and general appreciation for life and living well into their adult years.