Disclosure: *This post may include affiliate links. As an affiliate, I earn from qualifying purchases. Read the
disclosures
and
terms
for more information.
A homeschool mom wants to provide the very best for her kids, but past the essentials of math, history, science, reading, and Bible, sometimes it's hard to get to those other subjects she'd love to have her kids learn, especially if she doesn't feel particularly skilled to teach it. That's very true of music. But, you can do it! Learn how to teach music in your homeschool today.
Ways to Teach My Child Music
There are several categories of music to teach in your homeschool. Private music lessons, group music lessons, music theory, music appreciation (music history), composer study, and hymn study are some of the main ones. See below for some practical and easy ways to include some of these in your homeschool, even today!
Private and Group Music Lessons
Private and group music lessons, like piano or choir, are probably the most common thing we think of when we consider music for our kids. In some ways, it's easy for homeschoolers to do this. We have more flexibility in our schedules, we can find private teachers to come to our homes during the school day, or perhaps we can find a choir or other musical group to join at a homeschool co-op.
But, on the other hand, it might be difficult. As we are often single-income homes, finding the money for private lessons might be a stretch. Or, there may not be enough time with all the other activities we are doing with our kids.
Here are a few options you may not have considered:
Many teachers are now providing lessons through Zoom, Skype, FaceTime, etc.
Find a younger teacher (we have even used teenagers) who will charge less.
There are also video lessons available (and some are free on Youtube!). See Music in Our Homeschool for several of these options.
Find a homeschool mom who can teach music and start up a new class at your co-op.
Music Theory
Music theory is best taught along-side private or group music lessons, but to do extra practice at home, use an app or this fun and FREE printable pack! There are some really fun apps for learning note names and everything else music theory related.
Music Appreciation and Composer Study
I think music appreciation is the easiest way to include music in your homeschool. If you have a streaming service such as Spotify or Amazon Prime Music, you can simply use a ready-made playlist to learn about a particular music style or composer. Search "jazz" or "opera for kids" or "Bach" or "Rossini" and you're ready to listen! These playlists are also available on Youtube.
Or, if you want something more organized, Music in Our Homeschool is a resource dedicated to bringing music appreciation online courses to your home and homeschool. See Learn.MusicinOurHomeschool.com for music appreciation courses for all ages (elementary through high school) and various topics such as "Music Appreciation of the Middle Ages thru Classical Era," "Music Lessons for Holidays & Special Days," and "Intro to Musicals."
---
Pro tip: Tauna actually uses the membership option from Music in our Homeschool! It's a fantastic resource that gives you access to so many courses for pre-k through high school, monthly lesson calendars, live music lessons, and more. 🙌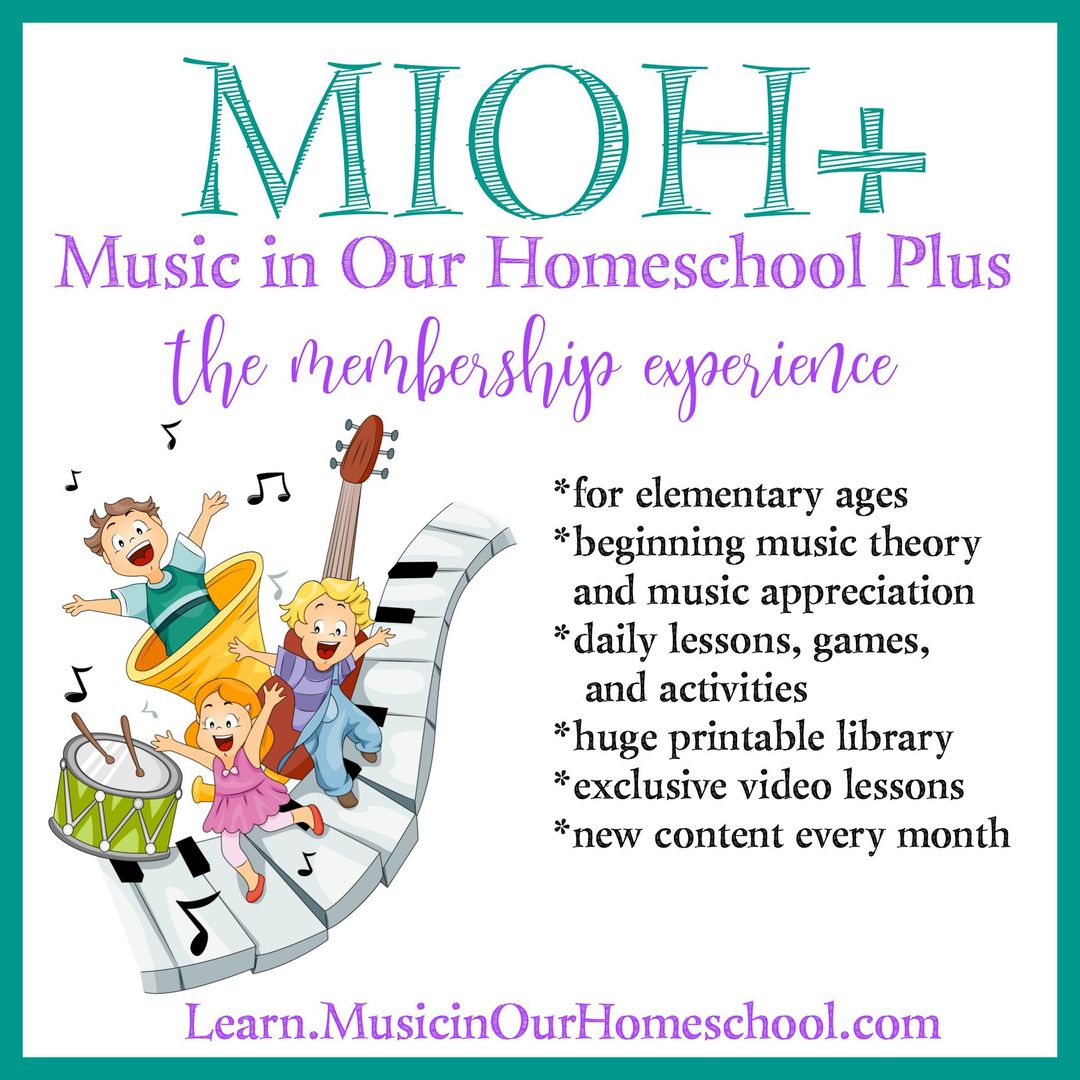 ---
Hymn Study
If you are a Charlotte Mason homeschooler, you may have already considered including hymn study in your homeschool. There are quite a number of hymn study curricula for you to choose from.
But, I'd love to tell you about "Great Hymns of the Faith," because not only are you learning about the hymns, who wrote them, and why they were written, you can use the included videos to learn to sing in 4-part harmony. And there are devotionals written by some of the most encouraging homeschool moms out there, including Tauna Meyer!
You Might Also Like…
How to Make Time for Homeschool Extras
Gena Mayo is a homeschool mom of 8 and music teacher for more than 20 years. She loves encouraging and equipping other homeschool moms to include music in their homeschools. Learn about resources, download freebies, and enter giveaways at Music in Our Homeschool. Find easy-to-use online courses at Learn.MusicinOurHomeschool.com. She'd love to connect with you on Instagram and the Music in Our Homeschool Facebook group.
SaveSave
SaveSave
SaveSave
SaveSave