Disclosure: *This post may include affiliate links. As an affiliate, I earn from qualifying purchases. Read the
disclosures
and
terms
for more information.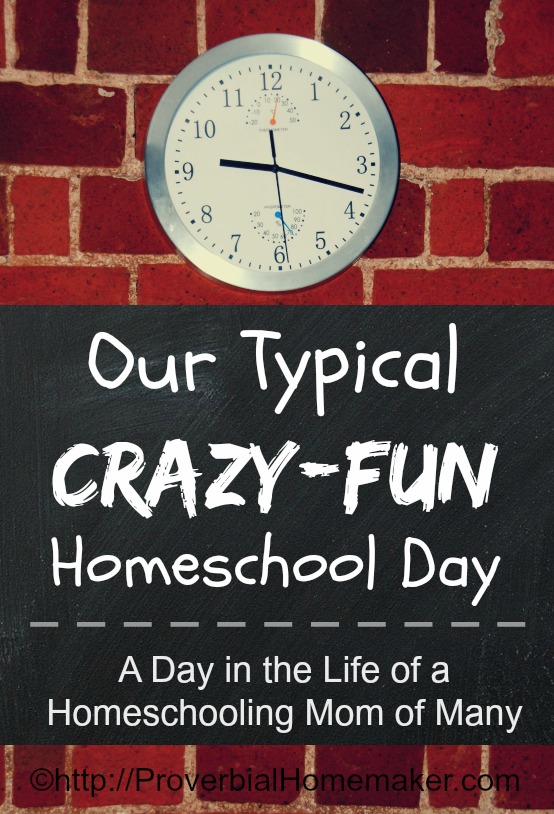 We have 5 kids ages 7 and under. Many days, however, we also have other kids in tow, including the 3 daycare kids we watch three days a week and sometimes a friend or neighbor's child. We love kids!
Today I am inviting you to be a fly on the wall and check out our typical homeschool day. Y'all, I'm about to make you feel better about your homeschool! You'll either be relieved it's smoother than ours, or thankful that you're not alone. I'll even let you in on a little of the crazy that lives in my head. 🙂
Let the Races Begin
7 AM – I'm awake!
Just kidding. The alarm goes off and I hit snooze faster than you can say "self-discipline." During those few minutes I read some scripture on my iPhone. Then I nurse the baby and stumble into the kitchen to make coffee and prepare mentally for the chaos. Assuming the chaos hasn't already started.
When I'm in the groove and waking up earlier, I spend more morning time in the Word. Yet there are some seasons where I just take what I can get.
I'm praying desperate prayers today, because I'm extra tired after a long night and just. need. sleep.
7:45 – The circus arrives
The kids come downstairs at when the light turns green on their alarm clock. Right about then, the daycare kids show up (if it's a daycare day). The daycare kids sit and read while mine eat breakfast.
As they eat, I usually read a devotion or our lesson from Bible Road Trip. Except today, there's a an epic potty accident that trumps devotion time. While I tend the mess, the kids at the table practice burping. We're classy like that.
Before leaving the table, we recite our memory verse, sing a hymn that we are learning, and recite the family rules. Then the kids all watch a video for a half hour (yes, I'm that mom) and I eat breakfast and check my email, Facebook, etc. Ideally, I also take a few minutes to make sure I know the meal plan, homeschool plan, and any special events for the day.
I consider crawling back into bed and letting the kids fend for themselves. I amuse myself for 5 minutes thinking about what that might look like, but end up throwing in a load of laundry and drinking more coffee.
9:00 – "School time" starts
My kids grab their work from their respective baskets and get started. We hit reading, writing, and math right away. Other subjects are on a block schedule. I dictate spelling words with a German accent (why not?) while folding laundry and trying to keep the toddlers from hurting each other. I almost succeed.
When everyone has finished their work, they run to the backyard to play. I clean up from the morning and start preparing the food for the day. Crock pot chicken tonight! The baby wakes up right about then and I spend a while feeding and playing with him.
This littlest one is 4 months old today! Where in the world is time going? Childhoods are slipping through my fingers and I'm holding on to the memories with my prayers. I make a mental note to journal about the kids more. But mostly I hold my breath and soak in the cuteness.
10:30 – Snack time
Snack time is a happy time and includes our chapter book read aloud! Right now we're working through Boxcar Children. We easily get in an entire 15 minutes before someone starts crying about some food-related tragedy.
I look around at my messy kitchen and wonder if you, dear reader, would want to see it. Maybe you need to know that someone else is messier than you (this was out half the day and the dishes were piled up). Perhaps you need reassurance that the domestically challenged among us can still homeschool and (eventually) keep the house in order, but it doesn't have to be Pinterest perfect.
11:00 – It's art/piano day!
Another homeschool family comes over every Thursday. She teaches all the kids piano, I teach all the kids art. I put the baby down for a nap and bustle about getting things ready for making ink prints with the kids. As usual, I can't find a key piece of equipment and am getting more and more agitated. I internally rant about my inability to keep things organized. I want to cry.
The kids are scrambling about like a herd of angry monkeys. (Do monkeys have herds?) I half expect them to start throwing poo. Frustrated, I give up completely and send them back outside. The other family texts me and says they're sick anyway. Well… that went well.
I think about how I need to tackle the bedroom in my next cleaning and organizing challenge. That's where we store all the extra homeschool supplies, which is no doubt where the box of art print stuff is. I sometimes wish I could be more organized and with it. I'm a work in progress though!
Heading Into the Afternoon
12:00 PM – Lunch time
The kids all wash their hands and sit in their assigned seats. The lunch person passes out the food and prays. I catch up on things by reading them their missed morning devotion and we recite our memory verse again.
The toddler spills his entire bowl of chili on the floor. Again, I want to cry, but instead I pretend to be a silly puppy cleaning up the chili. Hey, do whatcha gotta do to keep from losing your cool, right?
I know this is when the crazy really comes out to play at our house. I take a moment to breathe, pray, and turn on the diffuser with something calm. This time lavender and orange. The scent is lovely, but honestly the big bonus is the rotating colors on the diffuser that distract the kids long enough for me to take a breath and go through my prayer cards.
12:45 PM – Quiet time
Quiet time starts with a (not-so-quiet) bang as everyone does their household responsibilities. I clean the kitchen while one child cleans the bathroom, one wipes the table and chairs, one sweeps the floor, and the rest do a "clean up blitz" and put all the toys and books away. The youngers then get tucked in for a nap and the olders settle on the couch for a half hour of the latest audiobook.
I'm feeliing so weary today. Too tired and too thin in the spirit. Why is it I want to cry so much? That's not like me. Lord, help me find rest and refreshment in You so that I might have something good to give my family.
I realize I haven't eaten lunch and quickly rustle something up and sit down at the kitchen table. I read some of the day's Bible reading plan and then check email and Facebook again. Too soon, the baby is up and crying. My half hour is over! (I have more time to myself on non-daycare days).
2:30 – Relaxed learning time
Everybody is now up and snack is on the table. Afterward, the kids play and I set out some activities for relaxed learning opportunities. Today it's games and pattern blocks. I try to make it different from day to day. The kids wander from the table to the trampoline to outside. It's chaos, basically, but at least nobody's crying.
I need to catch up on my Bible reading plan. I set my phone on loud playing the audio Bible and stick it in my back pocket while I work on tidying up in the kitchen. The toddler starts following me around laughing at my butt reading the Bible.
The kids are playing "Steal the Cheese." I know this because they all have walkie talkies and I occasionally hear one whisper into them loudly "we MUST steal the cheese!" I overhear a group of them planning and talking about "distracting mom from the cheese." Soon one child comes up and starts asking me what my favorite color is while three others run in, low to the ground and practicing their ninja stealth.
I have no idea what "the cheese" is.
4:00 – Winding down for the evening
The daycare kids go home for the day. My kids have been overstimulated and start to get cranky with each other and I start to twitch. Finally, I pull out the megaphone (that's right… I use one like this every day) and calmly ask the children to do quiet time either in their rooms or reading on separate chairs and couches.
I sit down to read a chapter out of my current book (Educating the Wholehearted Child) but instead need to tend to the baby. It's all good.
5:30 PM – Dinner time!
Crock pots are amazing tools, aren't they? Especially if you TURN THEM ON. Sigh.
So we make pizza and I let the kids help, trying to ignore the messy… everything. I put on some fun kids' music and we have a spontaneous dance party! Then there's that awkward moment when I'm rocking out and realize the kids have all stopped and are staring at me. LOL!
Dinner is served. The kids ask me to read to them but I'm too worn out. Instead we chat about plans for the rest of the week. After dinner we play and read. I decide to take video interviews of my kids and what they think about homeschooling for my (and your) amusement.
This video SO does not make me look like a homeschool rockstar. LOL! The toddler interview at the end is my favorite. 😉
7:00 PM – Bed time
The kids are in bed by 7:30 except for the oldest who plays in his room until 8. The struggle is to do the bedtime process without irritation on my part. I try to make it fun but on-task. We rotate around the small upstairs spaces getting all the necessary things done.
I sing each of them their special song and pray for them. They pray for each other and sometimes they even pray for me. I say "see you in the morgenstern!" and close the doors.
As I walk down the stairs I think about I want to say "hurry" less often. I want to be a more gentle, joyful mom. I want our kids to remember the good things about today and not the places where I fell short. At the end of the day, I take comfort in knowing that God will finish the work He has begun in me, and that my kids know that I love them and Jesus loves them.
I just can't face the dirty dishes tonight. I am bone tired. So I leave them there to marinate for a few hours and relax on the couch. Soon my husband will be home. I can't wait!
Our homeschool days aren't perfect, but they're a beautiful mess and they're ours. We are a work in progress and are so blessed to be with each other every day!
You Might Also Like