Our boys love visiting farms and feeding and patting all the farm animals. They love seeing the baby animals run around playing in the fields. This Down on the Farm Printable Pack is full of fun farm activities which all children ages 2 – 9 will enjoy.
Disclosure: *This post may include affiliate links. As an affiliate, I earn from qualifying purchases. Read the disclosures and terms for more information.
This massive pack includes 100 pages of fun and learning all based on a farm theme.
There are many literacy activities:
3 Part Cards – Once printed out on white cardstock and laminated, these can be used in many ways, as flashcards, spelling cards, memory game cards and matching cards.
Beginning Letter Sound Cards – Again these cards are great when printed on white cardstock and laminated. Use a peg, pom pom, lolly or white marker to cover the correct answer.
Handwriting Practice pages – Learn how to spell the name of each farm animal while practicing forming the letters correctly.
Dot the Correct Letters – This is a great way to learn the shapes of the letters. Search the page and dot all the letters in the instructions above.
Matching names to pictures – Match the names of the animals to the correct pictures.
Male, female and Baby Cut and Paste – Learn the names of the female, male and baby farm animals. Cut out the pictures and paste into the correct columns.
Shadow Matching Cards – A fun way to match animals with their shadows
Colour Matching Cards – A fun way to practice colours.
Writing Pages – These basic notebooking pages are great for your child to practice their handwriting, sentence writing and basic research skills.
Time to Describe – This pack includes a few pages on learning about adjectives. Look at the picture and describe what you see.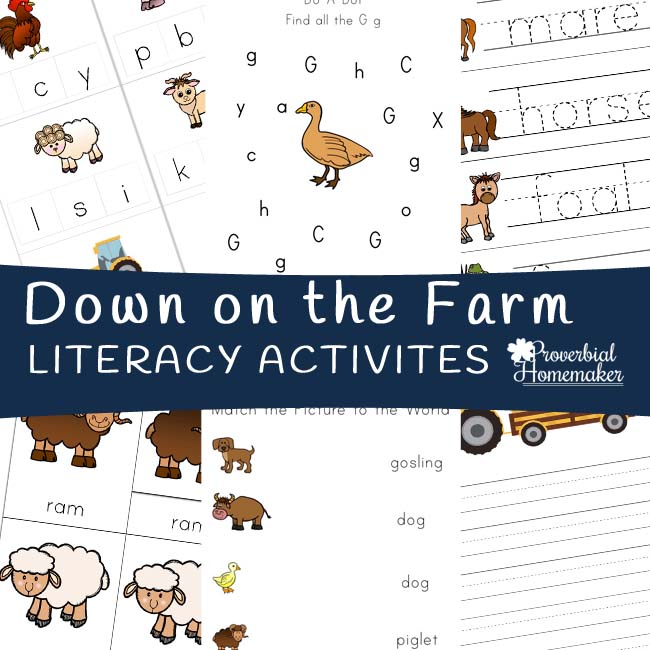 There are also many math activities:
Counting practice – Practice counting and writing your numbers.
Simple addition – A fun way to practice adding items.
Simple subtraction – A great way to learn and practice subtracting items.
Number puzzles – A fun way to learn skip counting.
Size Sequencing Cards – Place the cards in order from smallest to biggest or biggest to smallest.
Finish the Pattern – A fun way to learn patterns.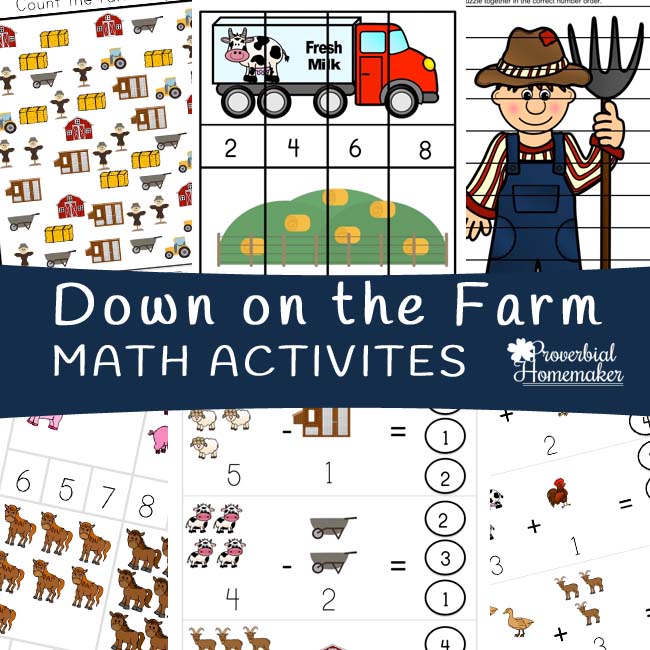 I hope you enjoy this fun Down at the Farm Printable Pack.
I would love to hearing about your farm experiences.
Download the Farm Printable Pack!
Get the Down on the Farm Printable Pack!
You Might Also Like…
Great Preschool curriculum from The Crafty Classroom!