One of our goals this year for homeschooling is to incorporate some fun games and activities to supplement our learning! We know that kids remember so much more when their lessons are more hands-on and interactive. My oldest boy (8) is no exception! I'm pretty sure games and puzzles are his love language. He was absolutely thrilled with what I found to help him learn about electricity – using logic puzzles!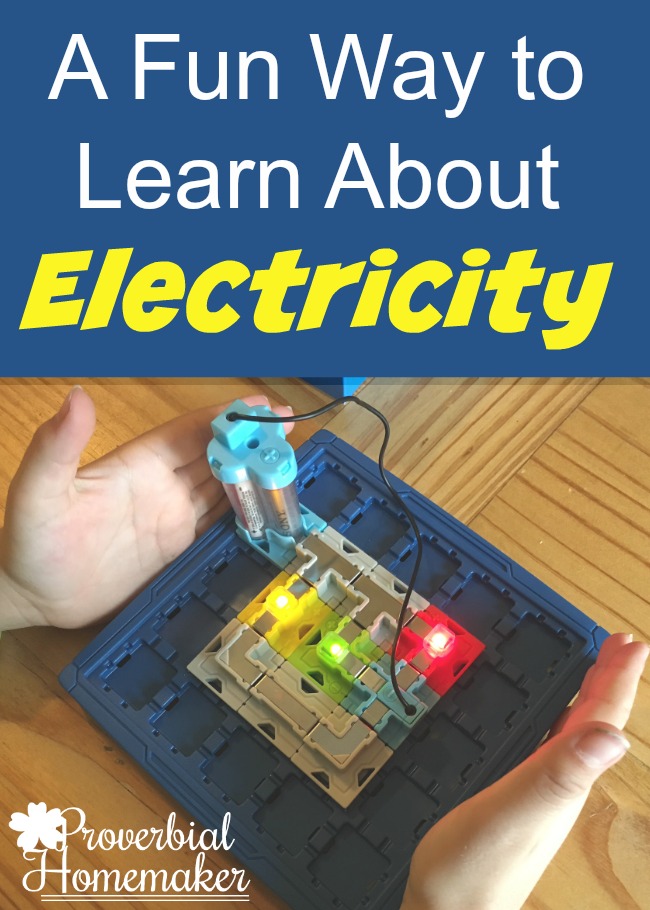 Disclosure: *This post may include affiliate links. As an affiliate, I earn from qualifying purchases. Read the disclosures and terms for more information.
What is Circuit Maze?
Circuit Maze is a single-player game for ages 8 and up, although my 6 year old used it happily with just a little help at the beginning. There is a game board and 60 challenge cards (ranging from Beginner to Expert), each of which has a puzzle on it the child solves using the game pieces. The game pieces include a power source and several connecting pieces as well as lighting beacons.
Each card gives your child enough information to start the puzzle. They then fill in the gaps with the game pieces to complete the circuit and connect the power source to the beacons, causing them to light up.
What Circuit Maze Logic Puzzles Teach
Whether you homeschool or just want a fun educational toy, Circuit Maze is a great choice for a gift or learning activity.
Here are the things your child will learn:
Problem solving
Perseverance and focus
Reasoning and logic skills
Beginning electrical engineering
Concepts of electricity and electrical circuits
Sharing (if there are siblings waiting in line to use it 😉 )
"Simple and advanced circuitry concepts are explored, such as series circuits, parallel circuits, series and parallel circuits in combination, and parallel circuits in bypass." – Timberdoodle site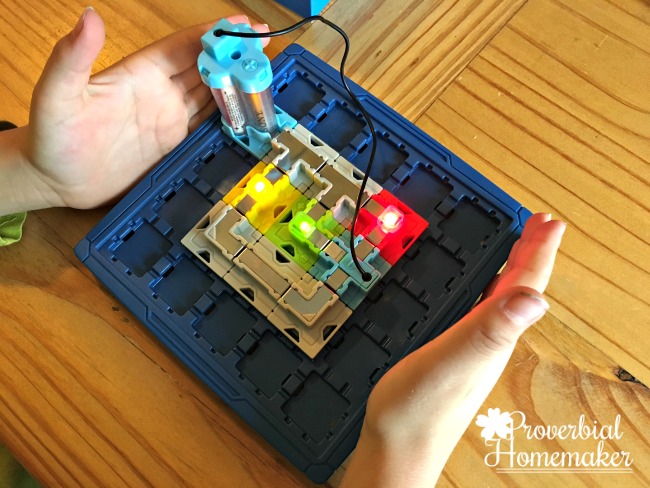 Our Experience (and that time I got to drink a whole cup of coffee)
When I told my two older kids (8 and 6) that they would do their science homeschool lesson that day with a game, they were so excited! We tore into the Circuit Maze box and quickly got everything set up. My son read the instructions and I reinforced the most important parts.
We started with the Beginner cards. Each card showed the kids how to set up the game board (grid) by indicating where they were to place the power source and other key pieces. It also showed them which other game pieces / tokens they'd be using to complete the puzzle. With that and a few general instructions on how to form a circuit, they were left to complete the puzzle. When they succeeded, the circuit was established and the beacon(s) lit up!
Pretty soon there was an audience as my son's siblings came to watch and offer suggestions. Then my husband wandered in and was intrigued. So I sat back and drank an entire cup of coffee while learning happened. It was glorious. They went through the whole Beginner set before we tucked it away to do the other levels another time! Of course, the good homeschooler in me couldn't help but expand on the lesson later with more information about electricity and circuits.
Bottom Line
This one is definitely a win for our household. My 8 year old loved it and continues to play with the game – even revisiting logic puzzles he's already completed. With a little help the 6 year old can enjoy and learn as well. It's even a fun family game night! Circuit Maze will get a lot of action over the years as the younger kids grow, and the lesson expansion opportunities are fantastic!
Plus… I got to drink a whole cup of coffee uninterrupted.
Did I already say that? Well, it was awesome.
Find Out More
Circuit Maze is a part of a great set of curriculum and activities in the Timberdoodle 3rd Grade Kit
Connect with Timberdoodle:

*** Disclosure: I was provided a copy of this product in exchange for an honest review. All opinions are my own. ***