The Israelites had been living in Egypt for many, many years. They were forced to become slaves and then all their newborn male children were to be killed. It was a very sad time, and God heard the outcry of His people and had mercy on them. God sent Moses to talk to Pharaoh and have His people set free and allow them to worship God. Unfortunately, Pharaoh didn't want to let the people go, so Egypt suffered greatly with the 10 plagues until finally he relented and let them go.
This 10 Plagues Printable Pack, contains a variety of math and literacy activities as well as many Bible study printables which will help children learn about the 10 Plagues and why they happened. It is a wonderful supplement to your Bible studies, teaching children the sad consequences of stubbornness and a hardened heart toward the Lord, and displaying the power and might of God who had a plan and a will for His people.

Disclosure: *This post may include affiliate links. As an affiliate, I earn from qualifying purchases. Read the disclosures and terms for more information.
With 104 pages of printable resources, this 10 Plagues Printable Pack contains a variety of math and literacy activities for young children. All the activities are related to the 10 different plagues that took place in Egypt. They will help children understand the order in the plagues happened and what they affected.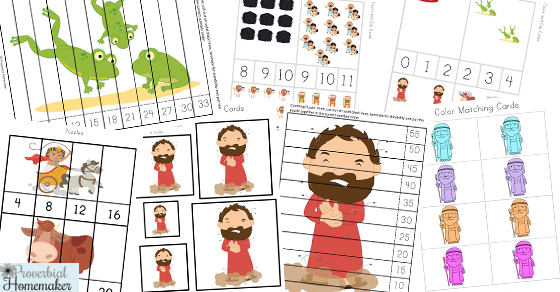 The activities in this printable pack are:
Count and Clip cards
Size Sequencing Cards
Number Puzzles
3 Part Cards
Word Tracing
Shadow Matching Cards
I Spy
Size Sequencing Cards
What Comes Next?
Finish the Pattern
Creative Writing Pages
Spot and Dot
Alphabet Matching Cards
Coloring Pages of the 10 Plagues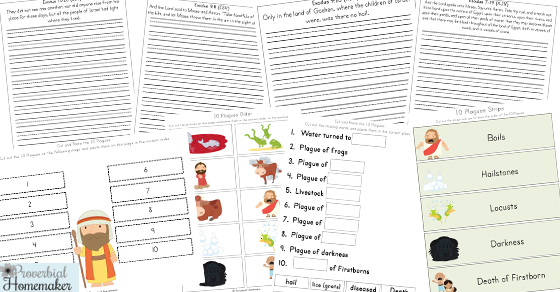 Also included are many Bible themed activities. These include:
Ten Plagues Strips ~ Cut out and use to learn the Ten Plagues in the correct order
Cut and Paste Ten Plagues ~ Cut out the Ten Plagues and paste them in the correct order
Complete the Ten Plagues ~ Cut and paste the missing words
Ten Plagues Picture Cards ~ Cut and paste all the ten plague pictures in the correct order
Bible Copywork Pages ~ These pages all relate to the Ten Plagues. There are a couple of verse for each plague that are great for copywork and memorisation. These pages come in both KJV and ESV.
Download the Ten Plagues Printable Pack
You Might Also Like…
Moses and the Ten Commandments Printable Pack