Do you struggle with anger as a mom? You're not alone! There is much to learn about a biblical view of anger. Of course, the first thing we need to do is turn to the Bible. To overcome anger, Scriptures like the ones below can help!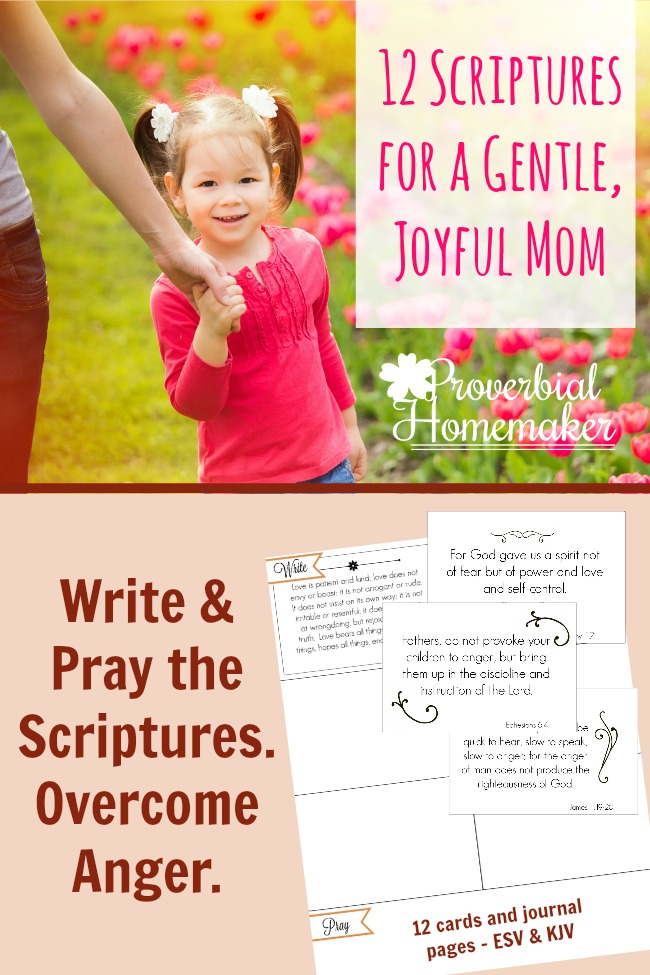 Disclosure: *This post may include affiliate links. As an affiliate, I earn from qualifying purchases. Read the disclosures and terms for more information.
Praying & Writing the Scriptures
For me, meditating on God's Word and hiding it in my heart have been critical in my Christian walk. It's something I find difficult to dedicate time to and be faithful in. But every effort I make ends up being a blessing.
In my parenting, overcoming anger has been an important journey. Scripture has been a big part of that!
Today I'm sharing a simple set of overcoming anger Scripture cards and journal pages for 12 Scriptures to help. Of course… It is the power of God and the transforming work of the Holy Spirit that truly overcomes anger. However, memorizing these Scriptures, really thinking through what they mean in terms of our parenting, and praying through them, can be life-changing.
You can start anytime. Simply work on one scripture a week. Print out the overcoming anger Scripture cards and journal pages (ESV and KJV included). I like to laminate the cards and put them on a book ring tacked to my wall. They are also sized 4×6 so you can slip them into a dollar store photo flip book for quick reference.
Say the verse every day, both aloud and to yourself. Then use the journal pages to write the anger Scriptures out (at least 5 days each week). Jot down notes or prayers in the bottom section.
It's simple, but powerful, and I am SO excited for you to get started!
You might also be interested in our Anger vs. Self-Control unit study!
Scriptures to Help Overcome Anger
As I said, some of the Scriptures I included are ones I had not originally considered in this context. Spend some time praying over and studying each verse. Here are a few of the thoughts I had when I worked through them.
1 Corinthians 13:4-7

Love is patient and kind; love does not envy or boast; it is not arrogant

5

or rude. It does not insist on its own way; it is not irritable or resentful;

it does not rejoice at wrongdoing, but rejoices with the truth.

Love bears all things, believes all things, hopes all things, endures all things.




This is one I really needed to memorize. What a perfect verse to run to in the heated moments. Just saying it out loud brings me back to God's truth and calms me.

James 1:19-20

Know this, my beloved brothers: let every person be quick to hear, slow to speak, slow to anger;

for the anger of man does not produce the righteousness of God.


Talking too soon and reacting is a big issue for me, I know, especially with my kids. The reminder that reacting harshly or thoughtlessly will not produce the effect I'm going for is a very good one I often need.

2 Timothy 1:7 For God gave us a spirit not of fear but of power and love and self-control.

I've come to learn that many times my anger and harsh reaction are a result of me trying to control things. Which usually stems from some kind of fear or selfishness. Fear that God won't take care of my needs or give me everything I need to get the things done that I need to. Fear or embarrassment over my kids' behavior or how it reflects on me, etc. But in Christ we do not have a spirit of fear, or anger, or selfishness, or irritability….

James 3:17-18

But the wisdom from above is first pure, then peaceable, gentle, open to reason, full of mercy and good fruits, impartial and sincere.

And a harvest of righteousness is sown in peace by those who make peace.

I need God's wisdom (and not my own) to navigate the day and all the conflicts and sticky situations that come up. Every challenge is a chance to sow seeds of righteousness in a peaceful way.

Ephesians 6:4 Fathers, do not provoke your children to anger, but bring them up in the discipline and instruction of the Lord.

So important! How easily I forget. Provoking my children to anger with harsh words or unreasonable demands, or not setting clear expectations and then following through, is a sure recipe for frustration and discouragement all around.

Philippians 2:3 Do nothing from selfish ambition or conceit, but in humility count others more significant than yourselves.

Again that reminder – am I responding to this situation with my child's training and instruction in mind, considering their relationship with God and others? Or am I reacting because of the inconvenience it causes me, or taking it personally?
---
Learn more about how to overcome anger with No More Angry Mom: Becoming a Gentle Mother Through Practice & Prayer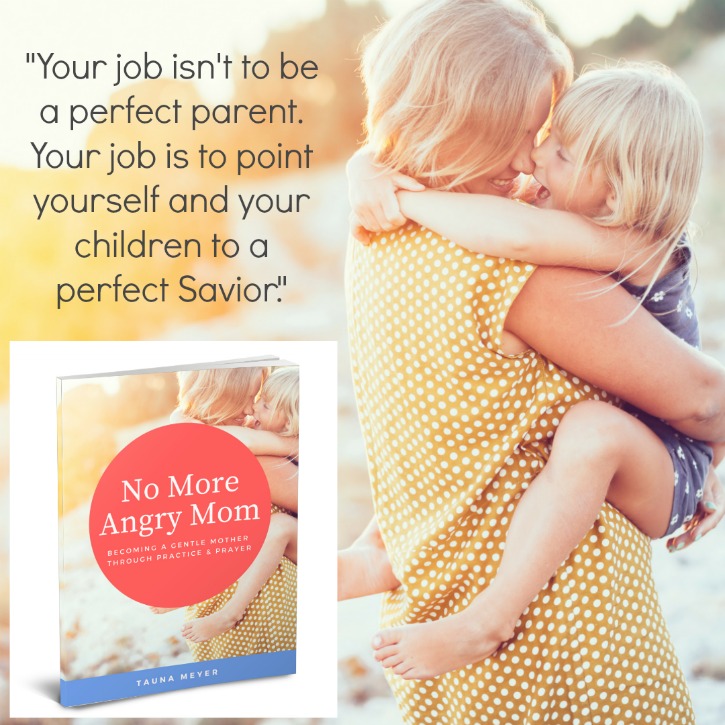 ---
Ephesians 4:29

Let no corrupting talk come out of your mouths, but only such as is good for building up, as fits the occasion, that it may give grace to those who hear.

I need a guard set over my mouth, and to take every thought captive to Christ, because so much of it isn't truly good for building up and giving grace. Definitely pray over this one!

James 1:2-4

Count it all joy, my brothers, when you meet trials of various kinds,

for you know that the testing of your faith produces steadfastness.

And let steadfastness have its full effect, that you may be perfect and complete, lacking in nothing.

When I start the day acknowledging that there WILL be conflicts and challenges, and consider how they can be used by God for His glory and for the sanctification of my and my children… it changes everything about my response in the moment.

Proverbs 17:27

Whoever restrains his words has knowledge,

and he who has a cool spirit is a man of understanding.

I just love the description of a "cool spirit" and being a person of understanding. I want that! Restraining my words is a big part of that. I want to have wisdom and self control to say the right thing at the right time. Only God can do that in me.

Titus 2:11-12

For the grace of God has appeared, bringing salvation for all people,

training us to renounce ungodliness and worldly passions, and to live self-controlled, upright, and godly lives in the present age.

The grace of God that brought salvation in Jesus Christ is what teaches us in this area, dear women! Training us to surrender to Him and take on the righteousness of Christ for a self-controlled and godly life.

Ephesians 4:31-32

Let all bitterness and wrath and anger and clamor and slander be put away from you, along with all malice.

Be kind to one another, tenderhearted, forgiving one another, as God in Christ forgave you.

Too many of the negatives are a part of my life. Calling them out for what they are and calling out the attitudes that are of God help me a great deal. It's like trading up, or taking off the old man and putting on the new.

Galatians 5:16 But I say, walk by the Spirit, and you will not gratify the desires of the flesh.

And this is where I ended because this is what we need! To live by the Spirit and allow the character of Christ to take over.
Printable: 12 Scriptures to Overcome Anger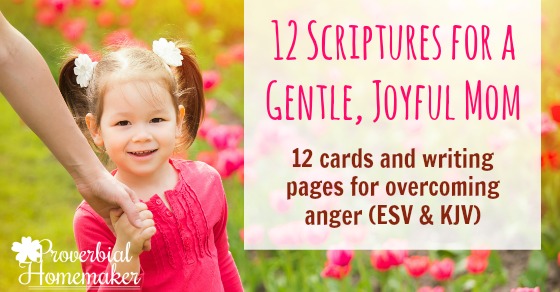 GET YOUR FREE DOWNLOAD

Download the Scripture Printable
Your download link will be emailed to you and you will be subscribed to Proverbial Homemaker if you aren't already. Be sure to check your spam/promotions folder. If you have any issues, check out this troubleshooting guide or feel free to email me!
You Might Also Like…