Are you ready to head into the new year with a plan for intentional Bible reading and prayer? I know I am! I have just the tool for you: Read, Pray, Love is a year-long plan of praying for your family.
Spend time each month praying over your family through the scriptures. We focus on a different godly character trait each month and track our thoughts and prayers in the journal. Here's what's included for each month:
Custom illustrated scripture art prints (gorgeous color pages you can print and display in your home to remind you to pray)
A beautiful coloring page using the same design for relaxation as you meditate on God's Word. Great for kids, too!
Scripture cards to help aid memorization. Print them and take them with you to appointments, read and pray through them before you go to bed, etc.
A journal page to write down your prayers, thoughts, and ideas for how to apply what the scripture says so you can love God and your family well.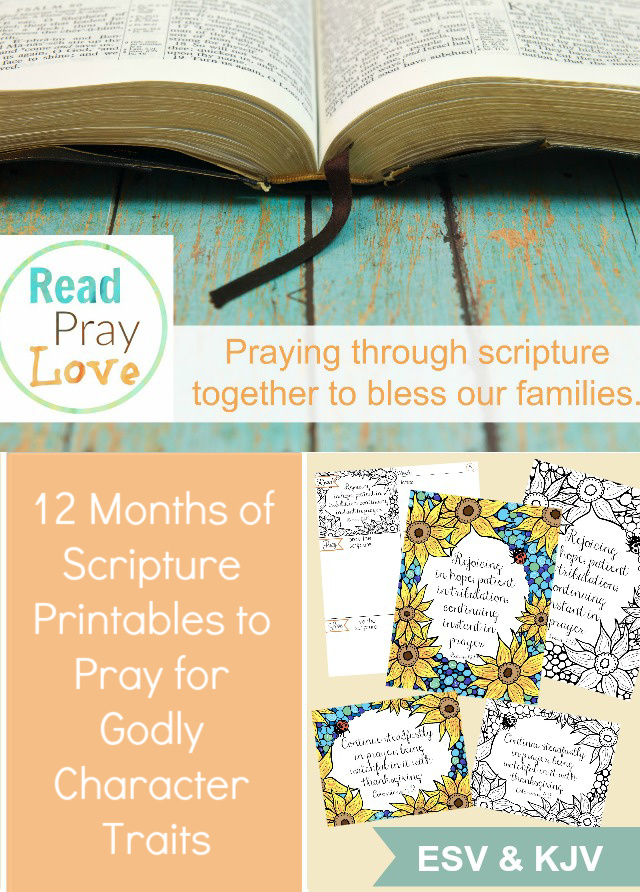 Disclosure: *This post may include affiliate links. As an affiliate, I earn from qualifying purchases. Read the disclosures and terms for more information.
This 12-month set of Read, Pray, Love printables focuses on godly character. You can use it to pray for yourself, family, and loved ones. I plan to use it to pray specifically for my husband and I and for my children!
Ready to Get Started?

> Want a visual on how to use Read, Pray, Love? Check out part 1 and part 2 of these videos to help you out!
You Might Also Like…
Prepare your heart for dedicated prayer with the FREE Prayerful Woman 5-Day Challenge!