Teaching our kids to obey is something every parent and follower of Christ should do for their kids, as well as praying for obedient hearts. A heart of biblical obedience sets them up for success in the world and helps them to follow God's ways. As parents, we are called to teach our children to know and love the Lord, to be readers and doers of His Word, and to trust and obey Him. Part of obeying God is obeying us, their parents, because God commands it.
Of course, WE are commanded to obey God, too! He tells us not to provoke our children to anger, to pray for our family diligently, to follow His ways and put Him above all other things, and to trust Him as He guides us. I'm pretty certain that if we all sat down and gave it 10 minutes of thought, we'd see that we struggle with obedience, too. And since we know that God, our loving Father, is perfect in every way and has our best interest in mind, it should be easy to obey Him, right? Well, I don't know about you, but it's still a struggle for me sometimes.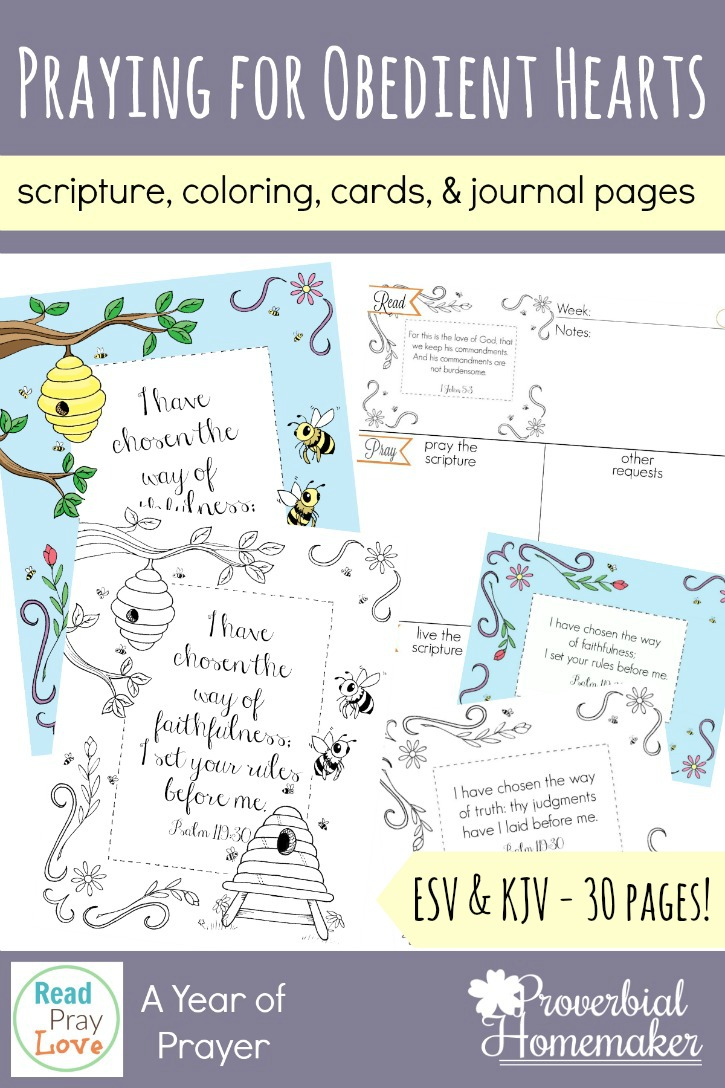 Disclosure: *This post may include affiliate links. As an affiliate, I earn from qualifying purchases. Read the disclosures and terms for more information.
I WANT to obey the Lord. I want my children to know and obey the Lord, too. The best thing I can do as a daughter of the King and the mom of the precious souls He's entrusted to me is to pray for them diligently. So I am taking up the challenge to make it a practice in my life – praying for obedient hearts in myself and my family. Will you join me?
The Praying for Obedient Hearts pack includes 4 scriptures and a journal that helps us to focus our prayers on this godly character trait. You'll get a scripture art print and coloring page, scripture memory verse cards, and journal pages for each of the memory verses. All are available in ESV and KJV! You can find this and more prayer packs in the Proverbial Homemaker Store.

Read, Pray, Love 2017
The scripture printable pack above is the February set for Read, Pray, Love 2017, a year-long effort to pray the scripture for our family and godly character! This year I am joining with parents just like you in a commitment to pray diligently for our families and stay rooted in prayer. Every month covers a new godly character trait and includes new printables. You can join anytime, starting at the beginning or jumping in with the current month!
Click here to find out all about Read, Pray, Love 2017 and the accountability and resources available.
SPECIAL NOTE: If you're joining us in Read, Pray, Love and would like weekly accountability emails, CLICK HERE!
For the 2016 edition of Read, Pray, Love, click here.