Christian families face spiritual battles every day. It's a reality of living a life following Jesus. One of the things we can teach our children while they are still young is how to put on the full armor of God! This Armor of God printable scripture pack will help you do that.
Although Ephesians 6 isn't the only place where God's Word describes the armor, it is often a favorite with children! You can teach them how to get up every morning and "put on" each piece of the armor that God has given, equipping us for our daily fights against sin, temptation, and the spiritual battles we face.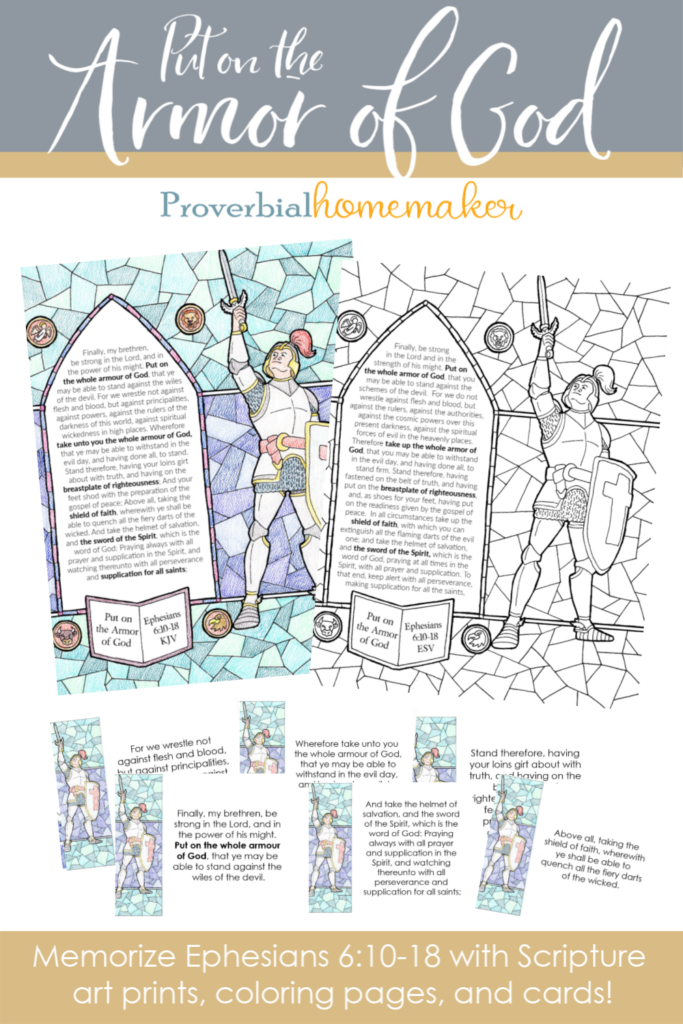 Disclosure: *This post may include affiliate links. As an affiliate, I earn from qualifying purchases. Read the disclosures and terms for more information.
The Armor of God for Kids
Teach your kids how to put on the full armor of God when they face the day and as they walk out the door. Our family memorized this passage a while ago but we're a bit rusty on it. Given these uncertain times, it seemed like a perfect opportunity to brush up on these verses and focus on the armor of God for kids!
Join our family as we memorize Ephesians 6:10-18 and hide God's Word in our hearts! These Armor of God printable Scripture cards, art prints, and coloring pages will help your whole family to meditate on God's Word and learn the passage together.
Praying Ephesians 6:10-18
Pray through the armor of God passage together as a family or pray it over your children as a bedtime blessing for a while. Ask the Lord for the words! You can use these ideas to get started.
Lord, help us to depend on your strength and not our own.
Thank you for the armor that you have given us to resist temptation and sin, and to fight the spiritual battles that come our way.
Give us your perspective and help us to remember that we do not fight against flesh and blood but against spiritual forces.
Help us to not live in fear of our battles but instead to rely wholly on you and stand firm.
Protect us with truth, righteousness, faith, and salvation.
Give us the boldness to move forward and preach the gospel of Jesus Christ.
And let our weapon in spiritual battles be the Word of God.
Lord help us to be people of prayer and of the Word.
In the name of Jesus we pray these things together. Amen!
Love Others Through Ephesians 6:10-18
Use this passage to inspire ways to love others and point them to Christ.
Pray the passage as above over someone who is struggling with sins or spiritual battles right now.
Color the printable page and write an encouraging note on the other side, mailing it to a friend.
What else can your family come up with that will help you love others with this passage in mind?
Memorize Ephesians 6:10-18 (Available in ESV and KJV)
Download the Armor of God printable pack below and memorize this passage! You'll find two custom illustrated Scripture art prints to frame or tack to your wall, memory verse cards, and coloring pages you can use to help you meditate on and memorize this passage together.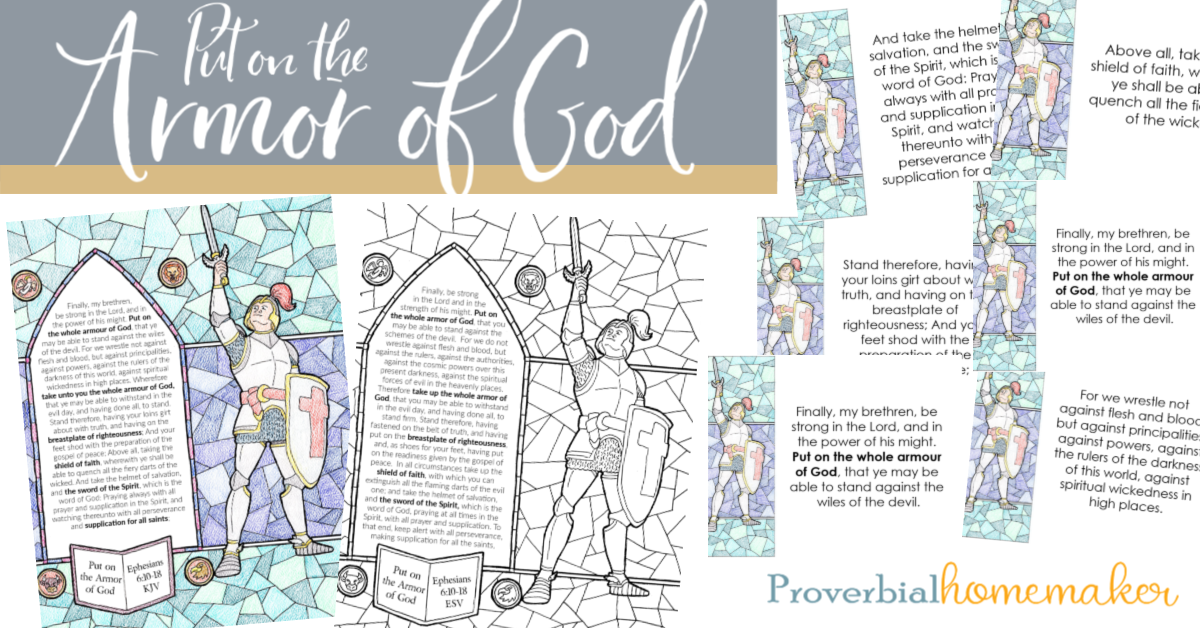 (This post is a part of our annual Read, Pray, Love efforts in the Proverbial Homemaker community. Check out past editions here. )
---
Side Note: What are Those Four Animal Symbols in the Stained Glass Illustration?
This time my illustrator included four symbols that hint at an interesting art and church history topic that you can challenge your older students with if you want. Ask them to find out what they might represent. Here's what our illustrator said: "In illuminated manuscripts and stained glass windows from medieval and Renaissance times they were used to symbolize the gospel writers. The angel/man was Matthew, the lion was Mark, the bull was Luke, and the eagle was John."
I thought that was so fascinating so I looked it up. Of course, we know that art and church history shows us that humankind has often stretched the Scripture beyond it's intended meaning. But older students will find it an interesting little lesson and may notice those symbols later in older Christian art. Here is a commentary that references the association sometimes made between the gospel writers and the vision of Ezekiel. And here is an interesting art history lesson (although not from a Christian source).
Ezekiel's vision is one of the more puzzling ones, and church history shows a tendency to come up with some pretty interesting ideas for what it means. In the end, I don't think we can really know what God "meant" by those creatures or if the association to the gospel writers is accurate. (I rather think it's not.) What we CAN be sure of is that Ezekiel's vision and all God's creation reflects His amazing character and nature, and that they exist ultimately to bring Him glory. Amen? Here is a brief article that I appreciated and is worth reading to even your children about those four symbols.
---
You Might Also Like…
The Armor of God Printable Pack – 5-page activity pack with copywork, matching cards, and more.