Valentine's Day activities are something I enjoyed as a kid but didn't much care for as an adult. That is, until I had kids! Now I realize what a great opportunity it is to focus on REAL love: God's love, married love, and loving others the way God wants us to.
It's actually a perfect time for special family activities or even homeschool lessons that zero in on these points. And since our home (and the world) could always benefit from more love and kindness, I take that opportunity!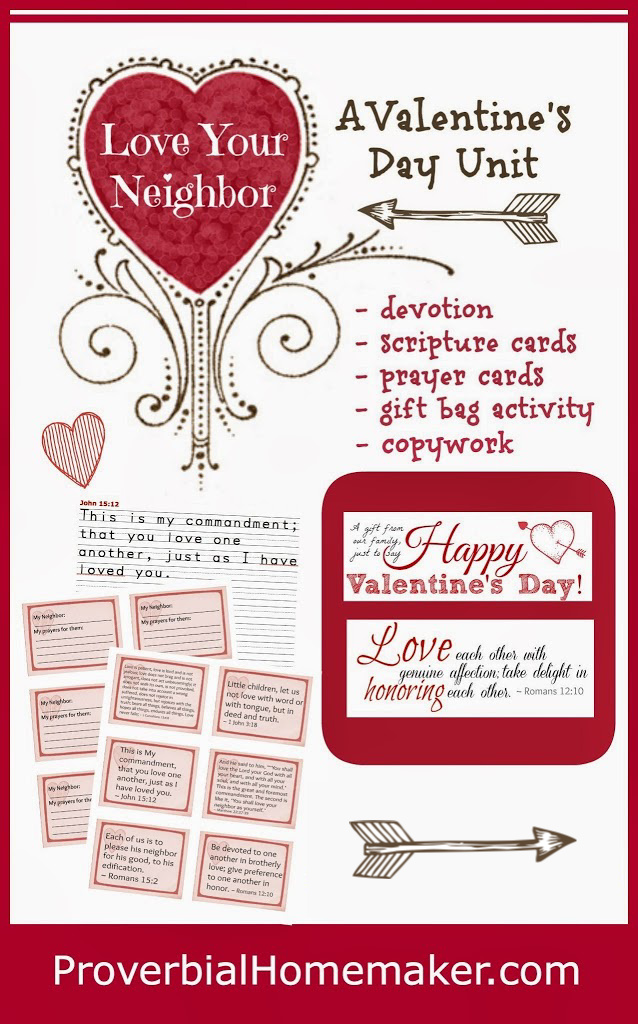 Disclosure: *This post may include affiliate links. As an affiliate, I earn from qualifying purchases. Read the disclosures and terms for more information.
Meaningful Valentine's Day Fun
There are many ways to show your spouse and children that you love them during this holiday. But my favorite thing is to help my children learn to show kindness and share God's love with others. One fun way to do that is to help them focus on reaching out to neighbors!
Jesus teaches us to love our neighbor as ourselves. Now, He makes it clear that our "neighbor" includes anyone with whom we can share the love of Christ, whether they're in our family, at the store, at church, and anyone who needs Jesus. That's all of us!
For young children, it can sometimes be helpful to begin teaching them how to do this in a practical way by reaching out to the people in neighborhood where they live! Valentine's Day is a natural and fun time to do that.
[Also read: Love Printable Pack (70-Page Subscriber Freebie)]
15 Ways Your Kids Can Love Their Neighbors
Go for a walk and pray for each home
Bring a note and some cookies to introduce themselves to a neighbor they don't yet know
Help clean up a nearby park or shared green spaces
Offer to bring garbage / recycling cans up to the house
Mow someone's lawn

Deliver a potted plant or flowers
Wave at neighbors as they drive by
Deliver a meal for neighbors who are sick or have had a big life change
Invite a neighbor to church or a local event

Organize a neighborhood card or cookie swap
Send an encouraging note
Grow a garden and share the food
Invite a neighbor over for dinner or dessert
Practice engaging in polite conversation by asking good questions and answering respectfully
Invite neighbors to a good cause by organizing a group food or coat drive
Love Your Neighbor Valentine's Day Activities & Bible Study
If you're looking for a way to teach your kids how to love their neighbors this Valentine's Day, you're going to love the Love Your Neighbor pack!
This downloadable resource includes:
Talk About It: A short devotion and Bible study to read and discuss.
Scripture Cards: Scripture cards about love to study, pray over, and/or memorize.
Copywork Pages: Copywork pages in print corresponding to each of the scripture cards.
Prayer Cards: Prayer cards your kids can fill out to help them pray for their neighbors.
Gift Bag Activity: Give small Valentine's Day gift bags to your neighbors using the printable scripture gift bag toppers.
More Ways to Love Your Neighbors: The above list of ideas for loving your neighbors is included, along with spaces for your kids to add their own ideas!
You Might Also Like…