There are many times when I find myself in conversations where a wife is expressing frustration with her husband and wondering how to get him to change his ways. Perhaps there's a disagreement, a difference in parenting styles, he doesn't help around the house, or is acting lazy and disinterested in leading his family. Sometimes they might be worried about his spiritual, emotional, or physical health and can't get him to take action.
Wives love their husbands and want what's best for them. We are all doing the best we can and are trying to figure out how to do life and follow Jesus as we walk through the difficulties of family, marriage, and the challenges that come our way. Let's face it: it's not easy.
But let's also be honest: it's all too easy to slip into nagging and grumbling. Too often, our desire to seek out wisdom and input from godly counsel ends up looking more like gossiping and complaining about our husbands. Friends, it's EASY to do this. But the most profitable and important work we can do as wives is to pray for our husbands instead.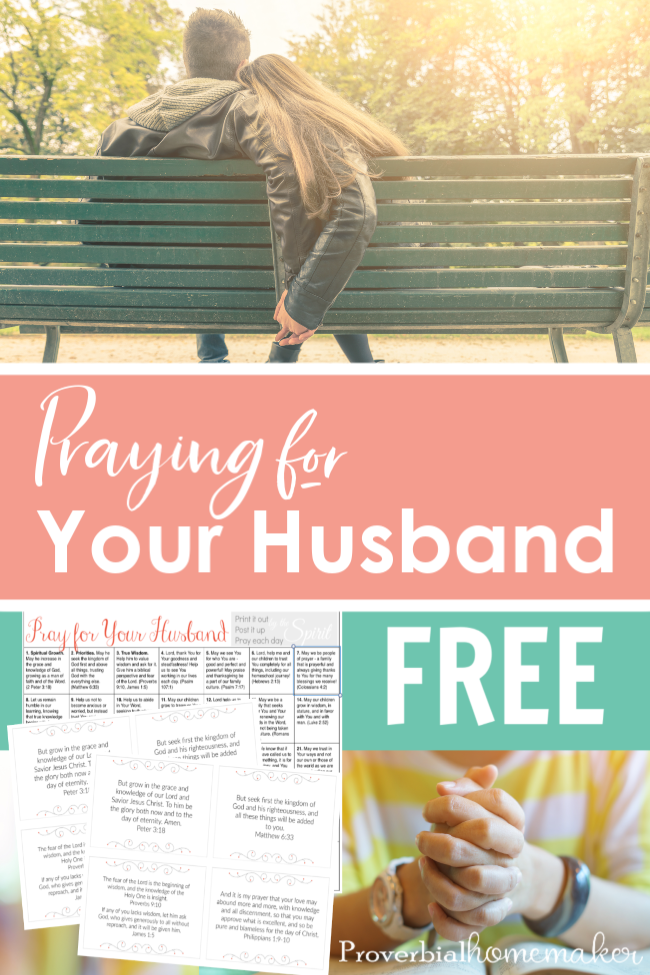 Disclosure: *This post may include affiliate links. As an affiliate, I earn from qualifying purchases. Read the disclosures and terms for more information.
Prayer is the Better Way
I remember many years ago when my husband and I had been going back and forth about an issue that I believed had become a real problem in our church. One evening, were finishing up dinner and the kids had run off to play. I decided to bring up my concerns once again and was voicing my objections. He firmly ended the conversation in a way that, while not unkind, was very final. He had thoughtfully weighed my opinion and believed I was wrong.
I felt hurt and embarrassed (especially since a relative who was there at the time chimed in and agreed with him), sorely misunderstood, and effectively shut down. But I know my husband well, and in the midst of those feelings I knew that he was a good, godly man, and that he respected me and opinion. He didn't really shut me down. He simply didn't see things the way I did.
I came to a realization that all my efforts at reasoning, arguing, nagging, and complaining (about something I believed was very important, and still do) had caused me to hit a brick wall, not only with that particular issue, but in my marriage relationship.
In the days that followed, I worked hard through my hurt feelings, but was getting nowhere. So I decided to spend my energy on prayer instead. I threw everything into praying for my church, my marriage, and my husband. Not prayers of "please God please make him realize I'm right and change his decision…" but prayers that truly submitted to the will and wisdom of the Lord.
The wisest of women builds her house, but folly with her own hands tears it down. Proverbs 14:1
Honestly, this was a very humbling time for me. Even now as I write this I feel the little heart pangs that remind me of the struggle I had with pride as I submitted myself in prayer instead of striving to get my way on something that was important but not a hill to die on. I can be a very stubborn and opinionated person.
But it was also one of the most fruitful experiences in our marriage. Over time, my heart softened toward my husband and the people I had felt resentment toward during this situation. The root of bitterness that had started to grow in my heart was pulled right out and replaced with real wisdom the fruit of the Spirit. I learned so much more about what Scripture really means when it says that "godliness with contentment is great gain." (1 Timothy 6:6)
After almost a year of silently praying about my heart, this issue, my husband, and all the other factors involved, one day out of the blue my husband said that he had observed that very same issue and felt we needed to act on it in prayer and conversation with others. I was floored! But even more meaningful to me than him changing his mind, was the heart change that had happened in me. The Lord is merciful and gracious in His timing. There was wisdom in waiting and I was able to see first hand that He truly works all things to good for those who love him.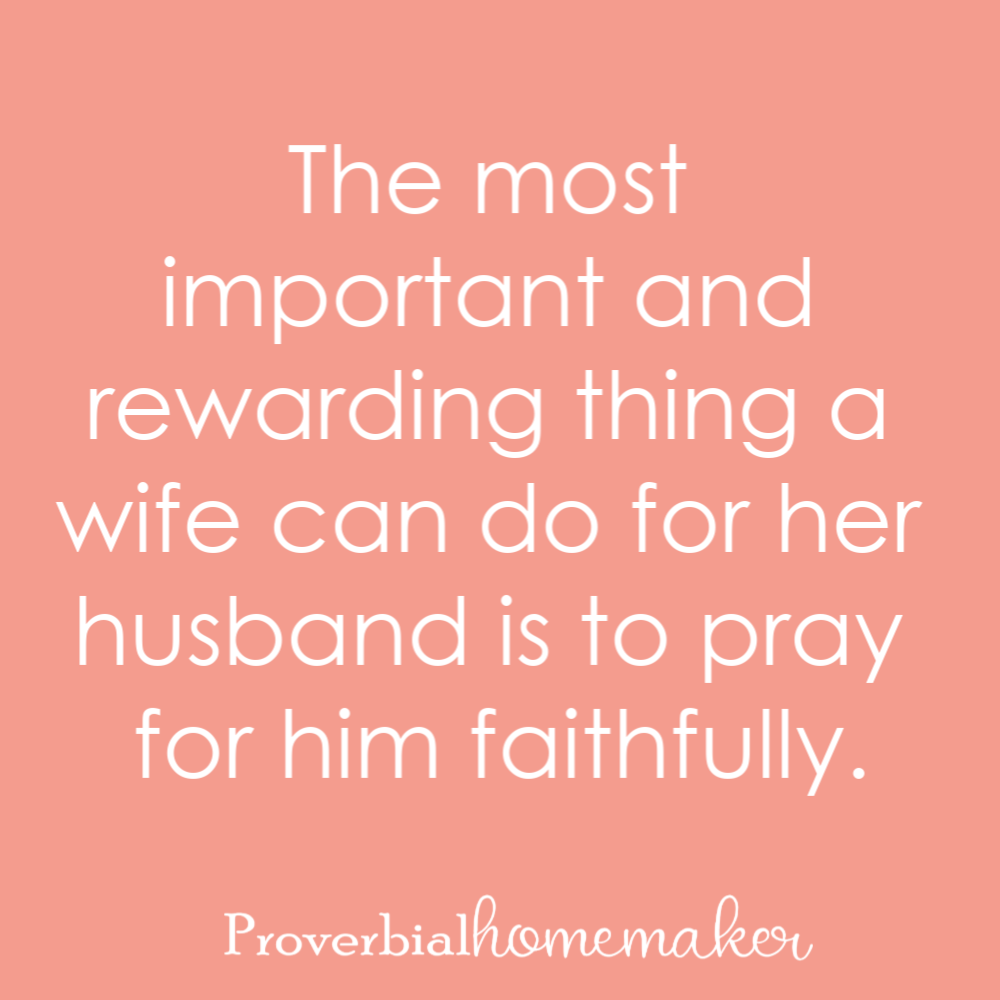 Why Start Praying for Your Husband?
Of course, the results aren't always that our husbands will see things our way eventually or that situations will turn out the way we wanted. We don't pray to get what we want out of God. But I did learn something important in that experience: The most important and rewarding thing a wife can do for her husband is to pray for him faithfully.
Bottom line: You are called to pray for your husband.
She does him good, and not harm, all the days of her life. Proverbs 31:12
Every marriage is different and I realize that some of us are struggling with challenges far more serious than a simple difference of opinion. The call to praying for our husband does not negate the fact that sometimes we need outside help from a trusted and godly Christian mentor, counselor, or pastor. And it absolutely does not negate the need to make sure we are safe and not in a place of harm.
However, no matter what your marriage is like, submitting to the Lord in prayer is the absolute best use of your time. Instead of fretting over our husband's shortcomings, or striving to change him ourselves, we intercede on his behalf to the One who knows and loves us both perfectly.
The Lord has the best plans for your husband's life. Our God, who commands heavenly hosts and moves mountains, can certainly transform our husband (and us) from the inside out to bring about His purposes for the sake of His glory.
So, what can praying for your husband accomplish?
Sets your marriage as the priority it should be
Softens your heart toward your husband
Can stir your husband's heart toward God and soften it toward you
Unifies and builds intimacy in your marriage
Acknowledges our dependence on and need for God
Strengthens our relationship with the Lord
Blesses our husband and builds him up
Helps you see your husband through God's eyes
Gives us opportunity to see God answer our prayers and give Him glory
And much more!
Praying for Your Husband Calendar & Scripture Cards
When we pray for our husbands, I believe it is important that we pray according to God's will and guided by the Holy Spirit. One of the most helpful ways that I've found to focus on that is to pray the scriptures.
To help us all do that more effectively, I've created a printable 31-day prayer calendar (as well as Scripture cards in ESV and KJV) that we can use to begin to pray more consistently for our husbands! We'll cover their thought life, work, relationships, emotions, and more in prayer as we come to the throne of Grace to intercede for them.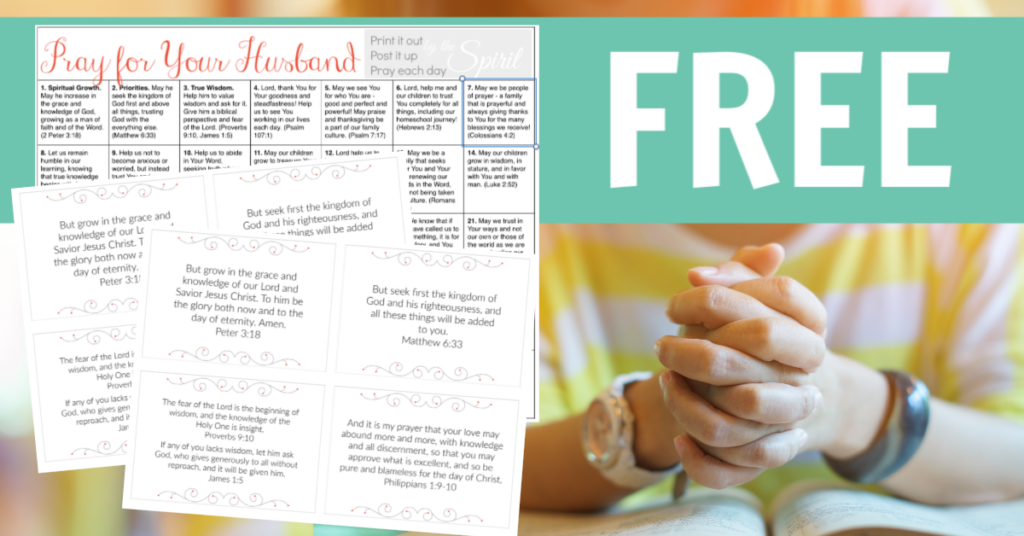 Some ideas for using the calendar and cards:
Put the calendar in your Bible or planner and pray each day.
Laminate the calendar and tape it in the shower or on the mirror for a reminder to pray each day.
Share this page with a friend and resolve to be accountable for a month. Email or text each other each day when you've prayed for your husbands.
Tape the Scripture card you're praying through to the bedroom door so your husband sees what you are praying for.
Laminate the Scripture cards and put them on a book ring for easy access on your keychain or in your purse.
Tack the ring of cards to the wall in the laundry room or near the kitchen sink and pray for the day's scripture as you wash dishes or fold laundry.
Be creative and find a way to make praying for your husband a daily activity!
I hope this is a blessing to you and your marriage! I'm praying now, that the Lord would guide you in this time of prayer and bless your marriage richly. May He give you eyes to see Him working in your life and the life of your husband.
To God be all the glory!
~ Tauna
You Might Also Like…
52 Weeks of Praying for Your Family