A couple of years ago I abandoned the idea of New Year's resolutions and goals, and picked up the wonderful tradition of choosing one word to focus on in the coming months. Even better, God chooses the word of year year for me. Once, that word was "abide," as in Abide in Christ
Disclosure: *This post may include affiliate links. As an affiliate, I earn from qualifying purchases. Read the disclosures and terms for more information.
As the end of the year approaches, I always spend time praying and listening to God's leading my life, reflecting on the past year and looking into the new one. Faithfully, God guides me to a Scripture verse, a phrase, or a word to point me in His direction.
The "One Word" practice has been so useful to me. Instead of scrambling for lists and goals and wishes, I settle myself in the care of the Lord. Out of my one word come new insights, new convictions, new habits, and new conversations with God.
First He led me on a journey to being a more gentle, joyful mom (yeah, I'm still on it). One year I focused on the word "cultivate," tending to and growing in the areas most important to me.
Abide in Me
One word that was laid on my heart in the past is "abide." It is not the word I would have chosen. At first glance, it seems like a fluffy word. It does not demand a plan or goals. It is just… abide.
However, God quickly showed me how much I need to abide in Him. You see, I have an "I can do it myself" problem. I may think I'm depending on God, but most of the time this what's really going on:
Me: "I think you want me to do x. I can totally do x!"
Me: "Here's my plan for how to accomplish x. Let me know if you have any suggestions, God."
Oh, how one-sided my conversations can be. No listening, no abiding, because after all… I can do it myself! And what a weary mom I become in the process.
The truth is, I am broken and powerless on my own. I cannot even begin to tell you how acutely I feel this sometimes. I cannot make myself the truly gentle and joyful mom I want to be. There is no plan or set of goals I can design that will make me the wife or mom or friend I was created to be. Because that is a change in my heart… and heart change comes from the Holy Spirit.
Our true success this year or any year will not be in goals, plans, or a determination to do well. Our success will always be in the work that Christ has already done for us and in the work that God continues to do in us until He is finished.
*Relief.*
No more aimless striving. Just walking faithfully in Him. The best and most profitable thing we can do this year is to abide in Christ. Through Him, all things are possible.
Abide in me, and I in you. As the branch cannot bear fruit by itself, unless it abides in the vine, neither can you, unless you abide in me. I am the vine; you are the branches. Whoever abides in me and I in him, he it is that bears much fruit, for apart from me you can do nothing. If anyone does not abide in me he is thrown away like a branch and withers; and the branches are gathered, thrown into the fire, and burned.

If you abide in me, and my words abide in you, ask whatever you wish, and it will be done for you. By this my Father is glorified, that you bear much fruit and so prove to be my disciples. As the Father has loved me, so have I loved you. Abide in my love. ~ John 15:4-9 (emphasis mine)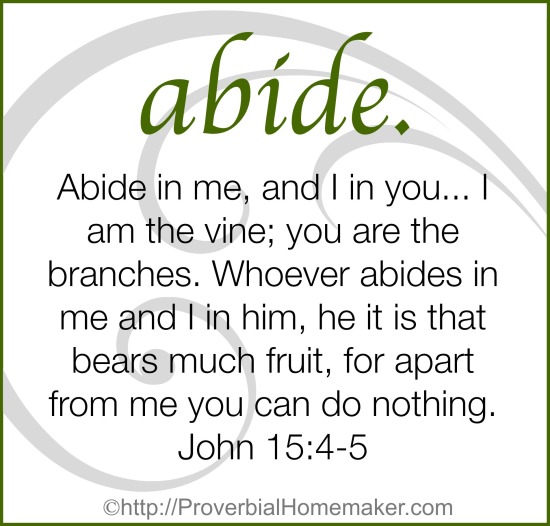 Abide: to be held, kept, continually. To remain as one, to not become different.
To remain
Not to part from
To tarry
To last or endure
To wait for someone
Let us abide in Christ, dear friends, being kept in His care, sitting at His feet, and hiding His Word in our hearts. What better way to pursue success in this year than to wait upon Him?
---
Download the One Word and Verse printable pack! You'll be more intentional with One Word and can start anytime of year, not just in January!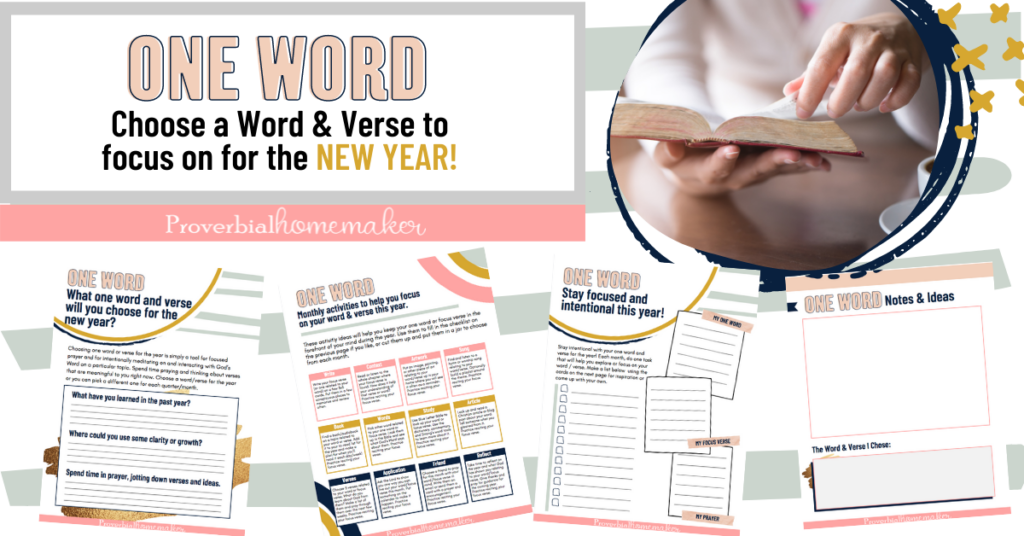 ---
What Does Abiding in Christ Mean?
Three things come to mind:
1) We already abide in Christ as a result of HIS work. The children of God abide in Him because He has adopted us into His family and grafted us into Christ. Because of Jesus' work on the cross, we are in Him and He is in us. Amen!
2) We are obedient to God. We remain abiding in Him, submitting to His authority in our lives and the conviction of the Holy Spirit. We actively participate in our sanctification, remaining sensitive and open to the work the Spirit is doing in us day by day.
3) We spend time with the Lord. Fellowship with Him is our priority, demonstrated by our devotion to read God's Word as well as apply it, spending time with Him in prayer, and in community with the body of Christ.
These things aren't just nice little Christian things to check off a list. They are essential to truly successful living. They are as breathing and eating for the faithful believer in Jesus.
He who began a good work in you will complete it ~ Philippians 1:6

He who called you is faithful; he will surely do it ~ 1 Thessalonians 5:24
All our efforts (and our "One Word" of the year) will fall far short of what they could have been if we are not abiding in Christ. No matter what your resolutions, goals, or "One Word" is for the year, spend time in prayer before the Lord and see what He would have you pursue. Then rely on His help and guidance to make it a reality in your life!
What new thing is God calling you to this year? Pray for guidance and He will give it.
You Might Also Like…
FREE Year-Long Praying the Scripture Printable Pack